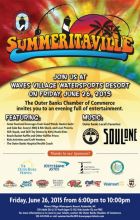 The ocean must know it's the first (official) week of summer because the water has been a near tropical shade of blue for several days. Locals have been flocking to shipwrecks to go diving in the clear conditions, and everyone swimming has spotted a fish or two. I had my own thrill while standup paddleboarding way, way out when I spotted a school of stingrays passing beneath me – yikes! But this clear visibility doesn't happen often, so I encourage everyone to spend some time in the Atlantic this week – perhaps via paddleboard if you're like me and want to look but not touch. Once you've had your beach fix, check out some of these killer festivals and activities.
Summeritaville
Here's a great reason to head down to Hatteras Island. Spend the day on the less populated southern beaches of the Outer Banks, then make for Waves Village Watersports Resort in the evening for Summeritaville. The third annual music event happening Friday, June 26 is jam-packed with fun activities and features live tunes from SOULone and Jonny Waters & Company. No stranger to the Outer Banks, Jonny Waters is a multi-talented musician who recorded his hit single "Flip Flop Cowboy" on our beaches in 2013. SOULone is likewise from the area and fuses musical styles like acoustic rock, reggae, blues, jazz and funk. Accompanying these talented musicians will be great food and beverages, a craft beer garden, raffle prizes, children's activities, watersports and toy demos, local craft vendors and more. The event starts at 6 p.m. and goes until 10 p.m. Reserve your tickets online or by calling (252) 441-8144.
Chefs of the Coast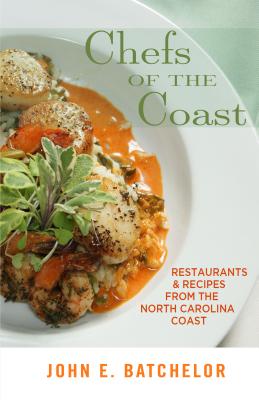 Talk about a cool event – or two, really. You can meet the best chefs on the beach and try their most talked about dishes at one of these great parties celebrating the talented chefs who call the Outer Banks home. Downtown Books is throwing the get-togethers for the release of Chefs on the Coast, a compilation of the best chefs, restaurants and recipes found in the area. The author John Batchelor will be on hand signing books, while the profiled chefs talk food and serve up their greatest creations.
The first party will take place on Thursday, June 25 from 5 to 6:15 p.m. It's a Pop-Up Cocktail Party in the back yard at The Blue Point, and the chefs on site will be Sam McGann of The Blue Point and Wes Stepp of Red Sky Cafe.

Then on Friday, June 26, the party moves to Manteo for Rally in the Alley from 5 to 6:15 p.m. Head to Old Tom Street (the brick alley by Ortega'z) to meet chefs Marcello Ortega of Ortega'z, Paul Charron and Sharon Enochs of Full Moon Café and Brewery and Alfredo Landazuri of Stripers Bar & Grille. Get a taste of each great recipe, then pay a visit to the Full Moon brewery truck.
Movies on the Sound – The Lego Movie
Looking for an activity for the whole family? How about watching a movie under the stars on a warm summer night! Movies on the Sound takes place in Manteo this Friday, June 26 at the College of the Albemarle Campus Ball Field (this is the campus right across from Chesley Mall). (Some weeks it is held in Duck on the Town screen.) The movie of choice is The Lego Movie, beginning at dusk, and there will be an array of special events and activities on site such as face painting and special character appearances. Watch your little ones scamper up the Kitty Hawk Kites rock wall and then have a go at it yourself – it's a challenge! Entrance to the event is free, although a $10 parking donation is appreciated and will assist low-income and special needs families. The gates open at 7 p.m. – feel free to pack a picnic.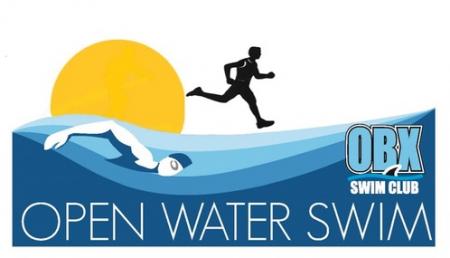 Open Water Swim Extravaganza & 5K Run
Athletes and fun-seekers, this is the place to be this Sunday, June 28. The OBX Swim Club will host the 3rd Annual Open Water Swim Extravaganza and 5K Run at the Ole Swimming Hole just outside of Manteo beginning at 7:30 a.m. The public swimming area is not open to the ocean, so the race conditions will be determined purely by the weather, wind speed and wind direction. Swimmers can choose between courses of 4 kilometers, 2 kilometers, 1 kilometer or a half-kilometer while runners tackle the 5-kilometer course. Registration is required for all participants, and swimmers must attend a safety meeting 15 minutes prior to the races. Even if you aren't running or swimming, come cheer on the athletes at this family-friendly event.
Salsa Cinderella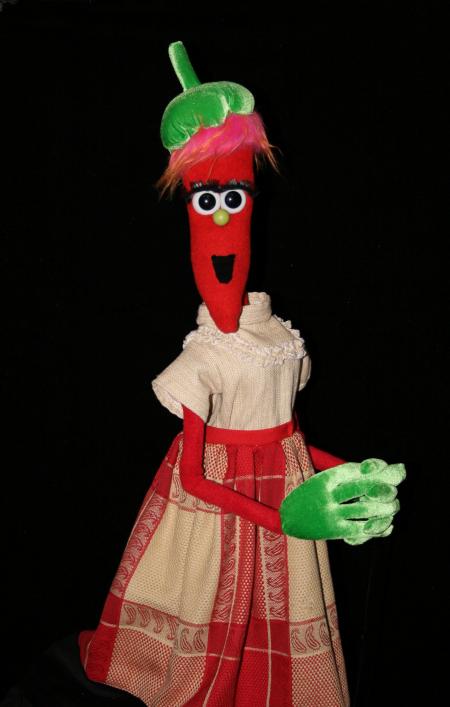 A timeless classic with a spicy twist . . . Salsa Cinderella re-imagines familiar characters from the fairy tale as ingredients in a jar of salsa. The creative production, held at the Indoor Theatre at Roanoke Island Festival Park, features an exciting cast of rod puppets and shadow puppets including peppers, tomatoes, onions and garlic that are sure to delight children and salsa fans alike. An original music score by Charlotte composer John Alexander will have attendees dancing in their seats. The show opens on Wednesday, July 1 at 10:30 a.m. and plays for three consecutive days. Tickets are $5, and children 5 and younger are free.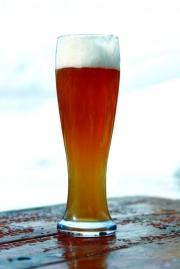 Beer University: How Beer Saved the World
The title says it all. Check out this amusing tour of the smallest brew pub in North Carolina. Paul, the brewer, will walk you through the brewing process at Full Moon Café and Brewery in Manteo, discuss the history of beer and pepper you with anecdotal minutia that every true beer geek will love. And what's a brewery tour without tastings? The one-and-a-half-hour class concludes with a sampling of the ales brewed on the premises. Beer University takes place every Wednesday at 3 p.m. Pre-registration is required and space is limited, so call (252) 473-6666 to reserve your spot. Ages 21 and older only. See you there!
Windmill Point Art Fair
I've been excitedly anticipating the next happening at the Outer Banks Event Site in Nags Head, a 15-acre outdoor venue that got a serious makeover this year, and the Windmill Point Art Fair is shaping up to be a good one. Local artists and craftspeople will display their work at this free gathering on the soundfront, held Thursday, July 2 from 10 a.m. to 6 p.m. Peruse Outer Banks inspired art outdoors while looking out over the beautiful Albemarle Sound. The event will benefit the Outer Banks Children at Play Museum.
In the realm of late night happenings, there are just too many cool events to cover here. Visit our Outer Banks Nightlife & Events page to plan an evening at the theater or a night of dancing and karaoke. It's all happening on the Outer Banks this week!