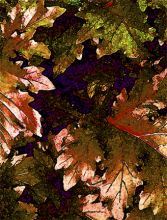 Ah, Thanksgiving. Once more we have arrived at that annual celebration of the harvest and all things autumnal. It's the official beginning of the holiday roller coaster we'll all ride until New Year's Day. It's a day in which our collective worship of a certain portly bird, the golden and savory centerpiece of the Thanksgiving table, rises to often hysterical levels. Many a Thanksgiving dinner has been laid low by The Bird.
The day is traditionally also a time during which many of us reflect upon those things for which we're most thankful. To be honest, it's a relatively predictable list. As human beings and fellow Americans, most of us are thankful for many of the same things. We are thankful for life, for family and friends we love, for food and shelter, for our health and the health of those we care about, for the privilege of living in a society characterized by such freedom and relative plenty.
But what of the many less fundamental, perhaps not so high-minded things for which each of us is thankful, the things that color our individual lives in simpler but no less positive ways? That, I think, is likely a much more fascinating and insightful list. So, in no particular order, here are some of the more down-to-earth, possibly less consequential things for which I am thankful:
I am thankful for my First Time...when I summoned up my courage, steeled my spine and...slurped that first oyster from the shell! Many years and many bushels later, oh yeah, I am still so very, very thankful. (And here's yet another reason to be thankful, it is now oyster season once again - see The Big Curri-shuck below.)
I am thankful for the affection and life lessons provided by the four-legged, furry and often quite wise beings who have been members of my family over the years. I am a better person for having had the blessing of their companionship.
I'm thankful that a gathering of a random handful of friends often has the potential to produce a really good band. Or an esoteric trivia contest of epic proportions. I'm thankful for the life-promising scent of dark, fertile earth as it is turned by the spade. I'm thankful for Marc Bolan and T-rex. No, I can't explain why. I just am.
I'm thankful for Paul Charron's fascination with the art of brewing beer. And for the obvious providence at work when I was able to rent an apartment overlooking Paul's excellent Full Moon Brewery here in downtown Manteo. Location, location, location, as they say. Proximity does have its benefits.
I am thankful for parmigiano reggiano and for well-aged Italian balsamic vinegar over a summertime caprese salad.
I am thankful for being introduced to Nick Drake's melancholy masterpieces. For artists and the visionary creations they share with us. I'm thankful for Faye Davis Edwards and her tempting offer of a gallery show of my own work and for her curious faith that I could actually pull it off despite my 20-year artistic hiatus.
I'm thankful my nieces are becoming such fine young people, and that they are so much smarter than I was at their age. It makes me hopeful for the future. I'm thankful for a Jim Fineman coffee mug full of strong brew. For cream cheese, red onion, tomato, capers, cracked pepper and lox on a toasted sesame seed bagel. Mmm! I'm thankful each time I drive down the Beach Road with the windows down listening to Santana's "Samba Pa Ti" on that first summery-warm day in Spring. I'm thankful for Casablanca, 12 Angry Men, The Shawshank Redemption and Serenity. Catch-22. The Pixies. Lava lamps.
As you may be sensing by now, this list could go on and on. And that's the point, really. Despite life's challenges there's a lot to be thankful for. So, what's on your list? Leave us a comment and let us know.
In the wake of the Outer Banks Marathon, runners from Duck to Hatteras still have plenty of opportunities to put the rubber to the road. The 17th Annual Advice 5K Turkey Trot is being held Thanksgiving Day in Duck at 9 a.m. Registration is closed but you can attend and watch the runners of all ages get their appetites warmed up for the day's Thanksgiving feast! The starting line is at Scarborough Lane.
The family-friendly 4th Annual Gobbler 5K and Little Giblet Fun Run traverses The Village of Nags Head beginning at 8 a.m. on Thanksgiving morning and is open to runners, walkers, wheelchair participants and stroller/jogger participants. Pre-registration is required. Race fees are $25 for adults and $20 for students younger than 18.
The inaugural Thanksgiving Day Surfin' Turkey 5K and Drumstick Dash Fun Run takes runners on a loop around the historic fishing village of Hatteras. Presented by the Hatteras Island Youth Education Fund and OBX GoFar, the race begins at 8 a.m. at the Hatteras Village Civic Center located at 56658 Highway 12 in Hatteras.
Santa makes his first Hatteras Island stop at the Chicamacomico Life-Saving Station in Rodanthe on Friday, Nov. 23 where he will visit with good boys and girls of all ages from 1 p.m. to 3 p.m. Admission is free with one non-perishable food item per person for the Hatteras Island Food Bank. While you wait for Santa take a free self-guided tour of the 1911 lifesaving station or pick up a few gifts at the big sale in the gift shop.
Also on Friday, popular Outer Banks artist E.M. Corsa will exhibit her newest mixed media paintings at Seaside Art Gallery in Nags Head from 10 a.m. to 5 p.m. The show, titled "Once Upon a Time," features Corsa's unique visual take on her favorite childhood stories such as Alice in Wonderland, King Arthur and the Knights of the Round Table, Chicken Little, Jack and the Beanstalk, Three Blind Mice, The Princess and the Pea and Red Riding Hood. Local vintner Vineyards on the Scuppernong will also be on hand hosting a wine tasting at the gallery. Corsa designed many of the vineyard's wine labels. The event is free.
Shoppers will want to check out a couple of local art and craft shows for unique gift-giving options. The Hatteras Island Arts & Craft Guild Holiday Show will be held Friday, Nov. 23 and Saturday, Nov. 24 at the Cape Hatteras Secondary School in Buxton from 10 a.m. to 4 p.m. each day. More than 50 local artists will be showing their work. The craft show includes a raffle benefiting scholarships for local students.
The Outer Banks Woman's Club Christmas Art and Craft Show at the Baum Center in Kill Devil Hills will also be held Friday and Saturday from 10 a.m. to 4 p.m. The show includes works by local artists and crafters, door prizes, club cookbooks and a Christmas Cookie Bake Sale. Admission is $1 and all proceeds go to benefit club scholarships and community projects.
Start off the oyster season with a bang with all-you-can-eat oysters and crabs at The Big Curri-shuck at Sanctuary Vineyards and Winery in Jarvisburg on Saturday, Nov. 24 from noon to 4 p.m. The event also includes wine tasting, a signature gift wineglass and live music. Tickets are $40/couple, $20/person in advance; $50/per couple and $30/person the day of the event. Tickets can be purchased at the Sanctuary Vineyards website or any Cotton Gin location.
Don't forget to check Outer Banks This Week for information on the local restaurants that will be serving during the holiday.
Looking a little farther ahead, be sure to mark your calendars for the Town of Manteo's Grand Illumination celebration on Friday, Nov. 30 and Outer Banks Hotline's Festival of Trees, Friday, Nov. 30 through Saturday, Dec. 1. We'll have many more details on each of these events in next week's installment of the blog.
We at OneBoat wish all of you a happy and safe Thanksgiving.

You still have a chance to win a one-night stay at First Colony Inn and a $50 gift certificate to Gray's Family Department Store!
For more information about First Colony Inn, check out their website.
For more information about Gray's Family Department Store, check out their website.
Last Week's Winner
Congratulations to Kristy Winslow‎!!!

You won an on-the-go pedicure & mimosa for you and a friend from Aqua Spa plus a $50 gift certificate to Artspace Gallery!
For more information about Aqua Spa, check out their website.
For more information about Artspace, check out their website.