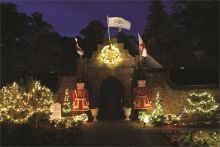 A pro of living on the Outer Banks? People want to make your home their holiday getaway destination. Wow, look at you – popular, in demand and excused from all holiday travel! But that also means it's up to you to amuse a houseful of family and friends. After a while those Christmas movie countdowns just won't cut it anymore. But that presents you with the opportunity to show everyone how amazing the Outer Banks is in the off-season. Here are a few ideas for Outer Banks activities that'll help you delight people of various ages and interests over holidays.
Photo: Everybody loves WinterLights at The Elizabethan Gardens. It runs Tuesday through Saturday nights.
Family-Friendly Outer Banks Activities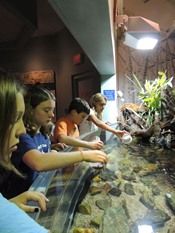 Little ones have the most free time on Christmas break, and luckily there are plenty of Outer Banks activities that they'll love during the Christmas season. They range from some that invite the whole family to join in to others just for the kids. Instill an appreciation and fascination for their home's natural environment at North Carolina Aquarium's Winter Day Camp programs. How better to spend a day than by interacting with wildlife and making crafts all day long? This season also marks the release of some of the year's best films. Get everyone together for a trip to the movies. For this you can visit the Outer Banks's family-friendly Pioneer Theatre in Manteo that always features a movie all ages can enjoy. If you want a little more variety, the R/C Kill Devil Hills Movies 10 offers a wide selection so that everyone can see a movie that interests them.
Photo at right: N.C. Aquarium on Roanoke Island
Big Kid Outer Banks Activities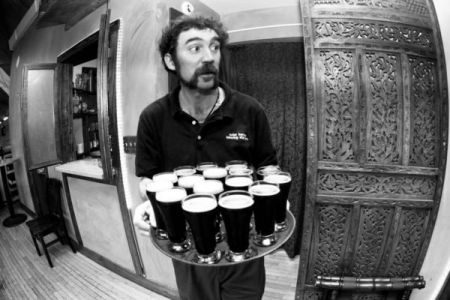 Now that you've got the younger kids squared away, it's the adults' turn to have a little fun. The Outer Banks offers a rich brewery and taproom scene. Try an experience that lets you taste some of the area's best beers or sample a seasonal selection of wines, whether it's through a brewery tour or wine tasting event. Learn about the Outer Banks eateries where you'll find these offerings and more.   
Photo at left: Outer Banks Brewing Station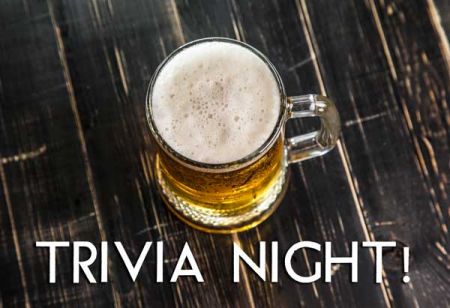 Make a night out of it by following up with a low-key nightlife activity. For example, gather your crew into a team and put your intellectual prowess to the test at pub trivia nights. The Outer Banks hosts a vibrant music scene, too, so show off the local talent by finding the area's artists performing at restaurants and other locations. It's a great way to either start or end a night out.
Take a Hike
No really! Sometimes Christmas makes it a little too easy to stay cooped up indoors. It's chilly outside, you're busy running errands and prepping the house – you get the idea. But spending all of your time indoors is almost like a crime against the Outer Banks. Mother Nature offers an incredible playground in your own backyard. Go for a hike through the nature trails in the woodsy maritime forest. Listen the hushed roar of the ocean waves when you stroll along an empty beach. Contemplate a dusky December sunset over the sound. Getting out lets you stretch your legs, soak up some fresh air and find a peaceful moment of solitude in the midst of the holiday bustle.
Daytrips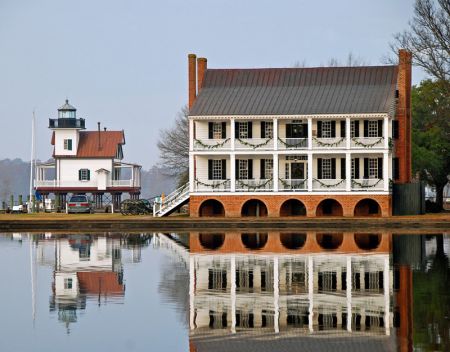 Sure, the Outer Banks is a destination in and of itself, but it's always fun to get a change of scenery every now and then. The Outer Banks' location puts you in an ideal place to take daytrips to various places. And I'm not just talking about going to Corolla or Ocracoke (though both are always fun to check out). Broaden your horizons and go beyond these familiar Banks. The Inner Banks, the unofficial name of the inland area, offers lots of charming towns worth exploring. Take an outdoorsy walk through Columbia or spend a day in historic Edenton. Embrace your inner Whitman with a day spent in Mattamuskeet, currently host to hundreds of migrating tundra swans. These daytrips are an excellent way to switch up the pace without a big investment.
Photo: Edenton This Week
---
These are just a few of many Outer Banks activities this holiday season. Hopefully it puts any unnecessary worries to rest that you need to plan a day-by-day itinerary. Entertaining visitors over the holidays need not be complex – in my experience, a simple visit to a local shop or restaurant excites most out-of-towners. For more information about specific events during the day, check out our Daytime Events listings. If you're interested in finding activities for a parents' night out or just a way to spend an evening, our Nightlife listings guide you to live music, bowling, restaurant events and more.