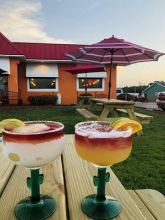 If there's a sliver of a silver lining to the big black cloud of COVID-19, outdoor dining would be it. Although restaurant owners and staff may not wholeheartedly agree (especially servers who are working in hot conditions while wearing a mask), diners are certainly loving all the opportunities to enjoy their meals in the open air. Seeing people eating at outdoor tables, shaded with umbrellas or sitting under a string of cafe lights, lends so much more of a global flair to the Outer Banks. Don't believe us? Head to Manteo, where the downtown streets and patios are chock-full with diners and have a continental feel, and Duck, where the village is positively abuzz with outdoor dining.
Many Outer Banks restaurants offered outdoor dining options pre-COVID and are still doing so. Other restaurants, faced with the 50 percent capacity indoor restrictions of North Carolina's Phase II pandemic plan, quickly scrambled to offer outdoor dining options in their yards and parking lots and on porches, sidewalks and decks. Luckily, the local town governments eased some of their ordinances to temporarily allow restaurants to offer outdoor dining where it wasn't allowed before. 
Cocktails on the lawn at La Fogata Mexican Restaurant Kitty Hawk. Photo by Celeste Osorio, Edible Photography OBX
In the spirit of all this al fresco fun, I thought I'd call out a few businesses where you can enjoy a full-service outdoor meal in addition to an indoor option. Keep in mind that because of space I can't include everyone, but I am offering this list of northern Outer Banks restaurants to help you get started. These are places that offer full wait service outdoors; of course, there are many others that are offering take-out fare and tables outdoors without wait staff. Remember that outdoor dining is popular right now, so you might have to wait for a table. 
New Outdoor Dining Options
These Outer Banks restaurants have long been favorites for indoor dining. Now you can try their delicious fare in top-notch outdoor dining situations.
Uncle Ike's Sandbar and Grill
1159 Austin Street, Corolla; (252) 597-1606
Uncle Ike's has tables outside on their covered porch and serves breakfast, lunch and dinner. Live music is available some nights.
Mike Dianna's Grill Room
777 Sunset Boulevard, Corolla, (252) 453-4336
The covered patio has long been the place for live music; now it's the place for outdoor dining for breakfast and dinner.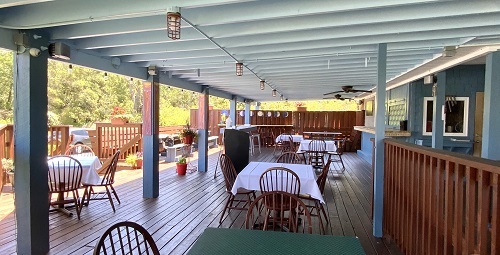 The patio at Mike Dianna's Grill Room in Corolla. Photo by Celeste Osorio, Edible Photography OBX
Village Table & Tavern
1314 Duck Road, Duck, (252) 715-1414
Enjoy lunch and dinner on the covered porch overlooking the sound, or enjoy lunch in the Sound Bar (yard) right by the water. Live music available some nights.
Red Sky Cafe 
1197 Duck Road, Duck, (252) 261-8646
Red Sky in the heart of Duck has outdoor dining in a tent that they call the Beer Garden. They serve dinner and Sunday brunch and have live music available some nights. 
NC Coast Grill and Bar
1184 Duck Road, Duck, (252) 261-8666
This restaurant is new for 2020, so we're putting it here. NC Coast always offers outdoor dining right on the Duck Boardwalk. Now it also offers a tent in the yard. They serve lunch and dinner and have live music nightly.
Jimmy's Seafood Buffet
4117 N. Croatan Highway, Kitty Hawk, (252) 261-4973
Yes, buffet dining is still a thing. At Jimmy's Seafood Buffet they have a ton of new safety protocols in place, including a couple of options for enjoying your meal outside.
Bad Bean Baja Grill
4146 N. Croatan Highway, Kitty Hawk, (252) 261-1300
Bad Bean has patio seating and seating at tables under umbrellas. They serve lunch and dinner. 
Ocean Boulevard Bistro and Martini Bar
4700 N. Virginia Dare Trail, Kitty Hawk, (252) 261-2546
The patio has always been available for drinks and apps, but now you can enjoy dinner out there as well, right in the fun action of the beach road. 
TRiO Restaurant & Market
3708 N. Croatan Highway, Kitty Hawk, (252) 261-0277
TRiO has three new outdoor seating areas: on the front sidewalk, in the yard and on the patio. The patio and yard are dog friendly. They serve lunch, dinner and Sunday brunch. Live music is offered some nights and at Sunday brunch.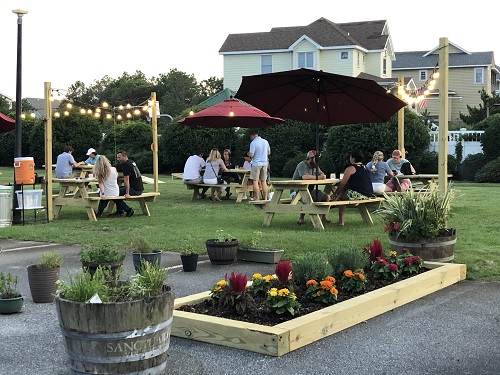 Relaxing with wine and cheese in the yard at TRiO Restaurant and Market. Photo by Celeste Osorio, Edible Photography OBX
Chilli Peppers Grill & Pupuseria
3001 N. Croatan Highway, Kill Devil Hills, (252) 441-8081
Chilli Peppers has a fenced-in, fully landscaped courtyard with water features. It's covered with sail shades and pergola so it's weather permitting. Serving lunch, dinner and Sunday brunch with occasional live music.
La Fogata Mexican Restaurant Kitty Hawk 
3924 N. Croatan Highway, Kitty Hawk, (252) 255-0934
Enjoy La Fogata's Mexican fare and tasty cocktails on the spacious lawn for lunch and dinner.
Tortuga's Lie Shellfish Bar & Grill
3016 S. Virginia Dare Trail, Nags Head, (252) 441-7299
Tortuga's is offering covered outdoor dining behind the restaurant near the volleyball courts for lunch and dinner. You won't feel out of place in your bathing suit if you run over from the beach.
Old Favorites
These are some of the tried-and-true favorites for outdoor dining, and they're as popular as ever now.
Outer Banks Brewing Station 
600 S. Croatan Highway, Kill Devil Hills, (252) 449-2739
The backyard here is the ultimate hangout with live music, a bar, yard games, comfortable seating and a playground for the kids. Order food and drinks from the outside bartender, and enjoy your meal at the seating of your choice.
Fish Heads Bar & Grill
8901 S. Oregon Inlet Road, Nags Head, (252) 441-5740
Fish Heads is one of the few restaurants on the oceanfront. Sitting on the pier, you're literally right over the ocean. Covered and uncovered dining is available for lunch and dinner.
FreshFit Cafe
7531 S. Croatan Highway, Nags Head, (252) 715-6444
Outdoor seating is available at umbrella-shaded tables on their deck overlooking the sound. They serve super-healthy and delicious breakfasts, lunches and dinners.
Avenue Waterfront Grille
207 Queen Elizabeth Avenue, Manteo, (252) 473-4800
Avenue has tables on its patio, which overlooks the Manteo waterfront. They serve lunch and dinner and have live music some nights.
Lost Colony Brewery & Cafe
208 Queen Elizabeth Avenue, Manteo, (252) 473-6666
Lost Colony Brewery & Cafe has been offering dining al fresco for years! They welcome your dog outside (they even have treats!), and they serve some of the most popular beer around ... great food too!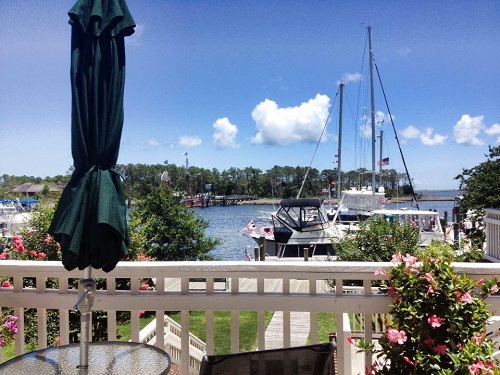 The view at Avenue Waterfront Grille in Manteo. Photo: Facebook
A Few Things to Remember
Wear your mask when entering the restaurant. Keep your mask on until you are seated. Wear your mask to the restroom and as you are exiting.

Stay at least 6 feet away from others, and keep your kids close to your table, whether you are indoors or out.
Wash your hands or use hand sanitizer before sitting down and perusing a menu.

Be patient. Restaurants are short-staffed this summer, and they're dealing with new regulations and procedures. Expect service times to be slower than normal (and if they aren't, be pleasantly surprised!).

Pay attention. It might be difficult to understand your server because they are wearing a mask. Give them your full attention and remember they have to wear it by law.
Tip your server well. Imagine running in and out of a cool restaurant into hot weather all day while wearing a mask and gloves. It isn't easy!
Check the weather before you go. Many outdoor dining options are weather permitting. Some are not covered and some are covered, but if it's blowing and raining sideways, you might get wet. 
If you have a problem with something, go to the manager instead of firing off a negative review on Yelp or TripAdvisor. 
If you are not feeling well, please stay home and order in.
At Outer Banks This Week, we applaud and appreciate all the restaurateurs and restaurant staff of the Outer Banks. They are on the front lines busting their butts so all of us can relax and enjoy a good meal out of the house! Check here for the full list of all the Outer Banks restaurants from Corolla to Ocracoke.
P.S.: While we're on the subject of dining, we'd like to give a shout-out to Colington Cafe in Kill Devil Hills for their effort to keep their curbside pickup environmentally friendly. Chef Jeff Lane is committed to using environmentally friendly take-out supplies. They serve take-out fare in reusable containers and paper bags and offer utensils or napkins only by request. Take-out is great, but the plastic and styrofoam one-use materials are not. Thanks, Colington Cafe!
What are your favorite places to eat outside on the Outer Banks? Leave a comment below or on Facebook.