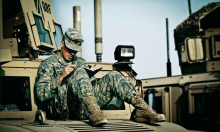 What a week on the Outer Banks! The Americana Beer Festival kicked off Veterans Week last Saturday with delicious libations from the best veteran-owned breweries in the state – along with some hilarious keg bowling and life-size Jenga – and throughout the week we have celebrated our vets with an array of banquets and tributes to show our community support for all they have done. This weekend will bring the centerpiece of Veterans Week at the beach – the Outer Banks Veterans Writing Project in which vets and active duty service members can partake in a free, two-day writing workshop taught by veterans. With the gorgeous weather we've been having reminiscent of late summer, I'd say it's a pretty great time to be on a sandbar.
Outer Banks Veterans Writing Project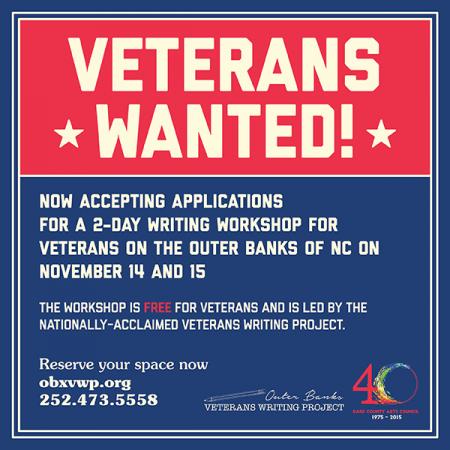 As part of a growing national movement to enrich the lives of vets through creative expression, the Outer Banks Veterans Writing Project provides an outlet for our military men and women to explore their experiences in the military through writing. The focus is on healing, and participants are encouraged to write not just for the weekend but after the seminar has concluded too by submitting their work for publication in the Veteran Writing Project's Literary Journal. Combat veteran and professional writer Ron Capps will lead the workshop, which involves a course curriculum, instruction and one-on-one guidance. The writing project will take place on Saturday, November 14 and Sunday, November 15 from 9 a.m. to 5 p.m. at the UNC Coastal Studies Institute in Skyco. Pre-registration is required, and both past participants in the program and new writers are welcome.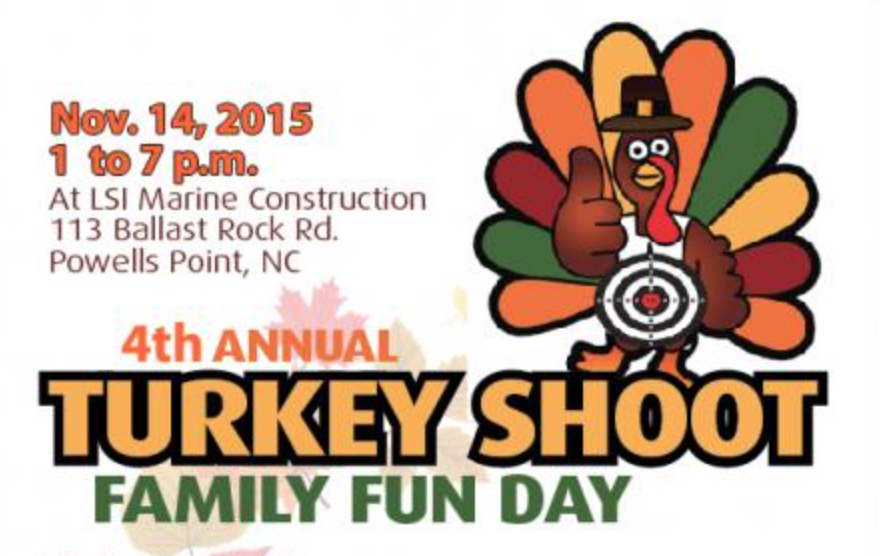 Turkey Shoot and Family Fun Day
Forget the Christmas lights and gingerbread cookies. Now that we're into November, I, personally, am ready to celebrate everything turkey. The Lower Currituck Volunteer Fire Department is hosting their 4th Annual Turkey Shoot and Family Fun Day where contestants can shoot at paper targets with a shotgun in hopes of winning a frozen turkey, amongst other prizes. The targets are placed 60 to 75 feet away from the shooter, and the one who hits closest to center wins the round. There's going to be award-winning barbecue and Brunswick stew to keep us warm as well as a toasty bonfire and a photo booth for some holiday memories. Also up for grabs in the realm of prizes are hams, cash prizes and a silent auction with items donated by local businesses. The cost to shoot is $4 for turkey rounds, $6 for ham rounds and $10 for cash rounds. All funds raised will go to the fire department. It's all happening at LSI Marine Construction in Grandy on Saturday, November 14 from 1 to 7 p.m.
Theatre of Dare's Our Town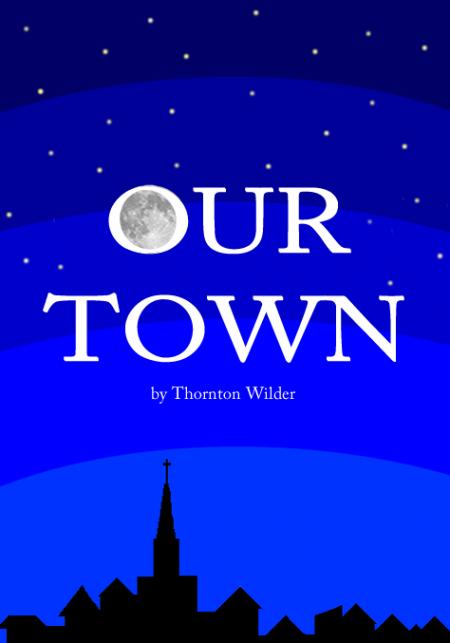 Celebrating their 25th anniversary season, Theatre of Dare has a great line-up of productions for us this winter and spring including this weekend's Our Town. The play tells the simple story of two people falling in love, getting married and living out their lives in a small town, but beneath that story lies the stark truth of human existence as that small town becomes an allegory for everyday life. As someone who has never been much of a theater devotee, I can tell you that I have always loved attending a Theatre of Dare production, not just because of the great show but because I often realize that I know members of the cast. It's community theater at its best, and this weekend it's happening at the COA Auditorium in Manteo. You can see Our Town on Friday, November 13 and Saturday November 14 at 7:30 p.m. or head to the matinee on Sunday, November 15 at 2 p.m. Tickets are $11 for adults and $6 for students.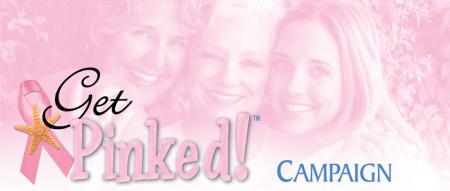 Get Pinked! And More Party
Have you ever supported breast cancer patients on the Outer Banks? Then you've probably witnessed Get Pinked! in action. The grassroots effort was born in 2010 to raise funds for breast cancer patients, offering free mammograms for any woman or symptomatic man for breast cancer screening. The campaign has provided more than 1,000 free screening mammograms and has become one of the most successful cancer awareness and screening efforts our community has ever experienced. Tomorrow, on Friday, November 13, Kelly's Restaurant will host the Get Pinked! And More Party to thank supporters who helped pioneer the campaign. It will also be an opportunity for Get Pinked! to share their future plans with the public. Tickets are $30 per person and can be obtained by calling Lyndsey Hornock at (252) 449-9183. Sponsorship opportunities are also available.
As we approach the winter season, oyster roasts and laid back local music are exactly what I'm looking for in the realm of nightlife. There's all that and more highlighted on our Nightlife & Events page, so whether you're looking for a casual painting party or a late night dance party, start planning your week now.