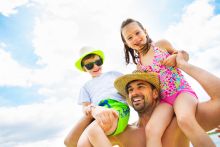 There is a lot to appreciate about the dad stereotype: cringe-worthy jokes, insisting that everyone participate in the dorky activities, socks with sandals (it prevents blisters), sharing stories that begin with, "Well, when I was your age."
These are a few quality features of the men who teach us so much (whether or not they're technically our dad), and they must be celebrated. The Outer Banks is just the place to do so. If you're spending Father's Day on the Outer Banks, here are a few activities that speak to dad-like hobbies and interests. Whether it's spending quality time with the entire crew, playing outside or finding top places to hear oldies tunes or unwinding with a cold one, consider these ideas for creating the ultimate dad-approved weekend on the Outer Banks.
When I think about what my dad likes doing, most of his activities take him outside. Fortunately, several of the top things to do on the Outer Banks take advantage of the great outdoors.
When my dad goes on vacations, he always makes us do a family hike (and surprisingly, he's only gotten us lost once). For beautiful trails that take you deep into the maritime forest and include glimpses of the sound, head to Nags Head Woods Ecological Preserve. With choices between long and short trails over easy-to-navigate terrain, it's an easy way to take a break from the beach during the day and see this lush, lesser-known side of the Outer Banks that will probably inspire your dad to share (debatably) deep and pensive bits of fatherly advice.
If I had to make a bet, I'd say that for every 10 men you see playing golf, at least seven of them are dads … probably. If your dad loves golf, the Outer Banks is home to nine incredibly landscaped courses, some located on the sound and others in the maritime forest. Treat dad with a day or week-long pass to one of these courses. Join him for the fun or offer to chauffeur him around the green.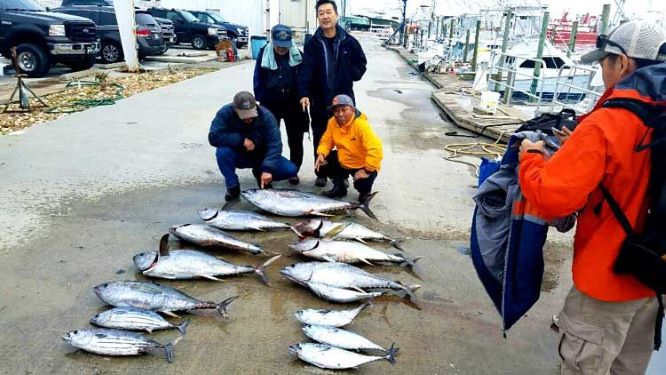 Moment of truth: Who caught "the Big One"? Photo: Phideaux Charters
The Outer Banks is known for its aquatic activities, and it seems like many dads particularly enjoy fishing and boating. Arrange a charter fishing trip for dad and take him on an unforgettable experience, offshore or inshore, full day or half. Right now is the perfect time to catch yellowfin tuna, mahi mahi, marlin, cobia, sheepshead and more. Charter boats can accommodate groups of four members or more, so grab your rod and challenge dad to see who catches "the Big One."
Maybe your dad is less of an angler, but he can still have a great time out on the water with a boat cruise or dolphin tour in the sound. Explore the Currituck Sound aboard a catamaran cruise with Nor'banks Sailing Center, where you and your dad can arrange to spend a whole day on the water or simply go out in the evening to catch the sun as it sets. If you want glimpses of dolphins while you're out on the water, check out Captain Johnny's Dolphin Tours. The captain's dad-worthy jokes and fascinating facts entertain all ages of tour-goers.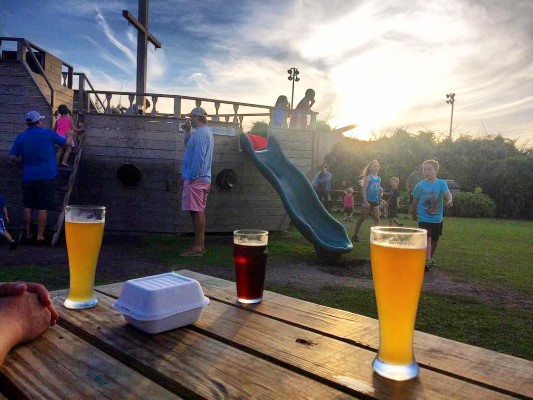 Both dads and kids will find much to enjoy at Outer Banks Brewing Station.
For many dads, sitting outside and cracking open a cold one is the best way to unwind. Yes, this can be done on the beach, on the sound or on a porch; however, some of the best go-to places for this are the breweries on the Outer Banks. For a wide assortment of homespun brews and a setting to match, it doesn't get much more approachable than the Outer Banks Brewing Station. Tour the brewery to see how the magic happens. The nightly Backyard Beats and Eats is where you can sip on a cold one from their backyard bar and enjoy local musicians' gentle jams in the backyard. Pay attention to dad's favorite brew – you can surprise him with a growler of it as a Fathers' Day gift. If your dad is more into pinots than pilsners, take him to a wine tasting or winery tour at Sanctuary Vineyards in Currituck.
For both drinks and music dad is sure to love this weekend, take him to see The Mo-Rons at Jack Brown's Beer and Burger Joint on Saturday, June 15, from 7 to 10 p.m. The band specializes in oldies hits, so expect plenty of The Beatles, Pink Floyd and Led Zeppelin … ya know, dad jams. And with more than 120 types of beer at the restaurant, dad can pair his stout with the Stones.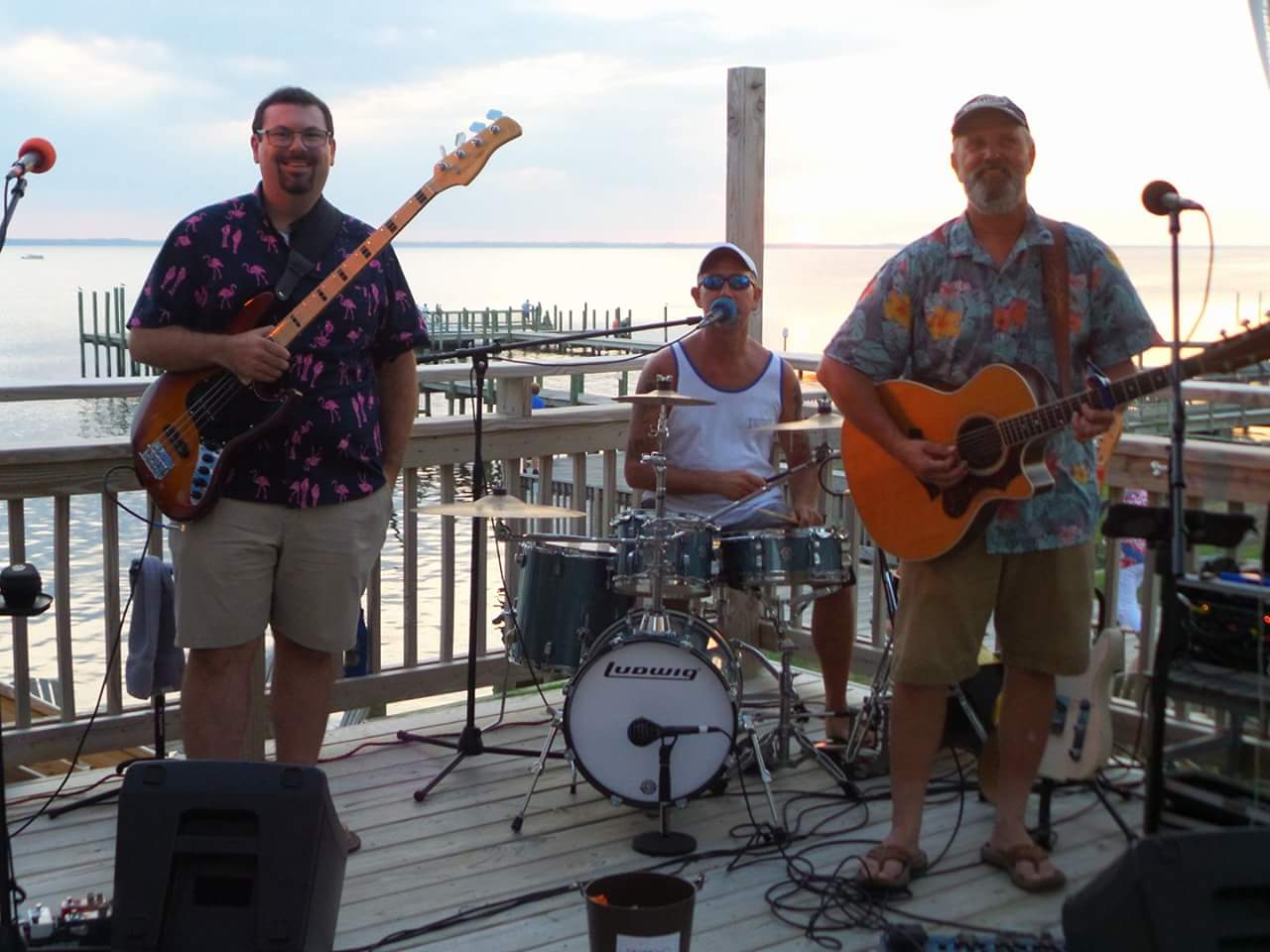 Local band The Mo-Rons will play at Jack Brown's this weekend. Photo: The Mo-Rons Facebook
There are plenty more things to do on the Outer Banks that dads will love. Check out our guide and see what's best suited for the dads in your lives. Keep up, too, with all the happenings this weekend by using our Daytime Events and Nightlife calendars. With numerous festivals, fairs and fun, family members of every age will have plenty to do around these towns.