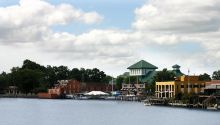 I'm taking an unpopular stance (among most people on the Outer Banks) by making a case for Elizabeth City. My hometown. E City, as I affectionately call it. The inland city gets a bad rep from many folks around here who don't know what they're missing. Sure, there's no ocean and it's nowhere near the Outer Banks' concentration of shops, restaurants and activities, but hear me out: The picturesque downtown, bordered by the Pasquotank River, is home to walkable streets and stately homes and buildings that reflect Victorian and modern splendor. The town thrives with new, refreshing energy, propelled by a revitalization in recent years that's brought a surge of eateries, indie shops and cultural attractions. The best part? The downtown's buzz stays lively year-round thanks to trivia nights at the brewery, musical theater performances, art gallery events, a fresh dining scene and more.
Photo credits to Recreation News
When I start craving a break from the Outer Banks' quietude in the doldrums of winter, Elizabeth City's welcome change of scenery (and a Panera!) await an hour or so away. Getting to the downtown is a breeze. Simply follow U.S. Highway 158 West into Elizabeth City. The highway skirts you around the perimeter of downtown, but if you turn left right after the bridge, you'll find yourself downtown. Public parking is available on both sides of the streets, so ditch the car and explore on foot.
Cultural Attractions
For an event destination and regular dose of culture, look no farther than Arts of the Albemarle. This gallery and organization hosts art exhibits and receptions, musicals, theater performances and more that showcase skilled members within the community as well as visiting acts from North Carolina and Virginia. Time your visit right and catch one of the visiting music or theater performances or show by Center Players, the city's musical theater troupe for talented youth. AOA serves as the headquarters for the monthly First Friday Art Walks, which bring residents, visitors and organizations to the downtown shops and galleries for after-hours events. But any day during business hours, wander through their multi-room gallery and marvel local artists' handiwork.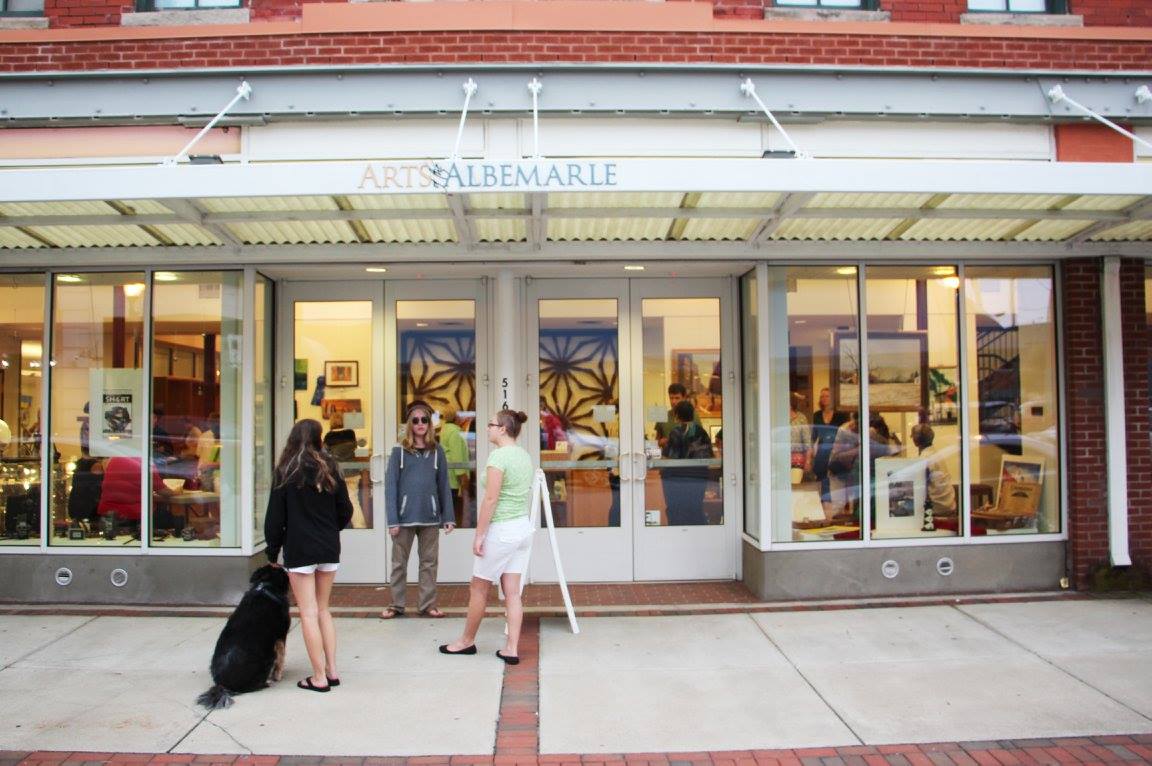 Photo credits to Arts of the Albemarle
Continue your cultural crawl at the Museum of the Albemarle, where artifacts, exhibits and collections of the region's maritime and coastal history (including the Outer Banks) await. See history pieced together through displays of antebellum fashions, artifacts recovered from shipwrecks, heirlooms from both slaves and slave owners, replicas of the turn of the century and more. It's a must-do attraction for anyone seeking a deeper understanding and appreciation of the decades that shaped these Inner Banks towns and counties. 
Dine
A rich dining scene blankets the streets around downtown Elizabeth City, and there's never a bad time to sip or savor something.
Start the day or grab a pick-me-up from Muddy Waters Coffeehouse. Don't be fooled by its Mystery Machine-colored exterior – as a town cornerstone, this coffee shop bustles with a regular crowd of businessmen rubbing elbows with students, new moms and babies, pastors and hippies. Muddy's, as it's called, roasts their coffees in house and serves espresso drinks, a rotating selection of house brews, smoothies and pastries every day. If you miss them in the morning, join them in the evening for a wine flight or North Carolina-made beer.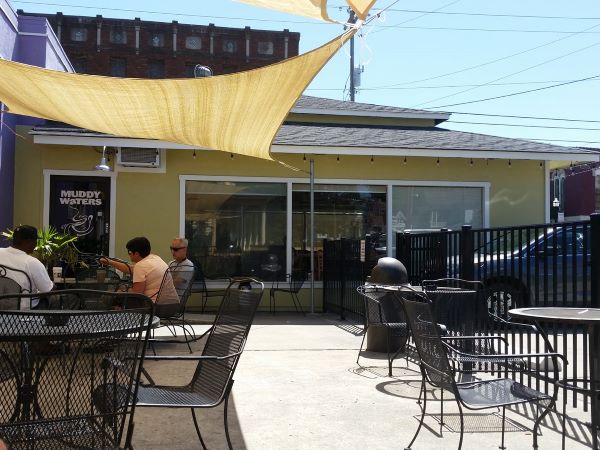 Photo credits to Muddy Waters Coffeehouse
Speaking of beers, perhaps you've seen brews from Ghost Harbor Brewing Company popping up at taps and events around the Outer Banks. You can visit the craft brewery during your downtown daytrip. Try their Gypsy Tears IPA or their Mulligan Stout, among a dozen other choices. If you can't make up your mind, ordering a flight is definitely the way to go. You can even take home a growler of your favorite.  Ghost Harbor is located in historic Pailin's Alley – look for the overhead twinkle lights illuminating the brick courtyard. At night, the brewery's regular events, including live music, music bingo, trivia and open-mic nights, flood the entire alleyway with lively fun.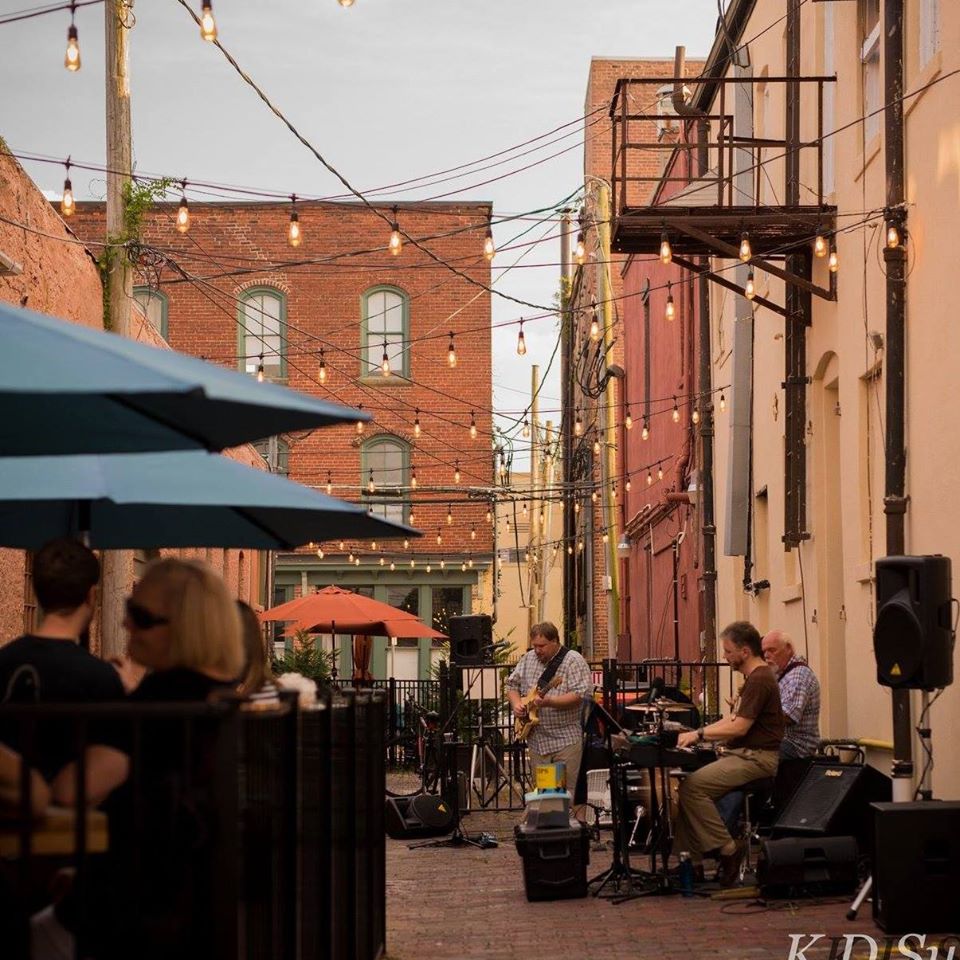 Photo Credits to Pailin's Alley Collective
They don't serve food at Ghost Harbor, but you're welcome to bring in take-out from the neighboring restaurants. There are quite a few to choose from, but the one I (and Outer Bankers in the know) always request is Toyama Japanese Restaurant and Sushi Bar. This sushi bar whips up unrivaled rolls, slices sashimi so fresh you'd swear it swam onto your plate and authentic Japanese cuisine, like yakimeshi (seafood fried rice) and unaju don (barbecued eel). The dishes carry out well, but actually dining at the counter and watching as the chefs craft rolls with a precise creativity is an experience not to miss.
At about 45 minutes west of Wright Memorial Bridge, Elizabeth City's an unfussy destination if you want to stroll around a lively downtown, pop into galleries and antiques shops, get a taste of community theater and grab a delicious bite or brew. Get off the beach for an evening or day, and see what you discover! And back here on the Outer Banks, art shows and history presentations, among other Daytime Events and plenty of Valentine's Day date ideas in the Nightlife category, await.