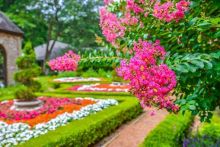 On Mother's Day of course moms love cards, flowers, jewelry and chocolate, but what moms really want is to spend time with their children. And beyond that what they really, really want is for someone else to plan how that time will be spent. If Mom is the chief planner in your family, the one who usually researches the fun things to do, makes the reservations, organizes the outings and herds the family out to do them, give her a break this year. Be the one to make the plans. There are plenty of events and fun things to do on the Outer Banks, and your mom will love them, especially because you're with her.
Photo: Take mom for a tour of The Elizabethan Gardens for a show of spring color.
If your mom is the active type …
Run the Nags Head Woods 5K through Nags Head Woods with your mom on Saturday, May 13. Locals are loyal to this fun race, which has been around for 37 years now. You'll get t-shirts, medals, a post-race party and the good feeling of supporting Outer Banks charities, and best of all you'll have a great morning together. The 5K starts at 8 a.m. costs $38 for adults, $28 for teens and offers discounts for younger kids. There's also a 1-Mile Fun Run and a race at 7 a.m. before the main race.
Climb Bodie Island Lighthouse, a 219-step climb with the reward of an amazing view of the ocean and sound. You can only buy tickets online on the day of your climb starting at 7 a.m. Go to recreation.gov to sign up. You can also climb Currituck Beach Lighthouse, which is easier because you don't have to buy tickets in advance online. Just show up and climb (for a fee).
If your mom loves nature …
Take your mom to smell the flowers in The Elizabethan Gardens. Walk among azaleas, roses, dogwood, magnolias, iris and all the other blooms in the gardens, and stop in the plant shop on the way out to buy your mom some herbs and other plants. The gardens are open every day from 9 a.m. to 5 p.m. On Saturday, May 13 they're hosting a workshop on making Hypertufa Workshop. You'll make an artificial rock planter to fill with your favorite plants.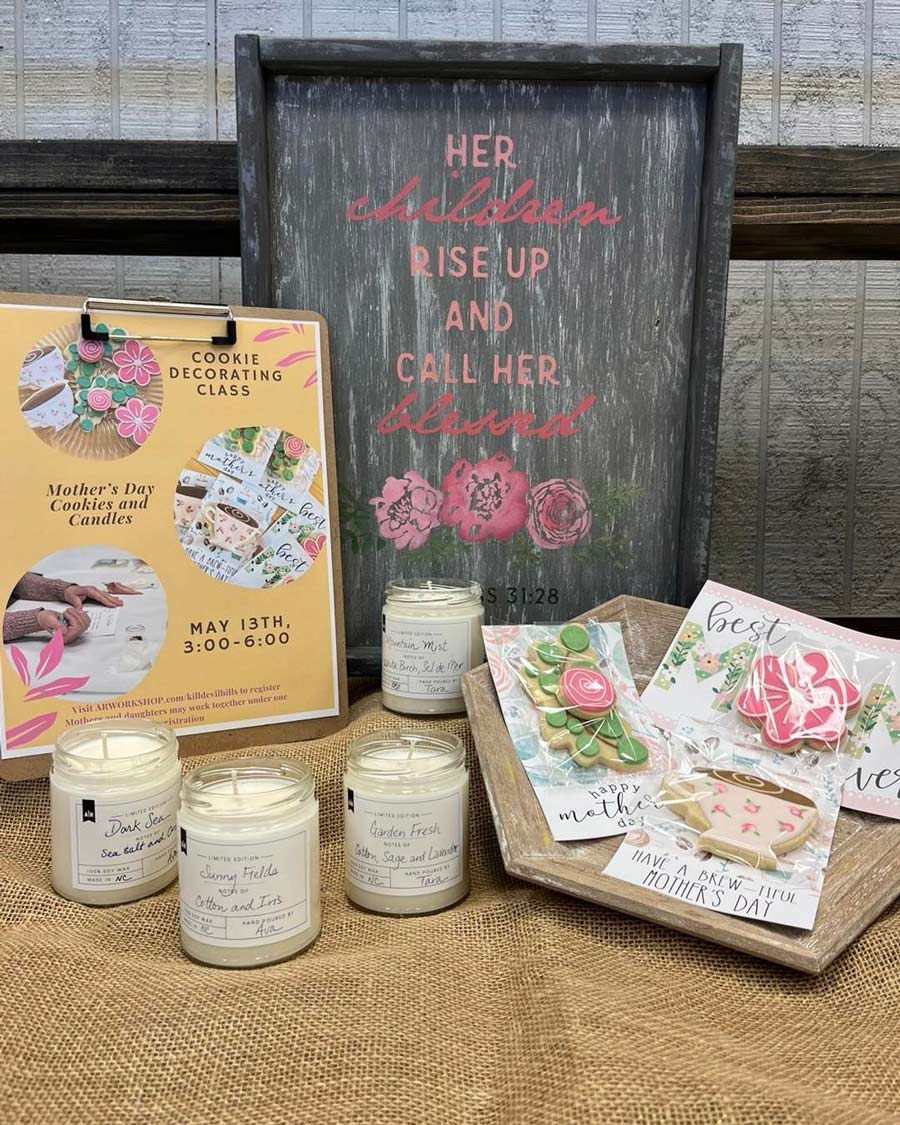 Photo: Mom and kids can work together to make cookies and candles at AR Workshop.
If your mom is crafty …
AR Workshop in Kill Devil Hills has all kinds of crafty activities that you and your mom could do together. On Saturday they're offering a special workshop in making a Succulent Centerpiece Box, paired with mimosas if you'd like, from 11 a.m. to 2 p.m. They've also got a Mother's Day Cookies & Candles event from 3 to 6 p.m. Register in advance as these will sell out fast.
If your mom likes to shop …
Hit up Downtown Market on the Manteo Waterfront, the first Manteo market of the year on Saturday, May 13 from 9 a.m. to 1 p.m. Stroll around the market for fresh produce, baked goods, arts, crafts and more. Stay downtown to have lunch or browse in the shops. While you're in Manteo, head over to Dare Arts gallery in the old courthouse downtown. The gallery rooms are chock-full of art for sale, plus you can walk through the Mollie Fearing Memorial Art Show, which features dozens of works from local residents.
Just down the road in Wanchese, it's the annual Wanchese May Day event with nearly 30 vendors. You'll find this show at the Wanchese Community Building at 295 Old Schoolhouse Road.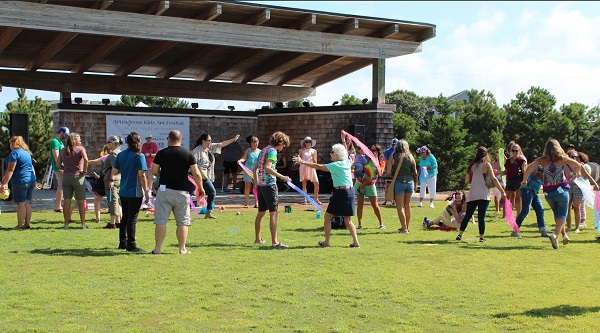 Photo: Party in the park with all ages at Artrageous at Dowdy Park on Saturday.
If your mom loves art …
Head over to Artrageous Kids Art Festival at Dowdy Park in Nags Head on Saturday, May 13 for Artrageous, a long-standing (34 years!) community festival featuring art, dance, music, food and more. It's billed as a kids' festival because there are so many kid-friendly artistic activities and stations, but there's a lot for adults too, including art vendors in the market area, music and food.
If your mom loves it when someone else cooks …
Whether you go out for breakfast, lunch or dinner on Sunday, most local restaurants are going to be offering something special for moms. Here are a few standouts:
Basnight's Lone Cedar Café is hosting its popular Mother's Day Buffet from 10 a.m. to 2 p.m., and the price is right at $30 per person ($15 for ages 6 to 12, free for ages 5 and younger). Local seafood, fried chicken, crab dip and tons of sides and desserts are included. Reservations are recommended: (252) 441-5405.
Red Sky Casual Dining & Cocktails in Duck has an a la carte Sunday Brunch with crafted cocktails. This will be held from 10 a.m. to 3 p.m. Call (252) 619-7181 for reservations.
The Pony & The Boat Comfort Kitchen in Kitty Hawk is hosting a Mother's Day brunch, and reservations are recommended. Call (252) 715-2991.
Owens' Restaurant in Nags Head always has a special Mother's Day menu for dinner, and it includes a free Godiva chocolate mousse for mom. They take reservations for Mother's Day so call (252) 441-7309.
For something very memorable, take your mom to dinner on a bus. The Black Tire Affair is held aboard the Muse Originals' revamped school bus known as #Bus252. Dinner is prepared by Anchor Grill. There are two seatings on Friday, May 12, one at 5 p.m. and one at 7 p.m. You'll enjoy a chef-prepared four-course meal of seafood and dessert plus beer and wine options. Moms will go home with a piece of local art as well! For information go to museoriginals.com.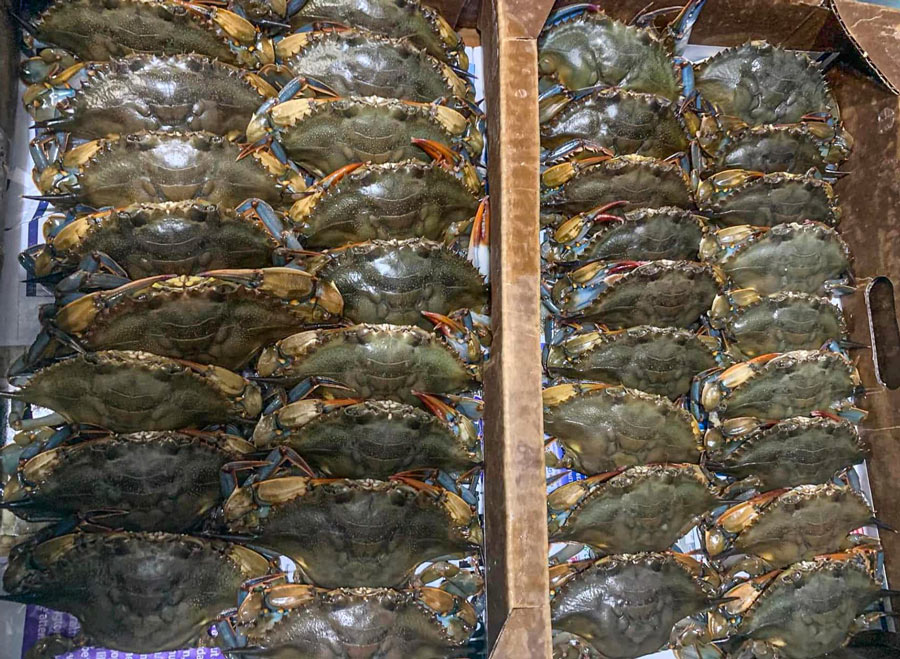 Photo: It's soft-shell crab season, and local restaurants are serving them up!
If your Mother's Day celebrations can wait a day or two, take mom out for softshell crabs because next week is Soft-Shell Crab Week on the Outer Banks. May 15 to 20, head to the following restaurants for soft-shell crab deals and specials: Awful Arthur's Oyster Bar, Basnight's Lone Cedar Café, Blue Moon Beach Grill, Blue Water Grill & Raw Bar, Bonzer Shack Bar & Grill, Chilli Peppers Coastal Grill, Dirty Dick's Crabhouse, Goombays Grille & Raw Bar, Greentails Seafood Market & Kitchen, Henry's Restaurant, The Jolly Roger Restaurant, Lucky 12 Taven, Miller's Waterfront Restaurant, Noosa Beach Grille, Red Drum Taphouse & Grill, Shipwrecks Taphouse & Grill, Sugar Creek Soundfront Restaurant, TRiO Restaurant & Market and Two Roads Tavern.
If your mom loves to party, see our Nightlife section, and for all the fun things to in the coming months and weeks, see our listings of upcoming events.