It used to be that as the month of April wrapped up, no one ate oysters anymore. We were committed to the old adage that we could only eat oysters in months that had an R in the name. But that's because back then we only ate wild-harvested oysters.
Now, thanks to the practice of oyster farming, we can eat oysters all year round. We can fry a few oysters alongside our softshell crabs in May, slurp chilled oysters with a glass of Albarino in June, pop a few oyster shooters at Fourth of July cookouts and belly up to an oyster bar in August. Imagine that!
Photo: Devil Shoals Oysters from Ocracoke Mariculture
Farmed oyster shells are smoother and more polished than wild oysters on the outside, but the oysters themselves are just as tasty. Oyster farms are located in leased sound waters, and the flavor and size of the oysters varies depending on location of the farm and proximity to the ocean. In 2023 North Carolina had 220 shellfish growers with 448 leases on 1,828 acres of public waters, according to the Division of Marine Fisheries. Just like wild oysters, the farmed oysters contribute to improved water quality. One oyster can filter 50 to 60 gallons of water a day.
The Outer Banks is part of the NC Oyster Trail, which was launched in 2020. The trail links oyster farms, restaurants, educational centers and seafood markets all along the North Carolina coast and is administered by N.C. Coastal Federation and N.C. Sea Grant in partnership with the N.C. Shellfish Growers Association.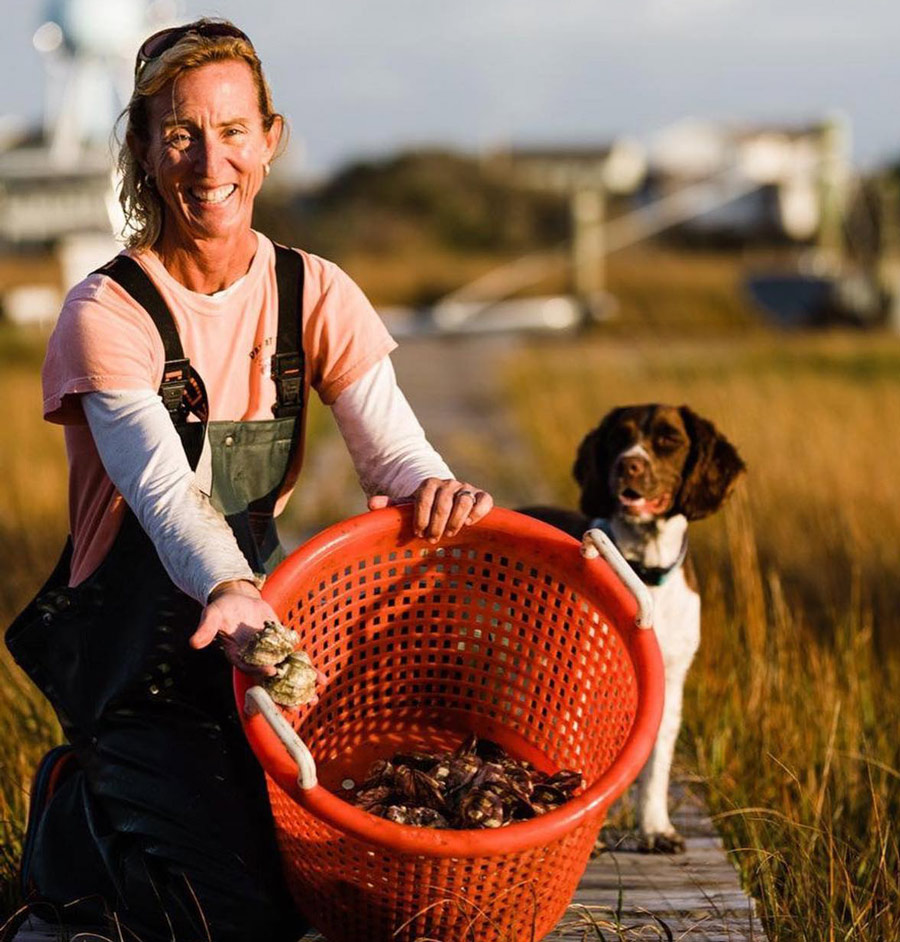 Photo: Katherine McGlade of Slash Creek Oysters in Hatteras. Photo by Baxter Miller for Slash Creek Oysters
Local Oyster Farms
The Outer Banks has numerous oyster farms, some of them on the trail and others not. Some of the farms offer boat tours to see their operations and some just sell their oysters to markets or restaurants directly. Local oyster farms include:
Ocracoke Mariculture/Devil Shoals Oyster Company, Ocracoke - tours available
Slash Creek Oyster Farm, Hatteras - tours available
Sticky Bottom Oyster Company, Hatteras 
Cape Hatteras Oyster Company/Hatteras Salts, Hatteras
Kinnakeet Oyster Company, Avon
Savage Inlet Oysters, Oregon Inlet
Little Star Oyster Farm – oysters coming soon, Hyde County
Currituck Oyster Company - Hyde County
Upcoming Oyster Event
Oysters Uncovered: The Kayak Edition
May 4 and 18, 11 a.m. to 1 p.m.
Want to see an oyster farm? N.C. Coastal Federation (NCCF) is offering a farm-to-fork kayak experience to an oyster lease. You'll join Outer Banks Kayak Adventures on a tour from Broad Creek in Wanchese to Coastal Federation's demonstration oyster lease and living shoreline. You'll explore marsh coastline in sit-on-top kayaks while NCCF's Victoria Blakely will discuss oysters and everything you're seeing along the way. After the kayak trip, head over to Blue Water Grill & Raw Bar for a sampling of a half-dozen North Carolina oysters and one of Blue Water's famous Oyster Shooters. The cost is $75, and you need to register in advance. Register here.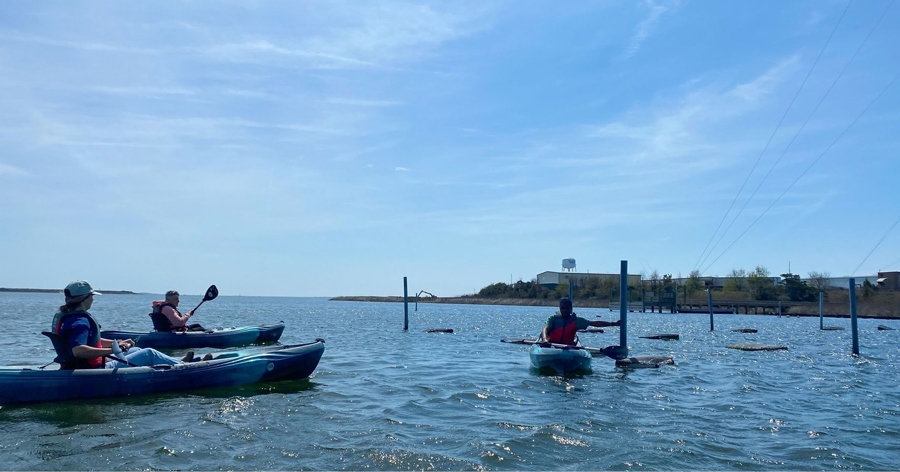 Photo: N.C. Coastal Federation is offering a kayak trip to a demonstration oyster farm on May 4 and 18.
Where to Eat Oysters
There are many places to enjoy farm-raised oysters year-round on the Outer Banks. At these restaurants, you can have an oyster-tasting experience with oysters steamed or on the half-shell. I can't guarantee that all of these restaurants will serve you Outer Banks-farmed oysters, but be sure to ask where they came from. If they're not from the Outer Banks, they might be from one of the other oyster farms in North Carolina.
Here are a few of the favorites for steamed or raw oysters, but look for local oysters on menus in other restaurants as well. Fried oysters are available in just about every restaurant that serves seafood, but with fried oysters you're not able to taste the subtleties of the oyster's merroir.
North Banks Restaurant and Raw Bar, Corolla
Sundogs Raw Bar and Grill, Corolla
Village Table and Tavern, Duck
Black Pelican, Kitty Hawk
I Got Your Cabs, Kitty Hawk
Shipwrecks Taphouse and Grill, Kitty Hawk
Awful Arthur's Oyster Bar, Kill Devil Hills
Goombay's Grill & Raw Bar, Kill Devil Hills
JK's Steaks and Seafood, Kill Devil Hills
Tortuga's Lie Raw Bar and Grill, Nags Head
Blue Moon Beach Grill, Nags Head
Basnight's Lone Cedar Café, Nags Head
Dunes Restaurant, Nags Head
Blue Water Grill and Raw Bar, Manteo
Good Winds Restaurant, Rodanthe
Froggy Dog Restaurant and Pub, Avon
Pop's Raw Bar, Buxton
Diamond Shoals Restaurant and Seafood Market, Buxton
Breakwater Restaurant, Hatteras
Flying Melon Café, Ocracoke
Howard's Pub and Raw Bar, Ocracoke
Ocracoke Oyster Company, Ocracoke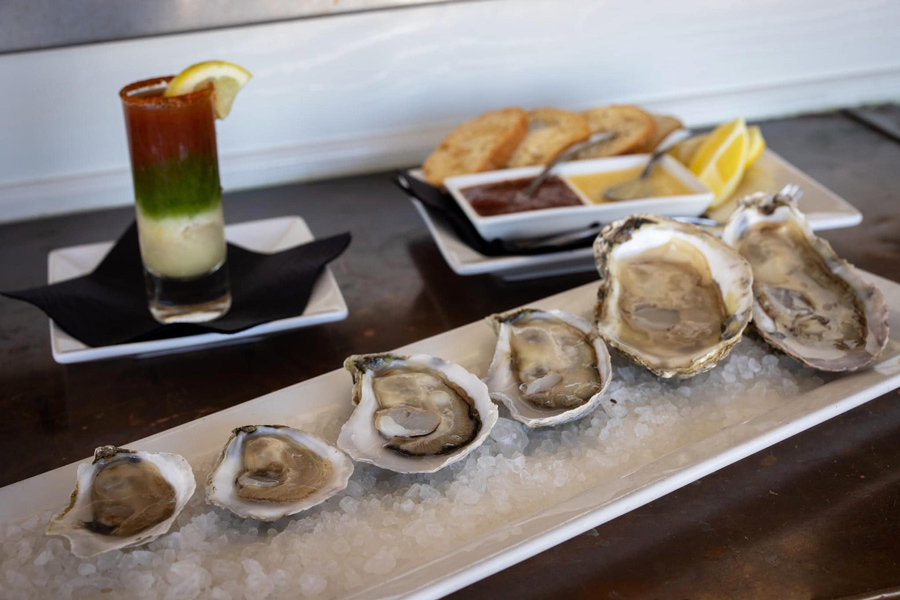 Photo: Blue Water Grill & Raw Bar in Manteo is known for its oyster shoots and oyster tasting bar. Photo courtesy Blue Water Grill.
For details on these and other Outer Banks restaurants, see our Restaurants section.