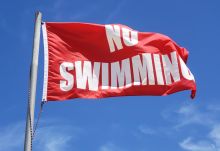 Thank goodness Hurricane Fiona is going to stay offshore of the mainland United States, but the category 4 storm is still affecting the Outer Banks. Large ocean swells from Fiona are rolling toward the Outer Banks, which is great for surfers but not for swimmers.
Due to dangerous rip currents caused by the swell, red flags will be flying on the beaches along the entire Outer Banks Thursday and Friday and likely into the weekend. That means no swimming for anyone, and keep in mind that no swimming means no wading since strong waves and currents could easily sweep you off your feet.
The exception to the red flag rule is surfers. Surfboards need to be at least 5 feet long with at least one fin and a leash. Bodyboards and fins are allowed as long as the sturdy type bodyboard of foam encapsulated by plastic with side rails and stringers; it must have a leash. This exception is intended for serious surfers and bodyboarders only.
By the way, yellow flags placed directly on the beach indicate that there is a moderate risk for rip currents in that location. Only experienced swimmers should enter the water, preferably with a flotation device like a bodyboard.
This brings up a key point. Do you know what to do if you're caught in a rip current?
Rip currents can occur even on calm days that look perfectly benign for swimming. I saw this happen a few weeks ago in Avon. A couple of swimmers near where I was sitting were diving under the shore breakers and within a few seconds they were 50 yards or more offshore. A bunch of us on the beach started scrambling. Someone called 911 for ocean rescue while I ran down the beach to get a couple of boogie boards from some kids – just in case. Luckily the swimmers knew to stay relaxed and swim parallel to the shore. By the time the ocean rescue truck arrived, they were out of the rip and swimming diagonally toward shore. When we saw them obviously touch their feet to the bottom, everyone on the beach whooped and cheered. Crisis averted, but the swimmers were understandably pretty shaken up when they got back to the beach.
Here's a National Weather Service pictorial of a rip current to give you a visual of what's happening with these currents and what to do.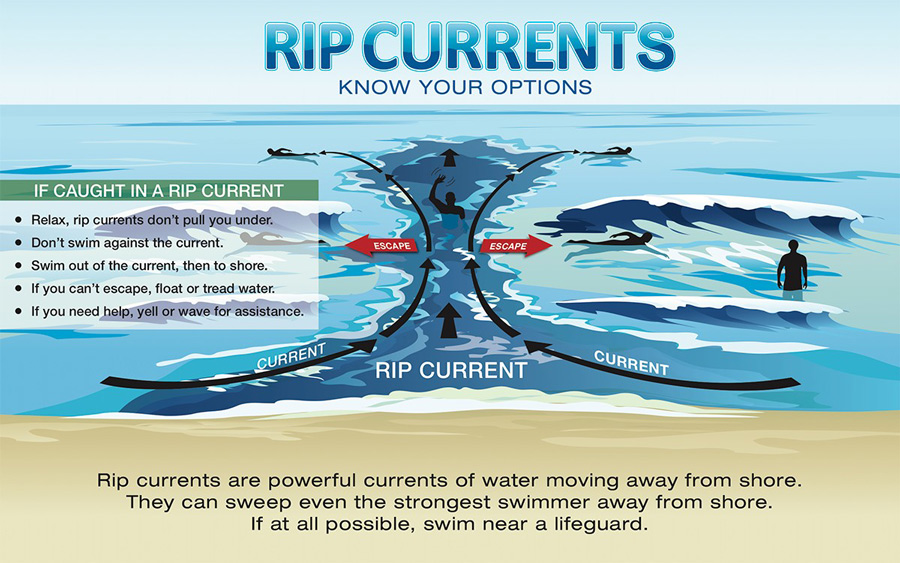 Another hazard of large ocean swell and high surf is that it can cause damage to unprotected houses along the oceanfront. For that reason, Cape Hatteras National Seashore recommends that beachgoers avoid the 2-mile stretch of beach in northern Rodanthe through September 23. It is possible that rough surf could further damage some of the vulnerable homes there, causing septic tank exposure and parts of the houses to litter the beach and float in the surf.
To get updates on rip currents and beach conditions, text the words OBXBeachConditions to 77295 or go to lovethebeachrespecttheocean.com
So what can you do while you can't swim in the ocean? The red No Swimming flags don't have to ruin your vacation. There's so much to do here besides swimming, so you're going to have fun no matter what. 
Enjoy the Beach
You can still sit on the beach, and it's fun to watch the surfers. The ESA Easterns Surf Contest is running at Jennette's Pier this week, and that's a great time to watch the best surfers on the East Coast in some great big waves. Surfers will be out all along the Outer Banks while the swells are good, so the spectating should be great at the breaks.
If you won't be too tempted to get in the ocean, you can still have a good time at the beach. Bring food and drinks and games like bocce and cornhole. Build a sandcastle or make sand sofas and chairs. Plan an obstacle course or have a field day-style competition with egg toss, three-legged sack races, etc. Walk on the beach. All that fresh air, sunshine and barefoot time will have you just as relaxed and happy as if you had been swimming all day.
Enjoy some pier time. I love being on a pier when the swell is big and you can see the waves right under the cracks in the boards. Enjoy a meal and a walk on a pier at Outer Banks Pier, Nags Head Pier or Avalon Pier. 
Play on the Sound
Soundside beach accesses are harder to find, but they do exist. When the wind is blowing onshore on the ocean side, that means the soundside will be calmer and more enjoyable. Unless the westerly winds are howling, which they area supposed to do on Friday. The sound waters are shallow and safe for wading and swimming. There is a soundside access at Jockey's Ridge State Park in Nags Head, but it's on the radar big time and is usually very crowded (although a weekday in the off-season would be less so). The Town of Nags Head has a few sound accesses (see a list here), and Roanoke Island has one called the Old Swimming Hole. Cape Hatteras National Seashore has several great soundside accesses. For a full list of soundside accesses on the Outer Banks from Corolla through Hatteras, click here.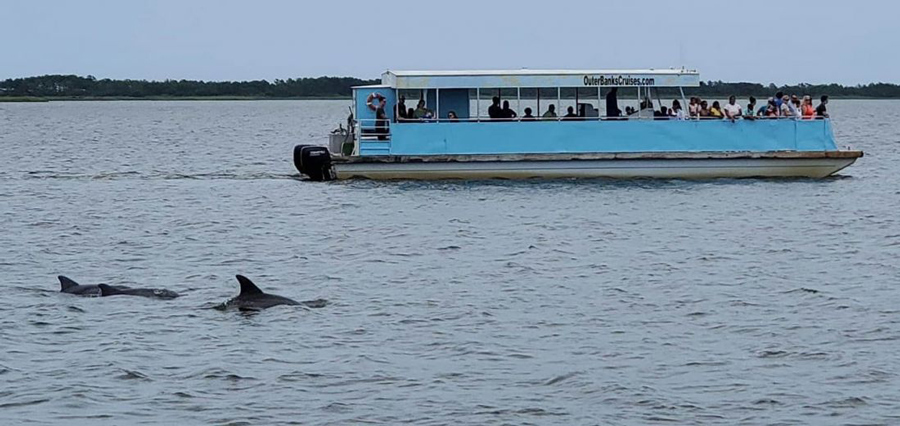 Dolphin tours are a great way to enjoy a boat ride and some wildlife watching. Photo courtesy Capt. Johnny's Dolphin Tours.
Soundside Watersports
Depending on the wind and weather, renting a boat can give you plentiful options for sound swimming or finding a private soundside beach. Explore around in the sound, and you'll find little spoil islands or sandbars where you can anchor the boat and wade ashore to a sandy beach. Never do this on private property, and always make sure you're not entering a closed bird sanctuary. If there are signs on the island, read them. You can rent powerboats, skiffs and pontoon boats as long as you have boat-handling skills. Jet Skis, sailboats, kayaks, canoes and paddleboards are other rental options; see a list of rental outfitters here. Other things you can do in the sound include parasailing tours and kiteboarding and windsurfing lessons; see a list of those businesses here.
Take a Boat Tour 
If you aren't confident at boat handling, someone else can take you. Dolphin tours, head boats, inshore fishing charters, shrimping charters, airboat tours, sailing tours and kayak tours are other ways to get on the sounds. You'll find a full list of these types of tours in our Things to Do section, and you can search by activity.
Take a Hike
There are dozens of places to hike on the Outer Banks, and some of the trails lead to the water. A couple of the trails in Nags Head Woods lead to the sound, where dogs or children can splash and play. The trail at Springer's Point in Ocracoke leads to a soundside swimming hole. Other trails in Nags Head Woods and Fort Raleigh National Historic Site also lead to great views of the water.
Attractions and Events
At the local museums and attractions, there is so much more to do: climb a lighthouse, see fish and animals at North Carolina Aquarium on Roanoke Island, stroll through The Elizabethan Gardens, learn about the first inhabitants of the islands at Frisco Native American Museum and so much more. Thanks to Public Lands Day, admission is free at Wright Brothers National Memorial on Saturday. Keep looking around our site for all the details you need on the local Attractions. And be sure to check out all the Daytime and Nightlife events this week.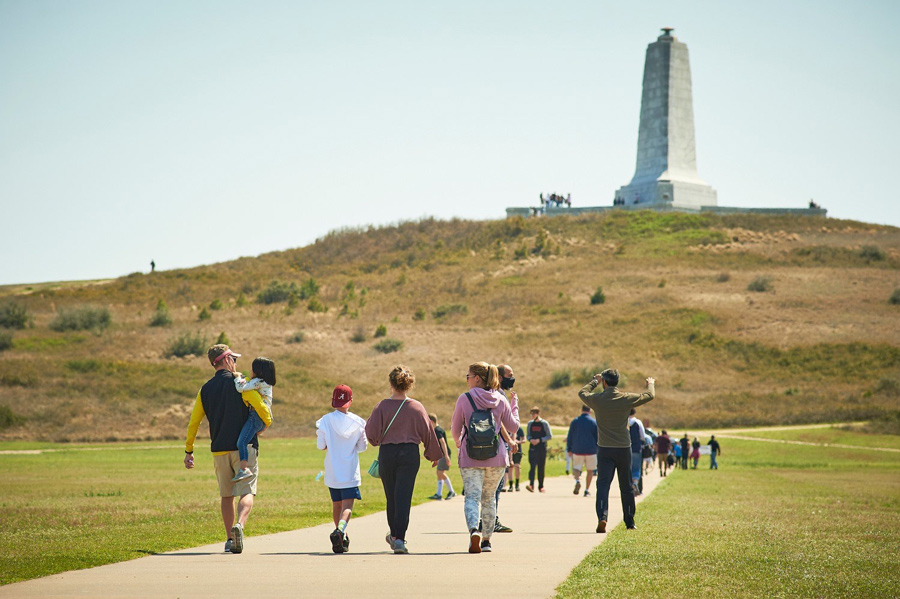 Admission is free to Wright Brothers National Memorial on Saturday, September 24 for National Public Lands Day.