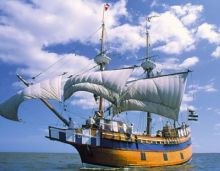 Every Outer Banks vacation should include a trip to Roanoke Island and Manteo at least once. But be forewarned: One visit is not enough — you just can't see it all in one day. The island is overflowing with things to see and do. And more and more each year, people are opting to make Roanoke Island their home base then daytrip out to the other Outer Banks areas of interest.
Roanoke Island is still the daytrip capital of the Outer Banks. That's because the island is home to four of the Outer Banks' most popular attractions, many of which focus on Roanoke Island's history as the first attempted English colonization of America, and other attractions too, like the North Carolina Aquarium and the Roanoke Marshes Lighthouse, that you won't want to miss.
Yet the island is small, only about 12 miles long and 3 miles wide, with watery views and lush vegetation that make it one of the most beautiful places on the Outer Banks. And it is just across the Nags Head Causeway making it quick and easy to get to.
Roanoke Island has three distinct areas — historic Manteo, the Dare County seat and the only incorporated town on the island; Wanchese, a quiet fishing and boat-building community; and the verdant "North End," home to the Fort Raleigh National Historic Site, The Elizabethan Gardens, The Lost Colony and the North Carolina Aquarium.
Manteo with its waterfront/downtown area is an attraction in itself, with shops, art galleries, eateries, a lighthouse, a waterfront boardwalk and boats sitting in the harbor of Shallowbag Bay. The Manteo historic district is full of restored homes and inns that make for great sightseeing or overnight stays. It is perfect for exploring on foot or by bicycle. Park the car and walk around; the town is quite pedestrian friendly. 
The main corridor of Manteo is U.S. Highway 64. This road is lined with shops, galleries, restaurants, service businesses and places to stay. A bicycle/multi-use path runs parallel to Highway 64 from the Nags Head Causeway to the North End. If you have a bicycle handy, we highly recommend using this path to explore Roanoke Island. Find somewhere to park the car (downtown Manteo or at Roanoke Island Festival Park are good places), then pedal away. The path leads all the way out to the attractions of Fort Raleigh and ends at a beautiful soundfront park.
The North End of Roanoke Island is incredibly scenic, with linear plantings of live oaks and crepe myrtles and a lush green setting you won't find anywhere else on the Outer Banks. Since the new Virginia Dare Bridge has diverted vacation traffic to more of the middle of Roanoke Island, you'll find the North End to be a very peaceful place.
Wanchese does not have much for tourists. It's really the only area of the Outer Banks that does not revolve around tourism. This is a small village where people live and work, in the fishing and boat-building industries mainly. But it's a nice place to take a slow drive and see what an old-fashioned island community is like. Check out the Wanchese Seafood Industrial Park to see the thriving boat-building and boat service industry operations; walk the docks at the marinas and look at the boats, many of which were locally built; buy some fresh seafood at a seafood market; then have lunch at Thicket Lump Marina or Fisherman's Wharf Restaurant. Charter fishing trips are available out of two marinas in Wanchese, so that might be another reason to come back.