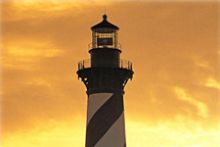 I love a day when our only major decision is whether to spend the day in the ocean or on the sound. Though the ocean was tantalizing on Sunday, we decided on the sound - fishing on the boat, playing on our all neighbors' crazy watersports gear and swimming in the rain...
I feel more grateful than ever for the clean water we have to enjoy on the Outer Banks - and a little ashamed for taking it for granted for so long. * At the same time, I also feel helpless about helping the situation in the Gulf of Mexico, which is why I liked this little prayer for the Gulf that my friend Beth passed along to me. I can send some money and I can send some positive vibes and that's doing something:
"I send the energy of love and gratitude to the water and all the living creatures in the Gulf of Mexico and its surroundings. To the whales, dolphins, pelicans, fish, shellfish, planktons, corals, algae and all living creatures . . . I apologize. Please forgive us. Thank you. We love you." ...
Outer Bankers opposed to further offshore drilling are joining the national Hands Across the Sand gathering on Saturday from 11 a.m. to 12:15 p.m. at the Bonnett Street Beach Access. * People across the nation will be gathering at the same time to join hands to unite against the dangers offshore oil drilling presents to our oceans, marine wildlife, fishing industries and coastal economies. * The mission of the event is to steer America's energy policy away from its dependence on fossil fuels and toward clean energy and to convince our leaders to abandon expanded offshore oil drilling. * The local event is sponsored by the Surfrider Foundation's Outer Banks chapter. * Park at the Bonnett Street access or neighboring beach accesses or at Nags Head Elementary School. * More info at www.surfrider.org/outerbanks....
One of my favorite events of the summer is coming up this week: the Whalehead Club's "Under the Oaks" Arts Festival. * Currituck Heritage Park is such a beautiful site for a festival, and the shade of the oaks here and there is refreshing. * Kids activities will include pony rides with the Corolla Wild Horse Fund, Magic Mike the Clown, rock wall climbing and ceramic art, plus there will be music, food, an auction and entertainment. * It's happening on Wednesday and Thursday, starting at 10 a.m. on both days (closing at 6 p.m. on Wednesday and 5 p.m. on Thursday)...
While you're up there, take a tour of the Whalehead Club. The house museum just keeps getting better. * You can take the self-guided audio tour anytime. On Thursday night, have dinner in Corolla then stick around for the Whalehead Club's Moonlight Legend, Lore and Ghost Tour at dusk. Be sure to make a reservation...
The moon will be full on Saturday ... so do something outside. * One option is the NPS's Full Moon Tour of the Cape Hatteras Lighthouse. Two tours - one at 8:30 p.m. and one at 9:30 p.m. - are limited to 30 people each. Ticket sales start on Thursday. Climbers navigate the 257 stairs with flashlights. At the top, see Cape Point the way the old lighthouse keepers used to see it...
Two of The Lost Colony's summer events start this week - The Queen's Fairy Quest and Simon's Pirate Adventure. * Both are held at Waterside Theatre from 3 to 5 p.m. on Wednesday and require 48-hour advance reservations. * The Queen's Fairy Quest includes a visit with the queen, treats and a backstage tour; Simon's Pirate Adventure is for young pirates and includes dress up, a play, tour and snacks and treats.
The Nature Conservancy at Nags Head Woods is hosting a new summer program from 10 a.m. to noon each Friday. * An interpreter will offer interactive lessons on the plant, animal and mineral items found in the Woods. * It's free and you can just show up...
East Carolina University's School of Theatre and Dance is performing Moonshine and Molasses, a full-length contemporary dance (with 16 dancers) to the folk-rock of music of a five-piece band called Uncle Mountain on Tuesday, Wednesday and Thursday at 8 p.m. in the Outdoor Pavilion. * It's free...
The Dare County Libraries are kicking off their Summer Reading Program for kids on Friday, June 25. The C. Shells will perform a show for children at 9:30 a.m. in Hatteras, 1 p.m. in Manteo and 3:30 p.m. in Kill Devil Hills. After the show, kids can pick up information and materials about the Summer Reading Program...
A couple more things: If you're in the mood to go out, you can find live music any night of the week in our Nightlife listings. * Get your tickets now for the Dare County Arts Council's White Hot Cabaret 35th anniversary celebration and awards ceremony at Pamlico Jack's. It's set for June 30. Call 473-5558.
If you're still with me, I'm impressed. I know these things are long but there's so much to tell you. * I know some of you like to get your information much more quickly, and that's why the By Day and By Night listings on our site are quick and easy to browse - so go there to see what else is going on...