It's not quite spring (that's coming on March 20), but it feels like it on the Outer Banks this week. We're enjoying weather in the high 60s, which means everyone is rushing outdoors for beach walks, bike rides and boating adventures. The daffodils, like these in The Elizabethan Gardens, are showing their sunny little faces all over town.
Speaking of boating adventures, offshore fishing is warming up with the weather. Gulf Stream anglers are catching yellowfin tuna, bluefin tuna and even some wahoo, and the word is getting out. It's time to book those spring charters. According to the marinas, the weekend trips are filling up fast, so weekday trips are easier to book. If you're planning a trip to the Outer Banks this summer, it's highly recommended that you go ahead and book your inshore and offshore charters now. It's going to be a busy summer season on the Outer Banks and, just like last year, visitors want to be outside and on the water.
With COVID restrictions being eased slightly in North Carolina, there are more and more things to do around town. Sadly, the event that everyone looks forward to at this time of year – the annual Outer Banks St. Patrick's Day Parade – is not happening. It draws too big of a crowd, and that's still unsafe, so we'll all have to wait until next year for that.
But there are some things happening around here this week, in celebration of the upcoming St. Patricks' Day and just for fun. Check out these options, and head to our Daytime and Nightlife pages for more things do to.
Thursday 3/11
TriO Restaurant & Market hosts Local Oyster Night every Thursday from 5 to 9 p.m. They serve delicious locally harvested oysters along with a selection of perfectly paired wines. You can't beat that combination of wine and brine.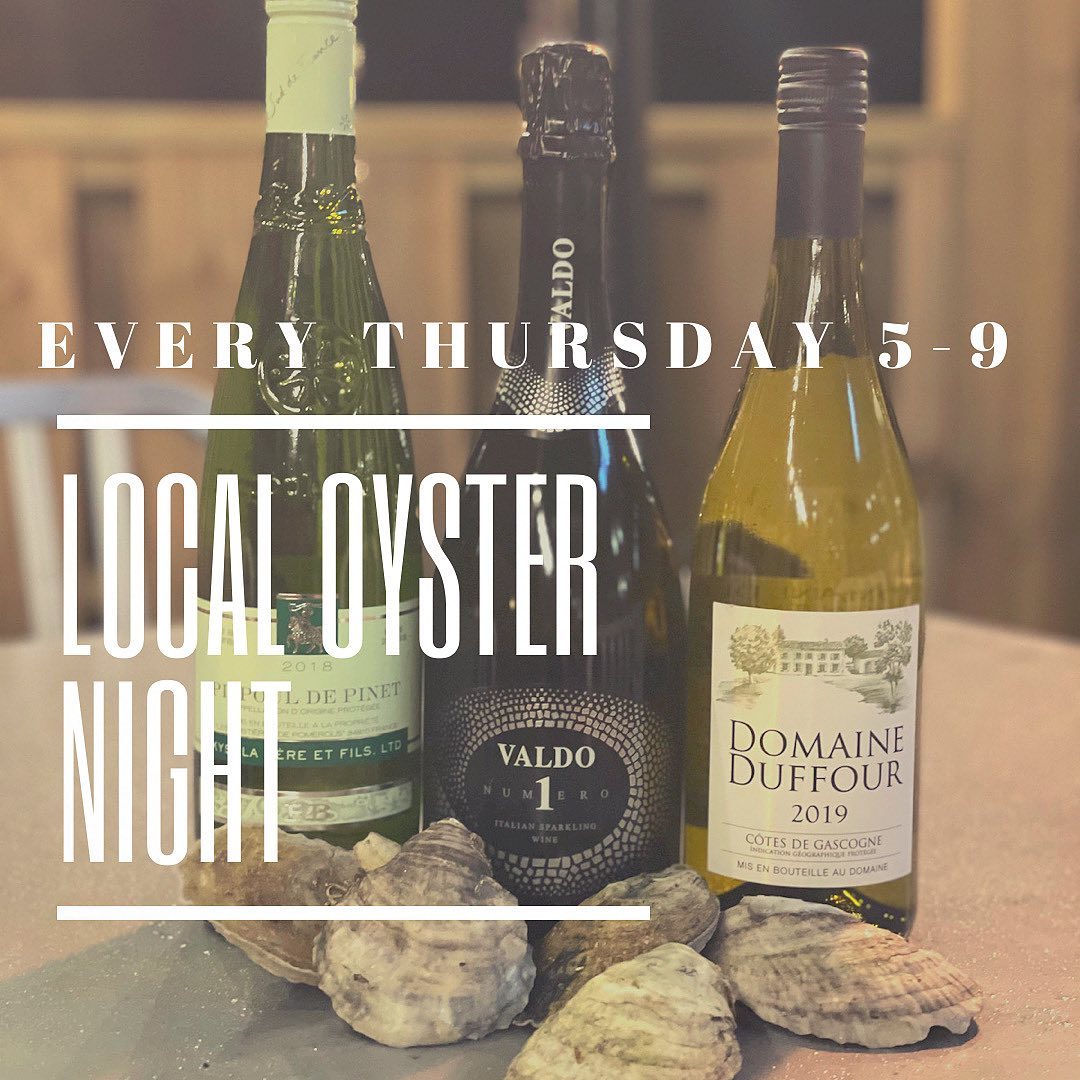 Friday 3/12
Secret Island Tavern in Kill Devil Hills has been through the ringer with COVID restrictions, so they are very excited to be hosting their 2021 Re-Opening Party on Friday. DJs Gustavo, Ohkay and Styles will start spinning the tunes at 7 p.m. (restaurants and bars have to close by 11 p.m. in N.C.), so plan to go out early and celebrate!
Saturday 3/13 
Sweet T's in Duck is hosting its St. Patrick's Day Celebration a little early this week. Join them for Irish music, Irish snacks and Irish beer, and be sure to wear your green. This will happen from 2 to 5 p.m. outside.
Outer Banks Brewing Station is once again staging its St. Paddy's Day 1 Mile Beer Run. Dress like a leprechaun (or at least in green) and prepare to drink a 10 oz. then run ¼-mile four times in a row. Chip timing, a t-shirt, prizes and a backyard party are included. Of course, this is for ages 21 and older. Cost is $38.50.
If you like to shop and meet new people, don't miss the 8th Annual Women's Winter Expo at the Outlets at Nags Head. Dozens of female artists, crafters, nonprofit organizations and direct sales professionals will be on hand, selling goods and offering services. There will be a DJ playing music and giving away door prizes. The event will be held from 10 a.m. to 6 p.m.
Sanctuary Vineyards in Jarvisburg has a fun pre-St. Paddy's event called Leprechaun. It's a day to celebrate with Sanctuary's wine plus pizza from Wise Guys Pies and live music with Kyle Folsom from 12 to 3 p.m. This will be held outside, so dress warmly and wear green!
Secret Island Tavern is back at it Saturday with a birthday celebration that's open to the public. DJ Smilez will be presiding, and, again, doors open at 7 p.m. (Coming soon, March 20 and 23, Secret Island will have live music once again with Govment Cheese and Krunch).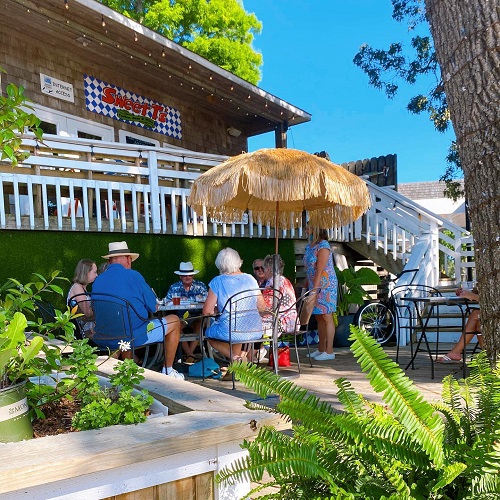 Sweet T's in Duck is a great place for an outdoor celebration like the one coming up this weekend for St. Paddy's Day.
Sunday 3/14
Sanctuary Vineyards' Leprechaun is back for a second day of wine, pizza and live music from 12 to 3 p.m. 
Monday 3/15 and Tuesday 3/16
Bump up to Monday and Tuesday, and Red Sky Café in Duck is presenting a Spring Break theme for its Dinner and a Drink Series. Red Sky will cook up foods with the flavors of the tropics and Caribbean, and Outer Banks Distilling is creating cocktails with Kill Devil Rum. Dinner is served at 6:30 p.m., and reservations are required.
Wednesday 3/17 – St. Patrick's Day
Ocean Boulevard Bistro & Martini Bar is hosting a St. Patrick's Evening with Irish dinners and drinks for dine-in or take-out. If you dine in, you'll also enjoy Celtic music. Lamb, Irish stew, corned beef and cabbage, fish and chips and more will be delicious washed down with Smithwick's and Guinness. Make reservations for dine-in, and call in early for take-out.
Bonzer Shack in Kill Devil Hills is bringing out the Kill Devil Disco for St. Paddy's Day. DJs Al Key and Marty Martin Denny will spin the tunes, while Justin Old Suxx with supply visuals. Dance from 8:30 to 11 p.m. in the backyard.
I hope you get to do some of these fun things this week. One more thing: If you're missing Outer Banks Taste of the Beach, which usually happens this time of year, don't worry. The event is still happening, just a little later. It will be held between April 16 to 18, and tickets are on sale now. The events are looking so fun and will be sure to sell out, so get online and order now.