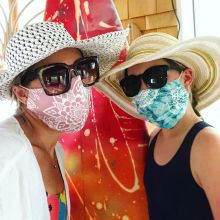 A busy summer has transitioned into a busy fall on the Outer Banks. Long past the usual seasonal slowdown, local businesses are still working hard to accommodate a wealth of visitors. The State of North Carolina has flattened its COVID curve, which prompted N.C. Governor Roy Cooper to move from Phase 2.5 into Phase 3 of COVID safety precautions starting Friday, October 2 at 5 p.m. The rate of acceleration in North Carolina has slowed, and the governor says officials are "cautiously encouraged by the COVID-19 metrics." But he still advises everyone to be cautious in all social settings and practice the 3 Ws. 
The number of positive COVID-19 cases in Dare County is low but not at zero. Most visitors understand that businesses are still under state mandates that regulate how many people can be in their restaurant/shop/venue at one time. Still, everyone is encouraged to remember that things are still different than life as usual. Protocols are in place at restaurants, shops, attractions and accommodations. Here are some of the latest operating procedures that apply to visitors. For the full list of North Carolina Phase 3 regulations, click here.
Photo: Retail and restaurant workers like these staffers at Birthday Suits are required to wear masks. 
Practicing the 3 Ws
As with everywhere across the United States, everyone is encouraged to practice basic measures that slow the spread of the virus.
Wear a cloth covering over your nose and mouth. North Carolina mandates that a face covering must be worn indoors and outdoors when social distancing cannot be maintained. The face covering must cover your nose and mouth.
Wait 6 feet apart from others and avoid close contact.
Wash your hands often with soap and water for at least 20 seconds or use hand sanitizer.
Phase 3
North Carolina has moved to Phase 3 of COVID-19 guidelines, which maintains that people are Safer at Home but still allows for reviving the economy while protecting public health.
In Phase 3, as in Phase 2.5, indoor gatherings are limited to no more than 25 people and outdoor gatherings to no more than 50 people. The mass gathering limit includes fairs, festivals and parades but does not include restaurants, retail stores, pools, child care and day camps, all of which have a specific set of limits.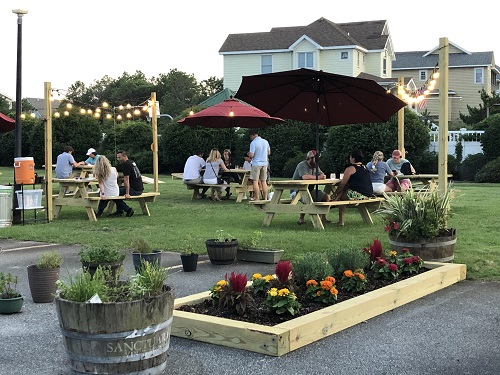 Photo: Outdoor dining options, such as the outdoor spaces at TRiO Restaurant and Market, can be found all over the Outer Banks.
Restaurants & Bars
With North Carolina in Phase 3 of its reopening strategy, Outer Banks restaurants are allowed to open their indoor dining rooms and bar to 50% capacity. Most restaurants are still offering take-out services to augment what would be 100% open, so please recognize that this business model puts stress on staff and management. Many restaurants have outdoor dining. Restaurants and outdoor bars cannot serve alcohol between 11 p.m. and 7 a.m. (effective through at least October 23).
Phase 3 limits the number of people at one table to 10; however, more than 10 may sit together if they are members of the same household. Tables and seats must be placed so that customers not in the same household are separated by 6 feet. All employees must wear face coverings. Diners are strongly encouraged to wear face coverings when entering and exiting the restaurant and when walking to the restroom or cashier.
NEW: Bars that are not associated with restaurants can operate outdoors at 30 percent of outdoor capacity or 100 guests, whichever is less. Non-bar nightclubs and lounges can open if guests remain seated and are subject to the mass gathering limit of 25 per facility.
The existing person-power available to continue take-out services as well as in-house dining is lower this year due to the virus, so please be patient. Many restaurants are requesting that any take-out orders be placed by early evening so that the staff can serve the people in-house as the most popular dinner hours roll around. Call well in advance to place your take-out order. Many will also request reservations if you're planning on coming to the restaurant so they can control occupancy. This will also diminish your potential wait times. If there is a wait at any restaurant, you will not be allowed to do that inside. And common courtesy will ask you to not linger over your meal so that the restaurant can serve as many people as possible. Bottom line: Be kind. Restaurant staffs are working very hard and really do want to make your experience with them a good one.
Retail Businesses
Outer Banks stores are required to have no more than 50% capacity. Retail workers are required to wear masks. Shoppers must wear masks when social distancing cannot be maintained, but some stores require that shoppers wear a mask if they want to enter. Stores must post signs about social distancing and mark 6 feet of spacing in high traffic areas. As with everywhere across America, grocery stores are not fully stocked with some items, especially paper products and often meats. Bring those from home when possible.
Things to Do
So many of the Outer Banks' things to do and attractions are outdoors, so as long as you practice social distancing and, we hope, wear a mask, you'll have access to a lot of activity while you're here. And with the cooler fall air arriving, these outdoor offerings are even more enjoyable. Tour operators, such as head boats, dolphin tours and other guided excursions such as wild horse tours, are operating but limiting capacity and requiring social distancing. Charter fishing boats are running.
Outdoor Venues: NEW Large outdoor venues with seating greater than 10,000 capacity may operate with 7% occupancy for spectators. Small outdoor entertainment venues, such as arenas or amphitheaters, may operate outdoors at 30% capacity or 100 guests, whichever is less.
Museums and Attractions: Museums and attractions like the North Carolina Aquarium on Roanoke Island are allowed to open at 50% capacity. National Park Service welcome centers and museums are open, but the NPS lighthouses (Cape Hatteras and Bodie Island) remain closed for climbing. Currituck Beach Lighthouse is open for climbing. Outdoor amusement parks may open at 30% capacity. See a rundown of Outer Banks attractions and what's open here. 
Indoor Entertainment: NEW Movie theaters and conference centers may open indoor spaces to 30% capacity or 100 guests, whichever is less.
Pools: Indoor and outdoor pools (shared pools in commercial settings or residential complexes) can be open, but occupancy is limited to 50%.
Parks, Playgrounds, Trails and Beaches: Each group of people at a park, trail or beach must be limited so that the group, counted on its own, does not exceed the outdoor mass gathering limit of 50 individuals. Playgrounds are now open.
Gyms and Indoor Fitness Facilities: Gyms and indoor exercise businesses such as yoga studios can be open at 30% capacity.
Hotels, Motels, Inns and Campgrounds
Almost all of these accommodation options are open, but staffing is limited so some will not be operating at capacity. Most will request – and some will require – that you wear a mask while in common areas, so come prepared. If the property offers breakfast service, there will be changes in how it's served to ensure a high degree of safety. Check-in and check-out times may change to allow more time for thorough cleaning between guests.
National Park Service campgrounds are open, and reservations and payments must be made online. Other area campgrounds are also open but limiting the number of guests.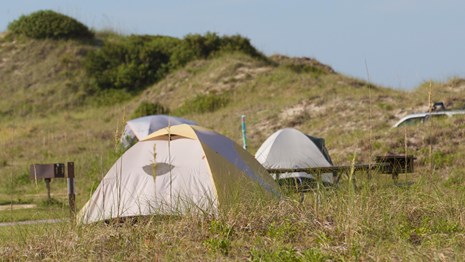 Photo: National Park Service campgrounds and private campgrounds are open on the Outer Banks, providing safe socially distant accommodations.
Vacation Rentals
Outer Banks vacation rentals are welcoming guests. Many have instituted no-contact check-ins. Later check-in and earlier check-out times may be in place to allow more thorough cleaning between guests. Companies are urging renters to bring essential supplies with them such as paper products, cleaning supplies and meats since local grocery stores are often low in stock in those items. Social distancing on the beachfront is required – 6 feet from other parties.
Events
With restrictions still in place limiting indoor gatherings to no more than 25 people and outdoor ones to no more than 50, you can imagine that a lot of the daytime and nighttime events on the Outer Banks have had to either cancel or adapt. But we're all about adapting around here, given our history of hurricanes and flooding events that alter day-to-day life for periods of time. Some outdoor events where it's easy to social distance, such as fishing tournaments and small weddings, are still a go. Others, such as concerts or festivals, have had to take a year off. But there are still events to take part in. Some restaurants that have a good-sized outdoor area are offering live music to entertain their guests.
Stay Safe!
Everyone is asked to wear masks, maintain social distance of at least 6 feet apart with people not in your immediate family (even outdoors and at the beach) and wash your hands often. State and local protocols change frequently, and Outer Banks This Week will keep you updated.
Be Patient!
Please keep in mind that with so many COVID procedures in place, the speed of service may not be what you're used to. Employees in the service industry are learning new procedures and adding cleaning protocols to their list of duties. Be patient and kind and, if possible, tip more than usual. Keep in mind also that staffing shortages are real on the Outer Banks. In years past, many businesses have relied on international students to make up a good portion of their staff, but those students are not allowed to come to the Outer Banks this year. Know that employers and employees are doing their best and they very much welcome your business.