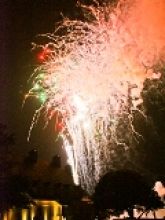 If you're an Outer Banks local, you probably have to work in the summertime. It's hard to look around at all these people on vacation and not wish you were on vacation too, but don't let that get in the way of your summer state of mind. Even if you're putting in a full work week, you can get that summer feeling. Just do like the vacationers do, only before or after work. * Take daily ocean swims. Go barefoot. Cook and eat your meals outside. Ride your bike to the ice cream shop after dinner. Play mini-golf or ride go-carts with your kids at night. Sit on the porch and sip a cocktail. Walk on a pier. Look for shells at sunrise (sand dollars are being found on Nags Head's newly nourished beaches). Grocery shop with your friends. No, not that one. Please don't do that one...
Here's another idea for a relaxed post-work (or post-beach) summer activity: Hit a wine festival. There are now three summer wine festivals on the Outer Banks. 1) In Corolla, The Whalehead Club's Wednesday Wine Festivals are from 3 to 7 pm. It's only $20 to taste all the wines and there is live music. Kids are welcome. Call (252) 453-9040. 2) In Manteo, the Art & Wine Festival is co-sponsored by Dare County Arts Council and Vineyards on the Scuppernong. It's held on Thursdays from 4 to 8 p.m. in the courtyard behind the DCAC gallery. Cost is $20 and includes tastings, music and hors d'eouvres, plus the gallery is open late. 3) On Friday, Sanctuary Vineyards in Jarvisburg has the Sunset Wine-Down from 5 to 9 p.m. There will be live music and you can bring picnics, lawn chairs, pets and kids. Wine and beer are for sale...
Sitting outside enjoying free live entertainment is also a good way to savor a summer night (though you might want to bring your bug spray). * On Wednesday, the Sunset Art Walk at the Marketplace in Southern Shores has Jack-Ass Flats playing live music along with arts by a variety of local artists. It's free and hours are 6 to 8 p.m. * Duck's Summer Music Series has The Rajun Cajuns on Thursday from 6 to 7:30 p.m. on the Duck Town Green. Next Tuesday (July 5th), Duck's Unplugged Music Series features Kim Kalman at 6 p.m. in the Duck Amphitheatre. * On Sunday, Currituck Heritage Park is hosting the 440th Army Band at 5 p.m. The 40-piece band will present patriotic concerts (big band, jazz, rock) on the lawn; bring a blanket or lawn chair. The concert is free. * This week, Roanoke Island Festival Park is hosting the E. Gwynn Dancers from NC A&T State University. Performing African and Caribbean dances with live drumming, this troupe is amazingly talented, energetic and colorful. Don't miss this show. It's free, and starts at 8 p.m. on Tuesday, Wednesday and Thursday nights...
N.C. A&T State University is also presenting a children's show this Tuesday, Wednesday and Thursday mornings at 10:30 a.m. at Roanoke Island Festival Park. The indoor show is called African Animal Tales. The folk tales are told through choreographed movement, narration and authentic African instruments. Following the performance every day there will be an African Drum and Dance Workshop. The show and workshop are free. Heed this warning: Get there early to ensure a seat! Call (252) 475-1500...
Back to the live outdoor music: First Friday in downtown Manteo is a good place to catch live tunes floating through the air. The festival goes on from 4 to 8 p.m., and it's full of entertainment. Be sure to stop by the Dare County Arts Council to see the opening of the July art exhibitions of painter Ann Rubino and photographer Linda Kidd (meet the artists from 6 to 8 p.m.). Stop by Roanoke Island Festival Park to see the opening show of photographer Chris Hannant (you can meet the artist from 6 to 8 p.m.). * Come back to Manteo on Saturday for the Manteo Farmers Market from 8 a.m. to noon...
On Wednesday, Thursday and Friday, Kitty Hawk Kites has its annual Outer Banks Sand Sculpture Festival. Sandtastic, a professional sand-sculpting company, creates a huge sand creation in the parking lot of KHK in Nags Head on Wednesday and Thursday. They give a sand clinic on Thursday at 2 p.m. Other stuff goes on, too, like a free skin cancer screening. Call (252) 441-4124...
The Outer Banks Daredevils play baseball this week on Wednesday night. Games are held at the First Flight High School Sports Complex. Go to www.outerbanksdaredevils.com...
OK, now the info you've all been waiting for: Fourth of July details. The Fourth is on a Monday this year, the perfect excuse to extend the party well past the weekend. Here's what's going on. All of these activities are free...
Corolla: 19th Annual Independence Day Festival of Fireworks from 5 to 10 p.m. at Currituck Heritage Park. Food, two bands and other music, activities and contests start at 5 p.m. Fireworks start at dusk. Seating is on the lawn, so bring a chair or blanket. Sponsored by Currituck County...
Duck: Town of Duck Fourth of July Parade at 9 a.m. A Community Social follows at Duck Town Park, with live music and, new this year, a Flash Mob...
Nags Head: The 15th Annual Independence Day Fireworks Spectacular starts at 9:25 p.m. at Nags Head Pier at milepost 11.5. The best viewing spot is the beach...
Manteo: The daytime Fourth of July Celebration begins at 2 p.m. in downtown Manteo. You'll find contests, live music, food and activities. Old Enough to Know Better plays at 6 p.m. downtown. www.townofmanteo.com. Starting at 8 p.m. at Roanoke Island Festival Park, there's a patriotic concert with the 440th Army Band. Fireworks follow, at dusk.
TriVillages (Rodanthe/Waves/Salvo): Fourth of July Celebration at 2 p.m. in the Community Building. Reading of the Declaration of Independence, singing, hot dogs and watermelon.
Hatteras Village: From 4 to 8 p.m. in the heart of the village, there will be arts and crafts, food and activities. From 8 to 11 p.m. there will be a live band.
Ocracoke: Day-long events starting with a flag-raising ceremony at 9 a.m. 25th annual Sand Sculpture Contest 9:30 to noon at Lifeguarded Beach. Many other activities throughout the day, including sky diving, bounce houses, story telling, square dancing, live music and much more. Parade through the village at 3 p.m...
Looking ahead to next week, make plans to attend Wild Horse Days in Corolla on Tuesday, Wednesday and Thursday. On the schedule are games, crafts, carriage rides, music, horse pettings and rides and a lot more. Go to www.corollawildhorses.com. If you go up on Tuesday, stop by the Whalehead Club for free kite flying at 10:30 a.m....
All right, that's not nearly all. I can't go into it all here, but the local attractions have so many programs for families and kids, the watersports outfitters have so many cool activities and lessons, the shops have deals, the restaurants have specials. Look around the site. You'll see...
One last tidbit and then I'll be off: the ban on plastic bags is back on. The ban had been lifted temporarily because of a tornado striking a Food Lion distribution center, which was a hub for the chain's stash of paper bags. But now the ban is back on. Bring your own bags when you shop and it won't be an issue. How do you feel about the ban on plastic bags?...