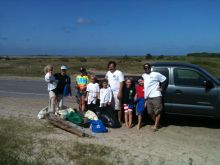 Recently one of our readers wrote to tell us about his disappointment in the amount of trash he found on a bike ride through Nags Head Woods this fall.
"What I saw in Nags Head Woods was appalling," George Mendelson wrote. "One of the last natural refuges on OBX was strewn with trash: beer cans, bottles, cigarette packs, energy drink and water bottles, etc. The volume of trash was nauseating."
Mendelson decided to pick up the trash and in a 3-mile stretch collected five glass beer bottles, 27 beer cans, 11 cigarette packages, five plastic water bottles, seven plastic energy drink bottles, four energy drink cans, too many energy gel packs to count, candy wrappers and a small mountain of miscellaneous trash. Plus one sock and two T-shirts. I too have witnessed what Mendelson is talking about in Nags Head Woods. I run back there often and am amazed at the trash I find on the road, seemingly thrown out not just by careless party-ers but also by healthy runners who just throw their water bottles and empty gel packs on the ground. The trails always seem to be very clean, but the trash on the road is depressing! But it doesn't hold a candle to the trash I find on the beach. These warm fall days have been fantastic for beach-going, but I've noticed that the Nags Head beaches I've been hitting are always littered with trash - mainly cigarette butts, bits of plastic and balloon parts. I don't know what's wrong with people who litter, but I'm not going to solve that issue here. The best I can do it to let you know that the 26th annual NC Big Sweep is this Saturday. It's time to help clean up the beaches (and Nags Head Woods if you so desire).
This big group effort at litter cleanup has been going on since 1987. In 2011 100 Dare Countians collected more than 2,000 pounds of debris from the beaches. To pitch in, all you have to do is show up at one of the following locations at 9 a.m. on Saturday morning to collect your trash bags, cleanup gear and directions on where to clean: Bonnett Street, KDH Bath House, Jennette's Pier, Southern Shores Fire Department, NC Aquarium, Kitty Hawk Kayak & Surf School, Kitty Hawk Bath House, Nags Head Town Hall, Pea Island Visitor Center, Coquina Beach Bath House and Chickahauk Beach Access. Clean up as long as you can between 9 a.m. and noon, then bring your bag of trash to Outer Banks Brewing Station in KDH for the Trashfest party. Your bag of trash is your ticket for admission to the party, which includes food and drinks in the back yard of the Brew Station until 4 p.m.
That's not nearly all that's going on this weekend. This is one of those busy fall weekends on the Outer Banks, and hopefully it won't be washed out by Hurricane Sandy, a rare late-season storm that's over the Caribbean now and is being forecast in some models to track toward the Outer Banks. Whether or not we get a direct hit, the forecast of rip currents and brisk winds is expected here by the weekend.
Worst case scenario, here's something you can do inside: eat. Friday is the start of Fall Outer Banks Restaurant Week. During this week (through November 3), participating restaurants are offering three-course, prix fixe lunch and/or dinner menus at a price of either $20 or $35 (tax and gratuity not included). It's a good chance to try a new restaurant or an old favorite at a good price. As part of the event, Coastal Provisions in Southern Shores is holding the Outer Banks Chili Cook-off on Sunday from noon to 3 p.m. Admission is $15 for adults and $5 for kids (free for little ones); tickets are sold at the door. Ask Fester, a local band, is playing.
Love boats? Saturday is the first annual Wooden Boat Show at the Roanoke Island Maritime Museum in downtown Manteo. The show is open to all wooden boats, either new or restored. Awards will be given. The show is Saturday from 9 a.m. to 5 p.m., and the awards ceremony is at 5:30 p.m. ($10).
Saturday is a big day at The Elizabethan Gardens. In the daytime it's Harvest HayDay for families. Hay rides, a hay bale maze, scarecrow stuffing, cider, pumpkin pie, bonfires and all kinds of games and activities and fall favorites are available in the gardens from 10 a.m. to 1 p.m. Admission is $8 for adults, $5 for youth and free with children younger than 5. On Saturday night, EG holds its annual fall fund-raiser known as Diamonds and Denim. It's a hoedown party with dancing, food and seasonal fun like hay rides. There are silent and live auctions and live music. Tickets are $50 each. If you want to go, get your tickets ASAP!
Kitty Hawk United Methodist Church is holding its Fall Coat Harvest and Festival on Saturday at the Marketplace in Southern Shores. In addition to giving away gently used coats to children and adults, they'll have a jump castle for kids, face painting and trick or treating at the Marketplace shops. The festival takes place from 9 a.m. to 2 p.m.
Pirate people should head down to Ocracoke this weekend for the Blackbeard Pirate Jamboree. The event starts at 10 a.m. with a ship invading a pirate encampment. All day long there will be living history exhibits, tavern games and pirate skits. At 11 a.m., 2 p.m. and 4 p.m. kids can go to Scallywag School. At noon, Kevin Duffus, author of The Last Days of Black Beard the Pirate, will sign books. That's not all. Click on the link to see all the activities.
Halloween is literally just around the corner (next Wednesday) and if you want to get in the mood early, there are a few events you could check out. The OBX Horror Film Festival and Zombie Beach Walk should definitely get you in the spirit. They'll have the film festival on Saturday starting at 10 a.m., then at 5 p.m. there's a zombie beach walk. (Even if you don' participate, that sounds fun to watch.) Afterward, the Zombie Ball will have a costume contest and DJ.
Island Farm in Manteo is all about Halloween with two events: a Pumpkin Patch from to 10 a.m. to 4 p.m. Take a hay ride, pick out a pumpkin, do some Halloween crafts and visit with the animals for the price of admission (pumpkin is $4 extra). Come back in the evening for lantern tours called Draped in Black, Victorian Death Rituals. The evening tours take place Friday and Saturday nights between 7 and 9 p.m. Costumed interpreters will lead guests by lantern light through the home of a grieving widow and to the graveyard. The tour lasts 20 to 25 minutes.
Northern Hatteras Islanders are celebrating Halloween early with a Halloween Parade and Party on Saturday from 2 to 3:30 p.m. Children are invited to wear costumes for the parade and to stick around for a party afterward. It's at the RWS Community Building in Rodanthe.
Fear at the Pier will be held on Sunday night at Jennette's Pier. They'll have ghost stories and haunted trails to scare the wits out of you by the sea. Suggested age is 12 and older; younger children must be accompanied by an adult. Cost is $10 per person, $7 for kids younger than 13. Make reservations in advance at (252) 255-1501.
When Halloween finally gets here, the kids will trick or treat and the adults will head to the Brewing Station for the Exotic Erotic Ball XI. This year they're featuring the Hellzapoppin' Sideshow (seen it; it's crazy weird) first. The side show has a PG13 show at 6 p.m. and an adult show at 9 p.m. The Exotic/Erotic begins at 11 p.m. with DJ Bruce and a $100 costume contest.
And, finally, it's time for me to say goodbye. After almost three years of blogging about Outer Banks events here on OuterBanksThisWeek.com, I'm passing the keyboard to someone else. I've had a lot of fun writing about the Outer Banks here and I've truly enjoyed hearing from the readers both in comments and in person. I know you'll enjoy reading the Outer Banks event news from Mike Lay, a longtime Outer Banker who is taking my place.
I hope you get out there and have some fun this weekend! Keep looking around the site for more things to do because there's a lot more listed there!

This week you have a chance to win a $50 Gift Certificate to Duck's Cottage Downtown and a $35 Gift Certificate to Ortega'z Southwestern Grill & Wine Bar!
For more information about Ortega'z Southwestern Grill & Wine Bar, check out their website.
For more information about Duck's Cottage Downtown, check out their website.
Last Week's Winner
Congratulations to Lauri Lewis‎!!!

You won a $50 Gift Certificate to Ocean Annie's and a $35 Gift Certificate to Tortugas' Lie!
For more information about Ocean Annie's Craft Gallery, check out their website.
For more information about Tortugas' Lie, check out their website.