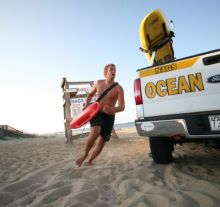 The summer season brings more to the Outer Banks than the return of visitors, long daylight hours and sunburned shoulders – the return of lifeguards patrolling the beaches, surveying from the stands and making numerous rescues also accompanies each Memorial Day weekend. The beach and ocean are the Outer Banks' biggest attractions, but they also present many dangers. Too many drownings occur off the North Carolina coast each year. Ocean/beach safety is a hot topic around here, and the more people talk about it, the better they prepare themselves for a fun, safe and stress-free day at the beach.
Photo: Phil from Outer Banks This Week worked as a beach lifeguard for seven summers.
First things first, let's talk lifeguards. We rely on these sun-kissed, ripped and dedicated men and women who serve the various towns across the Outer Banks. This week kicks off their season of tireless work in full swing.
Each town between Corolla and Nags Head has a team of lifeguards or ocean rescue members. The services and number of guards and stands varies between the towns. Generally speaking the guards work from Memorial Day weekend through Labor Day, with some towns keeping "skeleton crews" patrolling until mid-November. In season, guards are out every day, usually between from 9 or 10 a.m. to 5 or 6 p.m.
Their numbers and activity are much more concentrated in the north. Farther south on Hatteras and Ocracoke islands, you find fewer guards, though there are still a few beach accesses with guard stands.
Chad Motz is head of the Nags Head Ocean Rescue, and his main tip for staying safe at the beach is ridiculously simple: "Swim near a lifeguard," he says. "That's the biggest thing people can do."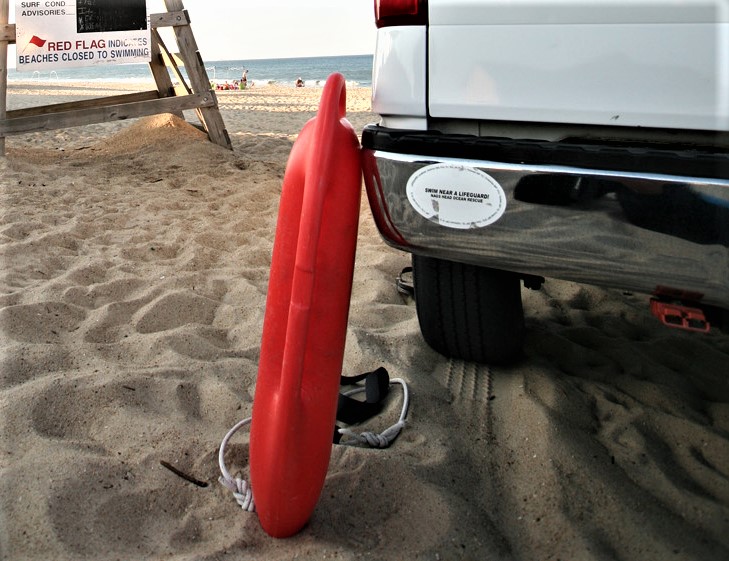 For the safest swimming experience, swim near a lifeguard.
Fortunately for his crew, they maintain one of the biggest lifeguard presences of any beach town. With 26 guards on the Nags Head beaches at any time between 10 a.m. and 6 p.m. in season, they keep a watchful eye on the water from their vantage points from the 15 stands, eight roving ATVs and three pick-up trucks.
Nags Head beach accesses with stands: Abalone, Albatross, Bonnett, Hollowell, Enterprise, Town Hall, Epstein, Forrest, Gray Eagle, Gulfstream, Hargrove, Ida, Indigo, Juncos, Limulus
Talking with the guards around you also keeps you savvy on each day's primary dangers. "Every day, there are different concerns with the water – rip currents, storms, rough surf – ask a guard what that day's concerns are. That's the best thing people can do to reduce their risk on the water," Chad says.
For Kill Devil Hills, more of their beach accesses have stands than in Nags Head, with lifeguard towers at 21 accesses. Guards staff the stands from 10 a.m. to 5:30 p.m. from Memorial Day through Labor Day, and they keep a roving patrol out until October 15.
It's also worth noting that Kill Devil Hills just launched the first handicapped-accessible beach access in these towns. Head to Ocean Bay Boulevard to check out the beach access' new wooden ramp, which allows wheelchairs to cross the dunes and enter the beach.
Kill Devil Hills beach accesses with stands: Helga Street, Hayman Street, Eden Street, Avalon Drive, 5th Street, 3rd Street, 2nd Street, 1st Street, Coral Drive, Asheville Drive, Woodmere Avenue, Carlow Avenue, Ocean Bay Boulevard, Oregon Avenue, Baum Street, Clark Street, Martin Street, Atlantic Street, Ocean Acres Beach Access/Neptune Drive, Lake Drive, Eighth Street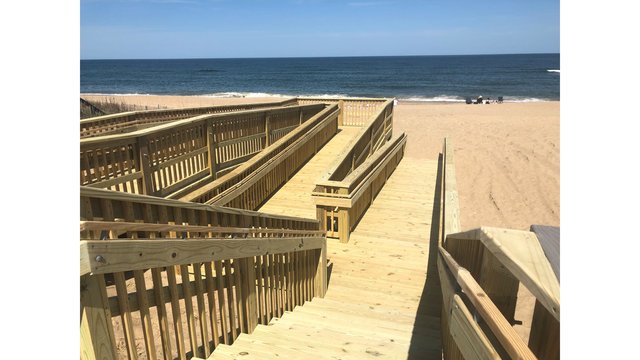 Kill Devil Hills has a new handicapped-accessible beach access at Ocean Bay Boulevard. Photo courtesy of Town of Kill Devil Hills.
Kitty Hawk has few lifeguard stands – three in total – and you'll see the majority of their team roving on ATVs and pick-up trucks. You'll see them out between 10 a.m. and 6 p.m. every day from Memorial Day to Labor Day, and then from 10 a.m. to 5 p.m. until September 30.
Kitty Hawk beach accesses with stands: Byrd Street, Eckner Street and the Kitty Hawk Bathhouse
For a quieter, more secluded feel at the beach, people love the sandy stretches in Southern Shores and Duck. Without public beach accesses or public parking for the beach, only people with parking passes or houses with their own accesses can get on the beach. While the beaches may seem less crowded, they aren't any less guarded than their surrounding neighbors. Residents and visitors staying in these towns need not fear, however.
Southern Shores has two guards stands: Hillcrest Drive and Chicahawk Street
For beachgoers in Duck, six stands operate until June 12, and from there the town keeps 12 stands active until August 12. At that point, the six original stands are maintained until Labor Day.
Duck beach accesses with lifeguard stands: Caffey's Inlet, Sprigtail Drive, Barrier Island Station, Schooner Ridge Drive, Christopher Drive, Four Seasons, Ocean Pines, Widgeon Drive, Snow Geese, Speckle Trout Drive, Scarborough Lane and Plover Drive
The northern beaches maintain a significant lifeguard presence in Corolla. With stands at 17 beach accesses and 10 roving patrols, they have one of the highest numbers of guards on the beach of the Outer Banks towns. Their widespread patrol covers 23 miles of beach and 100 miles of the Currituck Sound, and each summer it protects about one million of Currituck's beachgoers.
Corolla beach accesses with lifeguard stands: Ocean Hill, Bismark Street, Lighthouse Ramp, Shad Street, Stergeon Street, Herring Street, Bonita Street, Sailfish Street, Buck Island, Crown Point, Section P Ocean Sands, Section O Ocean Sands, Section F Ocean Sands, Section D Ocean Sands, Section B Ocean Sands, Currituck County Beach Access, Hampton Inn.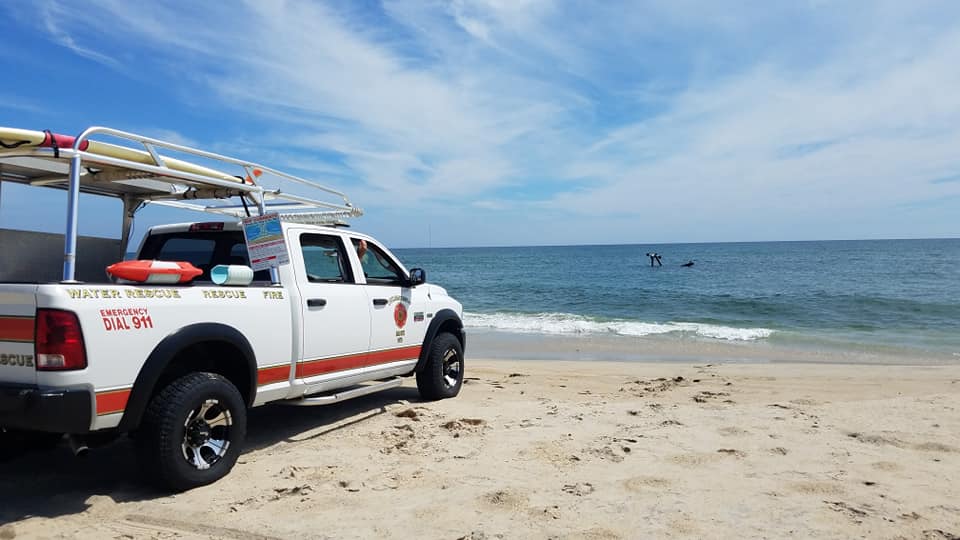 Photo: Chicamacomico Banks Water Rescue on Hatteras Island
Lifeguards' density tapers off on Hatteras or Ocracoke islands. In fact, there are only four beach accesses with their own lifeguard stands between these islands. New to the 2019 season is the lifeguard station at the Frisco Day Use Area every day during the summer season.
Hatteras and Ocracoke beach accesses with lifeguard stands: The National Park Service maintains lifeguards at Coquina Day Use Area, Cape Hatteras Lighthouse Beach in Buxton, Frisco Day Use Area, Ocracoke Day Use Area
Chicamacomico also maintains a separate response team, the Chicamacomico Banks Water Rescue Squad, that focuses on the Rodanthe-Waves-Salvo area. Unlike the other lifeguards, these volunteers are not part of the U.S. Lifesaving Association; instead, they work with the Chicamacomico Banks Volunteer Fire and Rescue Department. Their full-time lifeguard services go from Memorial Day weekend to Labor Day, and they work part-time for the remainder of the year.
Locating the prevalence of guards has undeniable advantages for both swimmers and non-swimmers when they're planning their beach day. And whether there's a guard or not, the easiest and most important practice at the beach is heeding the yellow and red flags if they're flying from the lifeguard stands. They're used for a reason, and believe me, it's not to put a damper on anybody's beach plans. Chad also recommends swimming with a buddy. Not only is it safer, but it also makes being in the ocean more fun!
For more information about each town's lifeguards in general, check out the towns' websites.