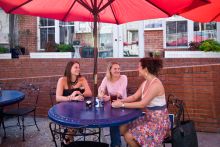 Guess what's right around the corner? Summer? Good guess, but I'm thinking of something even closer, something that the Outer Banks has been gearing up for since January. That's right, it's the annual Taste of the Beach. Next week's blog will focus more on the actual event and specific activities that accompany it; however, this week's blog highlights activities happening at a few local restaurants — a little taste of what's to come. This week you'll find some of your favorite eateries serving up food and fun when it comes to nightlife and daytime happenings.
St. Patrick's Day Entertainment
Get yer green on, lads and lassies, and gather 'round to raise yer glasses to the Emerald Isle this Friday at Lost Colony Brewery and Café in Manteo. In honor of good old St. Patrick, the brewery will be hosting Irish-themed entertainment. Sip a beer as you tap your feet in time to lively Irish pub tunes. There will also be Irish tapas, so you can look forward to nibbling on Irish soda bread, corned beef, cabbage and almost certainly some type of potato dish. This is an all-day event, so pop by any time for an authentic taste of Ireland.
Beer Mile Run
Continue the St. Paddy's Day festivities into the weekend. Pair your best leprechaun attire your your trusty running shoes and make your way to Outer Banks Brewing Station on Saturday for the Beer Mile Run (four ¼-mile runs interspersed with the drinking of four 12-oz. beers). The race includes a backyard party, chip timing, socialization and, of course, some of the freshest and finest brews around. An awards ceremony for the fastest man and woman follows the run. The run is leprechaun themed. Interpret that as you wish — there will also be a costume contest for the most creative outfits. Late registration and check in is from 11 to 11:45 a.m., and the run itself is a mass start event. This event is intended for those ages 21 and older, and the price to register is $20 per person. 
Trivia at Poor Richard's
How much do you think you know? Put your knowledge to the test at Poor Richard's Sandwich Shop at the weekly Wednesday night trivia contest. Gather a group of friends into a team in which everyone brings a different area of expertise to the table, or take on the crowd solo. There are three rounds of questions, giving you ample opportunity to score a couple of free beers or wine as well as shout outs. The player or team with the highest score at the end of the night earns a $25 gift certificate, perfect for Thursday's lunch. Trivia Night starts at 8 p.m. Grab dinner at one of downtown Manteo's waterfront restaurants before heading over.
OBX Taste of the Beach Begins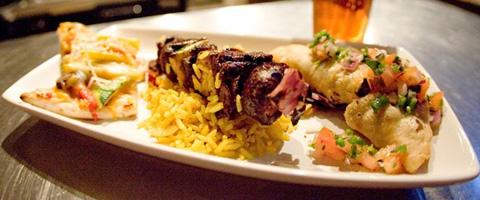 I know I said next week's blog will be dedicated to OBX Taste of the Beach, but you deserve a little sneak peek to get you excited for it. Thursday, March 23, marks the start of this annual event. Activities begin in the morning with Toast the Coast at Sanctuary Vineyards, where you can sample North Carolina's finest wine and cheese pairings, and then you can close your day with an eight-course dinner at Cravings in Duck paired with eight different North Carolina beers from Foot Hill's Brewery, not to mention the numerous events occurring over the course of the day. You can learn more about what's happening when by checking out the OBX Taste of the Beach schedule of events. This website is also where you can purchase tickets for the events that catch your eye and make your stomach rumble.
---
If this week's activities have you craving the start of Taste of the Beach, be sure to check back again next week for a full rundown of what you can expect. In the meantime enjoy the St. Patrick's Day festivities and the other forms of fun that local restaurants are offering this week. You can learn more about other day activities on our Daytime Events listings. Information about live music, DJs, dancing and game nights can be found on our Nightlife listings.