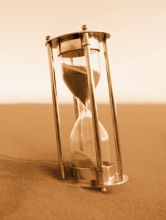 I've been thinking a lot about time lately. Not the grand concept of concern to theologians and physicists, but time on the human scale where it is the inescapable, but often unacknowledged, undercurrent affecting the course of our lives. Obviously, the...um...timing of this reflection is partly due to the recent cultural ritual whereby we bid adieu to the old year and welcomed the new. And, partly, as a graphic designer and writer, a certain preoccupation with time is simply an occupational hazard. So many deadlines, so little...time.
"Our duty is to preserve what the past has had to say for itself, and to say for ourselves what shall be true for the future." - John Ruskin
Thankfully, we survived the much-hyped Mayan Apocalypse, finally revealed as nothing more than the fearful misinterpretation of an ancient culture's efforts to comprehend Big Time. Amidst the endless internet hoopla, the $200 million ridiculously bad "2012" movie, and the once-respectable History Channel's annoying end-of-the-world fixation, what most struck me was the immense and unnecessary expenditure of time, energy, money and worry on this supposed prophecy from a culture incapable of foreseeing or forestalling its own demise. Meanwhile, news reports detailing the unexpectedly rapid melting of the western Antarctic hardly raised an eyebrow. As a resident of the Outer Banks, where a prolonged stiff breeze can cause ocean or sound waters to inundate roads and property, it seems we'd do well to spend our time addressing issues for which there is actual scientific evidence rather than superstitiously obsessing over the "prophecies" of long-vanished civilizations.
"An unhurried sense of time is in itself a form of wealth." - Bonnie Friedman, New York Times
A few days ago I read an article relating how fear of their children experiencing boredom was leading many of today's parents to schedule nearly every waking moment of their children's lives. Ironically, this has had the unintended side effect of scheduling nearly every waking moment of the parents' lives. Thinking back to my own childhood, I don't recall occasional boredom being such a threat. It was during intermittent periods of boredom that my friends and I sometimes spent entire afternoons, noses to the ground, studying ant colonies or sprawled on our backs gazing at clouds, or draped over tree limbs gaining a new perspective as we viewed our domain from on high. Sometimes a little boredom is the necessary prelude to greater appreciation, the stimulus driving new discoveries and time well spent.
"Time is the coin of your life. It is the only coin you have, and only you can determine how it will be spent. Be careful lest you let other people spend it for you." - Carl Sandburg
While driving to Corolla recently for a photo shoot, I listened to a call-in discussion on National Public Radio about the decline of birthrates in developed nations and the social and economic implications this had for the future. Interspersed with concerns about reduced innovation and the social burdens of aging populations was the recurring theme of postponing children in pursuit of lifestyle and the acquisition of material possessions. Even among callers expressing an intention to someday start families, children were way down the list of priorities, behind smart phones, entertainment technology, expensive autos, an active social life, homes in upscale neighborhoods, career advancement and other forms of material success...as though there was all the time in the world. Of course, the data indicated otherwise. The longer the delay in starting a family, the less likely it becomes. Time, indeed, waits for no one. I couldn't help but note how different contemporary expectations are from those of my grandmother who started her family in the waning days of the Great Depression.
Although I grew up in a Piedmont factory town, my family has its roots in Appalachia, and many things that I took for granted while growing up, such as the canning of summer vegetables, apple butter and jams on warm biscuits, and beautiful handmade quilts, now seem like quaint, time-intensive crafts from a remote black and white past. Some of my earliest memories are of cold winter nights and snuggling all toasty warm under intricately designed and meticulously hand-stitched quilts made by loving and life-tested aunts and grandmothers. On the Outer Banks the Teacup Quilters keep this tradition alive, and you can see it in action every Tuesday during the off-season when the Quilters meet at Outer Banks Quilts & Antiques in downtown Manteo. Stop by Tuesday, Jan. 8 between 12 p.m. and 1:30 p.m. to watch and learn as these talented folks create their next colorful cloth masterpiece.
What is it about sparkling holiday lights that so attracts us? They're pretty, yes. But I sense it's more than aesthetic appreciation. Perhaps we need these briefly twinkling displays as an antidote to the protracted darkness that comes with the onset of winter. Perhaps the flicker of lights harkens back to the comforting campfires of our primitive forebears. All I know is they make me happy. If they make you happy, too, there are still a few more evenings to take in the Winter Lights Celebration at the Elizabethan Gardens. Continuing through Saturday, Jan. 5, this festival of lights transforms the Gardens into an illuminated wonderland you must see! Tickets for Members/Friends are $8 Adults, $6 Youth (ages 6-17), $3 Children (5 and younger); tickets for non-Members are $9 Adults, $7 Youth, $4 Children. Call (252) 473-3234 or visit the Gardens' website for more information.
Looking for one last helping of Christmas cheer? Head for the Merry Old Christmas Celebration at Duck Woods Country Club on Sunday, January 6 from 4 p.m. to 7:30 p.m. and celebrate the Twelfth Day of Christmas with a dinner buffet, a bell choir, kids craft corner, games, raffles, door prizes and a very special guest from the North Pole! A showcase of local artists and community attractions is also planned. The price to attend is $25 per adult and $10 per child. Visit the venue website for more info.
If you're on Hatteras looking for a fun activity that also raises money for not one, but several good causes, check out Bingo Night at the Cape Hatteras Anglers Club in Buxton every other Wednesday night at 7 p.m. beginning January 2. Proceeds help fund scholarships for graduating Cape Hatteras High School seniors and provide support to many organizations that serve the needs of Hatteras Islanders, including the United Methodist Men's Relief Fund, the Lions Club VIP Fishing Tournament for the Blind, the Cape Hatteras School Booster Club, Hatteras Meals, Hatteras Island Rescue Squad and a room at the Wesley Hospitality House. The club also supports the Outer Banks Preservation Association (OBPA) in their efforts to maintain free and open beaches. Visit the event website for more info.
"If we take care of the moments, the years will take care of themselves." - Maria Edgeworth, O Magazine
I've never been one to make resolutions. Who needs that kind of pressure, right? Instead, I prefer "intentions" for the coming year. In 2013 I intend to sleep more, read more, walk more, paint more and continue to revel in the simple joy of going to the movies. I intend to eat more oysters, have more sit-down conversations with friends and correspond the old-fashioned way by writing a letter or two. I will spend the money for good Earl Gray Tea and take the time to steep it in water heated in a kettle instead of nuking it in the microwave (yes, it really does make a difference). I intend to spend more time wondering at Outer Banks sunsets and gazing at clouds. And I wish all of you the best of luck pursuing your own goals for 2013, however big or small they may be.
In closing I leave you with this positive gem from Ralph Waldo Emerson:
"This time, like all times, is a very good one, if we but know what to do with it."

This week you have a chance to win a $50 gift certificate to Ocean Annie's and a $35 gift certificate to Black Pelican Seafood Restaurant!
For more information about Ocean Annie's Craft Gallery, check out their website.
For more information about Black Pelican Seafood Company, check out their website.
Last Week's Winner
Congratulations to Diane Millett‎!!!

You won a one-night stay at Cameron House Inn and a $35 gift certificate to Ortega'z Southwestern Grill & Wine Bar!
For more information about Cameron House Inn, check out their website.
For more information about Ortega'z Southwestern Grill & Wine Bar, check out their website.