Welcome back for Part II of our Decade in Review blog post! Last week we looked back on key events and goings-on in the 2010s and saw how game-changing technology, infrastructure and hurricanes shaped the Outer Banks. This week, we're looking at top developments that impacted local history and culture.
Photo credits to history.com
The Lost Colony and Site X
The 2010s uncovered the answers to one of our favorite local mysteries, the Lost Colony. The unresolved story of the Lost Colonists of Roanoke Island, who disappeared without a trace in 1587, remained unresolved until recent years. A 2012 archaeological dig in Bertie County revealed pre-colonial English artifacts that were traced back to the Lost Colonists' settlement. The excavation site and surrounding land became referred to as Site X, and original plans for the property intended to develop it for commercial use, destroying the valuable historic finding. However, thanks to a partnership between the North Carolina Coastal Land Trust and the N.C. Division of Parks and Recreation, the property was purchased in 2018 and transferred to the state's hands, protected from private development as the Salmon Creek Natural Area.
Off-Beach Attractions
There's a reason people live and vacation on the beach – for decades the Outer Banks has drawn in people with its long stretch of sandy shoreline and wave-rippling water. And for a while it was the primary play source while folks were here. In recent decades, the sands started shifting – miniature golf courses and then arcades appeared on the scene, as did aquariums and nature trails. The majority of these activities fitted their beach environment, but new attractions appearing on the scene likened to those you might expect of a big city. Laser tag game rooms became a birthday party mainstay, the towering water park just across the bridge in Currituck – H2OBX – established an amusement park destination when it opened in 2017, the local golf course scene evolved to include a virtual course, and a brain-teasing escape room all put a fresh take on the area's onshore activities.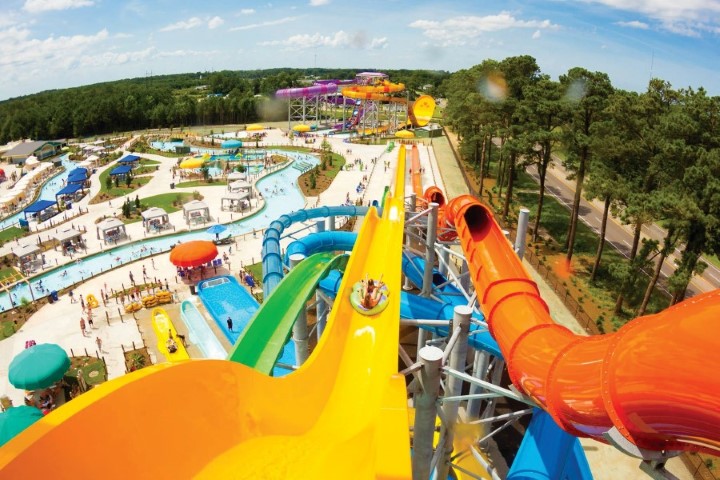 Photo credits to H2OBX
The Peanut Butter Falcon
This past decade launched the Outer Banks into the spotlight for something other than a hurricane, thanks to the release of the film The Peanut Butter Falcon, co-written and directed by Colington native Tyler Nilson. Set in an Outer Banks-inspired universe, the film tells the story of a young man (played by Zack Gottsagen) with Down syndrome as he journeys to a Wanchese-set wrestling school as he pursues his dream of becoming a professional wrestler. He's joined along the way by a commercial fisherman/outlaw (played by Shia LaBeouf), who agrees to help him reach his destination. While never mentioned in name by the actors, the Outer Banks references appear in a series of Easter Eggs throughout the film, including maps of the islands, branded clothes and more. Nilson and his co-writer Michel Schwartz visited the Outer Banks for an early release (and hyping up) for the film in August 2019.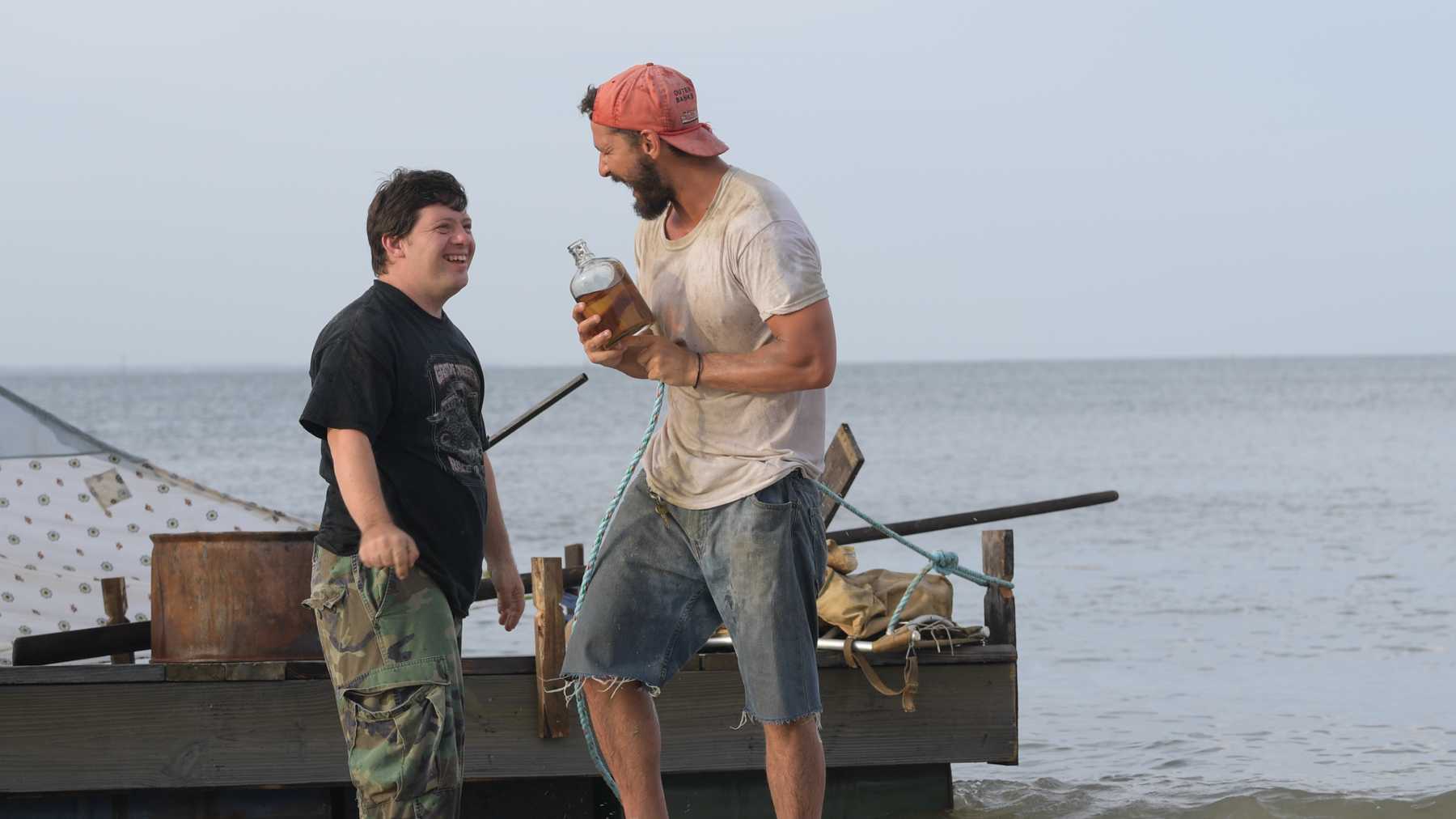 If you look closely, you'll see that LaBeouf's character in The Peanut Butter Falcon is sporting an Outer Banks hat. Photo credits to Empire.
Plastics
The 1967 film The Graduate said it best. A remarkable reduction in the amount of single-use plastic waste generated within these towns was pivotal in the past decade. In 2010, the state enacted a ban on large businesses' usage of single-use plastic bags (unfortunately, the ban was later lifted in 2017). Individuals and households have been mindful about proper recycling for years, but this ban started a revolution in many local businesses' approaches to disposable plastics. They even made additional steps around the middle of the decade. In 2015–16, Outer Banks Brewing Station became one of the first local restaurants to only give out plastic straws upon request, and others quickly followed suit. Methods went beyond straws, however. Shops and restaurants started packaging goods and food in biodegradable bags, switching from paper napkins and silverware to reusable ones and more. Steadily, more and more Outer Banks businesses have earned the certification as Ocean Friendly Establishments.
Rideshares
Last week's blog gave a nod to Airbnb and VRBO for revolutionizing the Outer Banks' accommodations. Along similar lines, the rise of Uber, Lyft and other car-share operations has given everyone the ability to operate their own business on their own schedule. The ease of ordering a car with the touch of a button has more and more people opting for car-share services as their mode of transportation. As a result, the number of cab companies and drivers has dwindled.
---
What occurrences stand out in your memory over the last 10 years? Perhaps it was the closing of a favorite local business or the opening of a new one. Or a trend that began quietly, but when considered in hindsight, is a glaring development (such as those retro beachside motels that once dominated the area's accommodations but now seem lacking). Share with us in the comments below.
Now that the holidays have come and gone, and we're lulled into January, keep your days and nights lively with shopping sales, art workshops and more from our Daytime Events calendar and cooking classes, trivia nights and more from our Nightlife page.