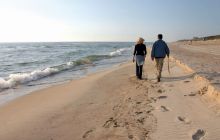 Thanksgiving is right around the corner. We're on the edge of the time of year when we busy ourselves with menu planning, preparing for relatives' arrivals or maybe (if you're not from around here) making our way east for an Outer Banks Turkey Day. When you need a break from Googling recipes and cleaning the house, take a look at the activities happening near you. The Outer Banks offers plenty of events this week that invite you to slow down, take a step back and just enjoy the time.
Burger & BBQ Night at Steamers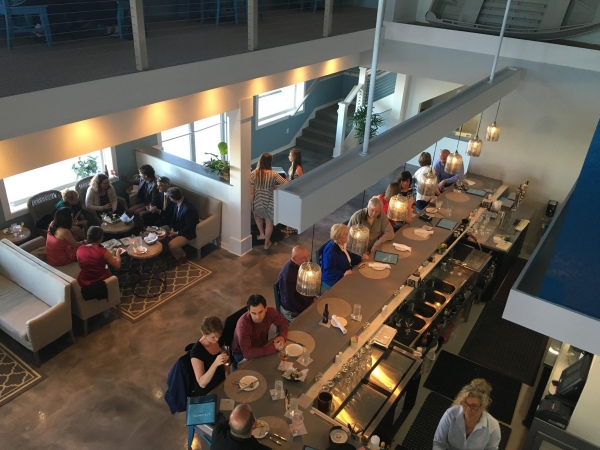 Those chilly, wintry nights are about to set in, so warm up with companionship and delicious hot grub, specifically hamburgers and barbecue. Steamers restaurant is creating cozy vibes every Thursday this winter with their Burger and BBQ Nights with live music from local musicians. This restaurant's event features their Angus burgers and a barbecue special from 6-9 p.m. And while you dig in to that medium-rare burger or tangy North Carolina barbecue, kick back and listen to Steve Hauser's acoustic tunes. This event brings you into a space filled with good friends, good food and good music – why miss out?
NFL Football at Uncle Ike's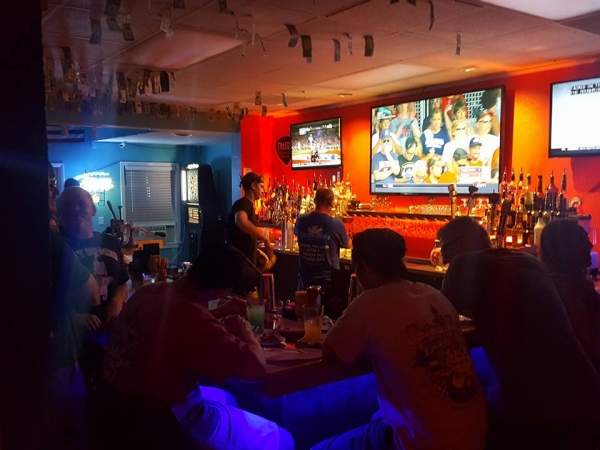 Want a place to watch the big game where there are unlimited game day snacks, brews and people who help cheer your team on or, heaven forbid, commiserate over losses? Uncle Ike's NFL Football Night is the event for you. Every Sunday, Monday and Thursday during football season, Uncle Ike's Sandbar and Grill turns into a football emporium. The television screens lining the walls bring the action to you and allow you to follow multiple games at once.  The viewing is from 1-11 p.m., so you can pop by for an appetizer or two as you check the score or settle in for the long haul.
Opening Reception for Watercolor Society of North Carolina's 71st Juried Exhibition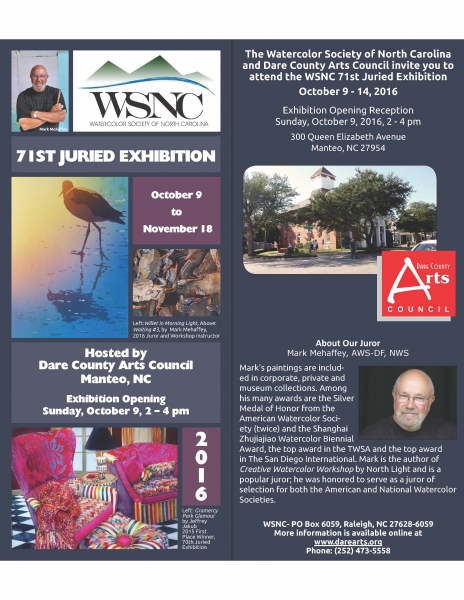 Take some time to lose yourself in a beautiful sea of watercolors at the Watercolor Society of North Carolina's 71st Juried Exhibition. And where better to host this statewide convention than in picturesque downtown Manteo? Talented watercolor artists from all over North Carolina show off their works at the Dare County Arts Council, and you're invited to come take a peek. The juror is Mark Mehaffey, a two-time recipient of the Silver Medal of Honor from the American Watercolor Society and experienced juror for both the American and National Watercolor Societies. An opening reception on Friday at 5 p.m. kicks off the exhibition, so come meet the featured artists and marvel at their pieces.
GEM Dance Marathon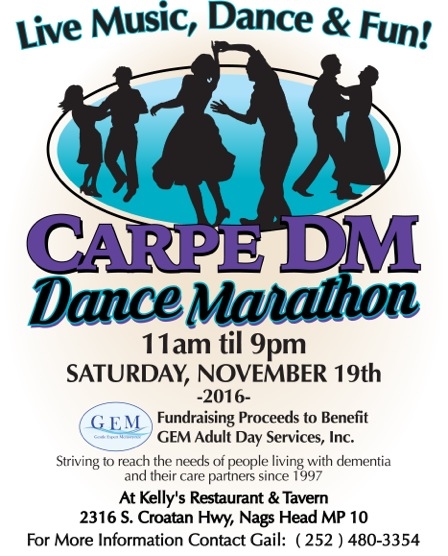 Slip on your dancing shoes and hit the floor for a boogie-worthy cause. Come to Kelly's Restaurant and Tavern this Saturday for Carpe DM Dance Marathon, a fundraiser for GEM Adult Services. Are you a shy dancer? No problem. There will even be dance demonstrations that'll teach you all the important moves. When you're not grooving to the live music, enjoy mixing and mingling with your teammates. Or fuel up for the next line dance with some of Kelly's mouthwatering food. It costs $250 for each team to enter, and teams can have anywhere between one and 10 or more participants. All proceeds from the marathon go to GEM Adult Services, which supports people with dementia and their care partners. This event is from 11 a.m. until 9 p.m. Start practicing your cha-cha!
Poinsettia Week at the Gardens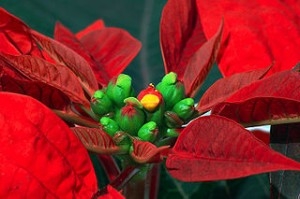 Get your home dressed up in a little holiday spirit with the help of Poinsettia Week at the Elizabethan Gardens. From November 21 through November 26 (Monday through Saturday), Elizabethan Gardens is revealing their carefully cultivated poinsettias. Come bask in the burgundy and scarlet hues of these festival flowers' velvety petals, and try to resist taking all of them home with you (but no judgment if you do). Also here's a pro-tip: The holidays are the best time for going to the Gardens' gift shop, so get started on your Christmas shopping after picking out a poinsettia or two.
Thanksgiving Events
And if you want to start a little advance planning, here's a quick rundown of next Thursday's Thanksgiving festivities:
Outer Banks Gobbler 5K and Fun Run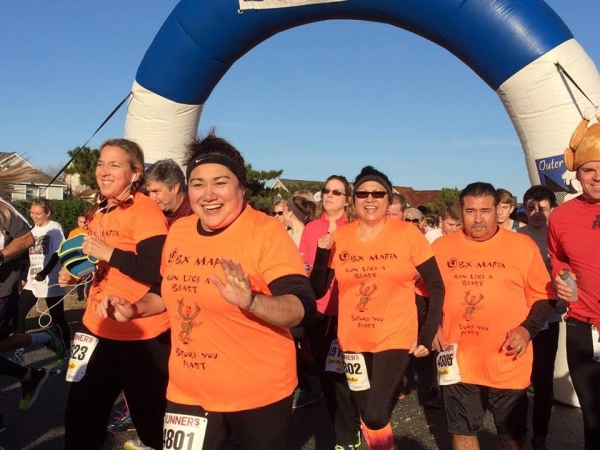 You'll need to work up your biggest appetite of the year for that Turkey Day dinner, and Thursday morning's events will help you do that. Start on a healthy foot with the Outer Banks Gobbler 5K and Fun Run. This run, hosted by the Outer Banks Running Club, lets you give thanks for the beauty of the Outer Banks as you run/trot/walk/skip your way through the Village at Nags Head. Online preregistration ends on Monday, November 21, and prices for the 5K are $20 for Outer Banks Running Club members and $30 for nonmembers. The price for the fun run is $5. The event begins at 8 a.m. at the Outer Banks Mall.
Annual Advice 5K Turkey Trot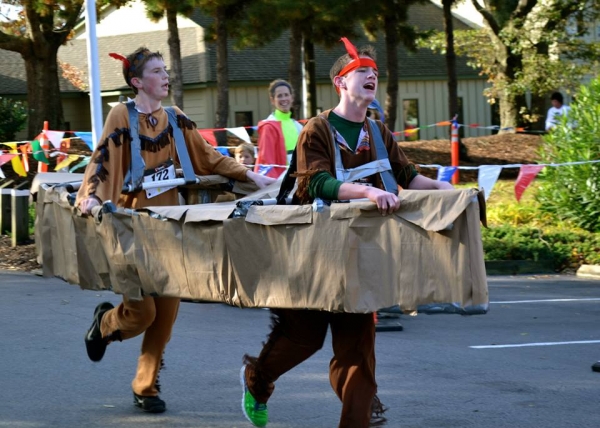 If Duck is closer to you or you just like the idea of celebrating a tradition (it is Thanksgiving after all), come to the 20th Annual Advice 5K Turkey Trot. This 5K is a beloved Thanksgiving tradition, and people of all ages and abilities turn out for the 5K run, loop or walk. Whether you want to wear your Nikes or a festive Thanksgiving-themed outfit is entirely up to you. Proceeds from the event go toward awarding nonprofit grants that better the health and wellness in the Outer Banks community. Participant registration at this time is booked, but don't let that stop you from coming out to cheer on the runners. This event is from 9-11 a.m.
Food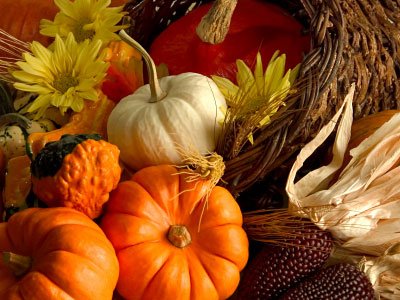 Fixing an entire Thanksgiving dinner can be stressful, but Outer Banks restaurants let you enjoy a fuss-free meal. On Thursday afternoon and evening, select Outer Banks restaurants offer Thanksgiving buffets or multicourse meals that incorporate a taste of the beach with holiday's familiar flavors. You can sip Hatteras-style clam chowder or seafood bisque before starting on that turkey and cranberry sauce. Check out our Daytime Events listing to learn more about certain restaurants' Thanksgiving menus.
---
Alright, you've had your break. Now it's time to get back to the pleasant bustle of holiday preparations. If you decide you need another break later in the day, our Nightlife listings tell you all about which musicians and bands are performing and where.