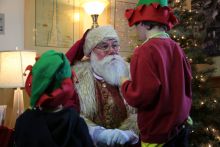 Tick-tock, tick-tock. Christmas and the start of Hannukkah are only days away. You're probably busy welcoming arriving family members, wrapping presents, trimming the tree and whatever else speaks Holiday Countdown to you. I know I've stayed occupied by baking cookies and taking last-minute shopping trips. Sure, things are a little crazy this time of year, but it's a fun and festive type of bustle that I associate with the joy of the season. And the Outer Banks' events and activities are here to help. This week we're looking at events that will keep family members entertained over the holiday and help make this season a special one that everyone will remember.
Open Mic and DJ at Kelly's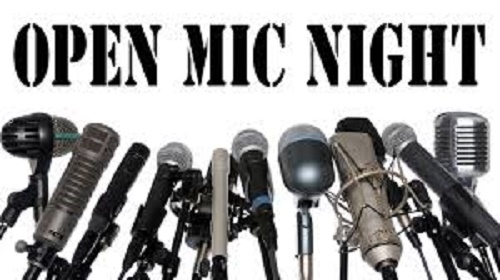 So the relatives have arrived, and now what'll you do with them? Everyone's tired of watching Christmas movies (I'm told that this is actually possible!), and it's too early for bedtime. How about hitting the town for some Outer Banks nightlife? Your first stop is Kelly's Restaurant and Tavern in Nags Head, because this Thursday, they're hosting an open mic and disc-jockey night. Let your family entertain you by showing off their music skills or mixing some beats. Heck, you might even want to cut loose yourself! Whether someone plays Mariah Carrey's "All I Want for Christmas is You" for the 20th time or your sister and brother-in-law perform a charming duet of "Baby, It's Cold Outside," fun will be had by all attending. Additionally there will be a game of poker happening from 8 to 10 p.m. so try your luck at the cards table in between your time on stage. The open mic and DJing will last from 8 until 11:30 p.m.
A Sanderling Christmas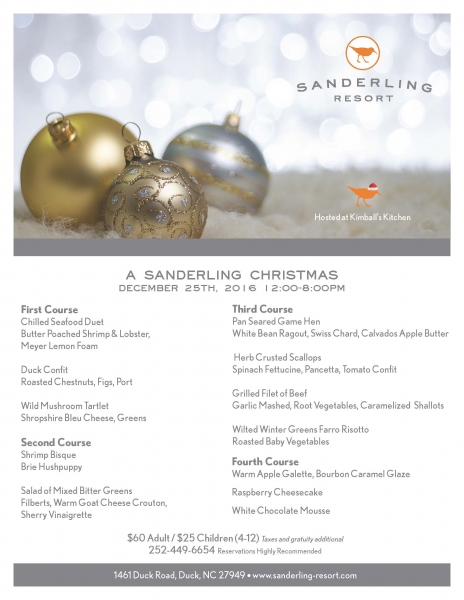 You've been extra good this year, I can tell, so give yourself the gift of a Sanderling Christmas dinner. The Sanderling Resort is roasting up a festive feast to add a classy and coastal touch to your Christmas Day meal. This four-course meal takes you from surf to turf and savory to sweet with Christmassy and coastal delicacies. Whether you want fresh herb-encrusted scallops or a juicy fillet mignon, the Sanderling caters to all tastes. The Lifesaving Station Restaurant serves from 12 to 8 p.m., perfect for a Christmas lunch or dinner. The price is $60 per adult and $25 for ages 12 and younger. Call (252) 449-6654 to make reservations.
WinterLights: Thank You, Santa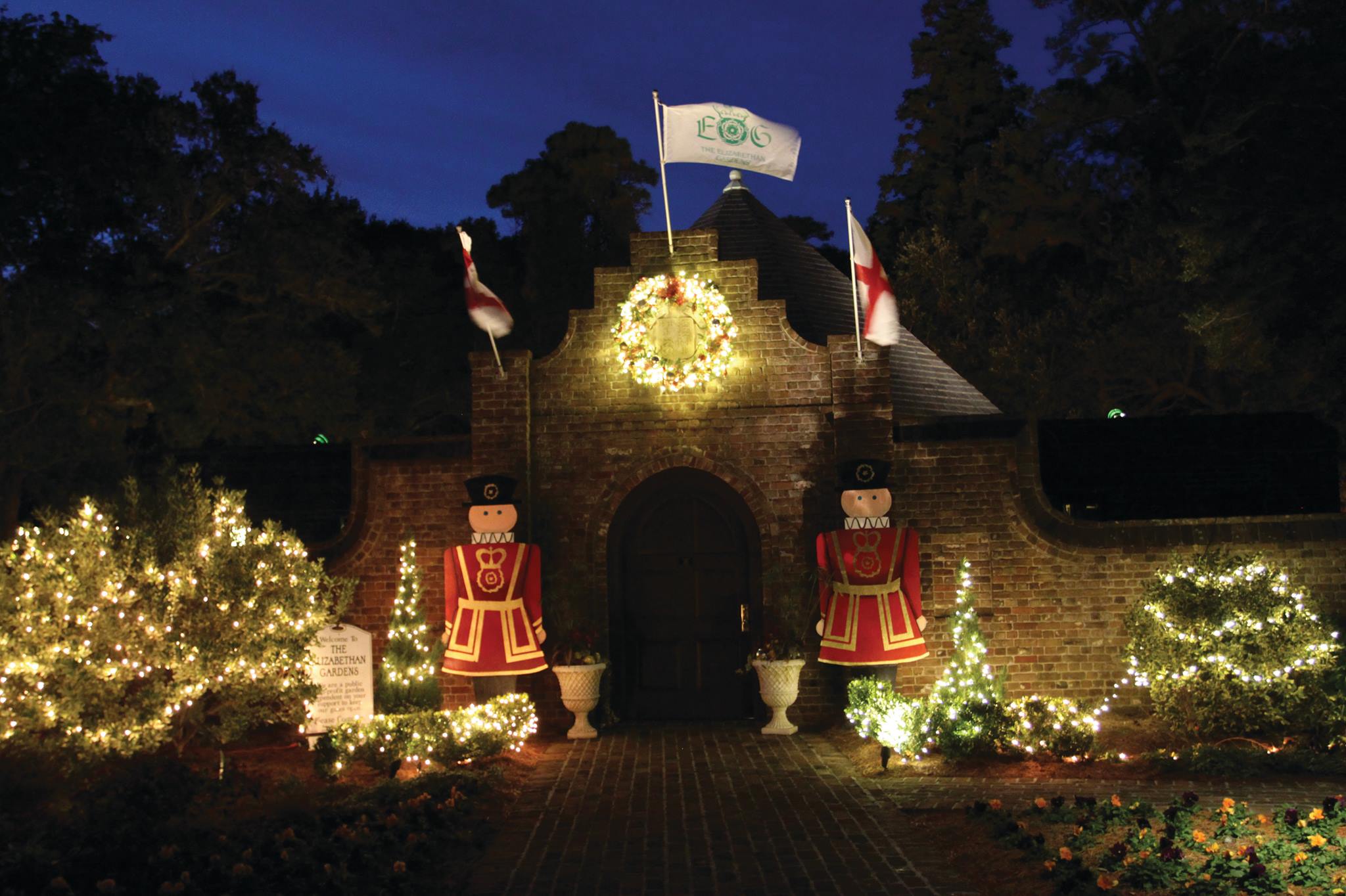 Thank Santa Claus for being so good to you this Christmas (or if he wasn't, demand what on earth he's trying to say with that demeaning lump of coal) by sending him a letter or telling him in person at Elizabethan Gardens this Wednesday. The Gardens' session of WinterLights is focuses on thanking Father Christmas, and anyone who drops off a thank you note is guaranteed next-day delivery to the North Pole. Or if you just can't wait that long, Santa will be kicking off his vacation in Manteo and will be ready to greet you at Elizabethan Gardens. WinterLights's Thank You, Santa lasts from 6 until 9 p.m. Admission to WinterLights is required for the Thank You, Santa event. Learn more about that seasonal activity here.
…And a Few of My Personal Favorites
You've finished opening presents, and everyone is stuffed with delicious foods. So what now? Here are a few of my favorite things to do when businesses are closed over the holiday.
Frolic in Nature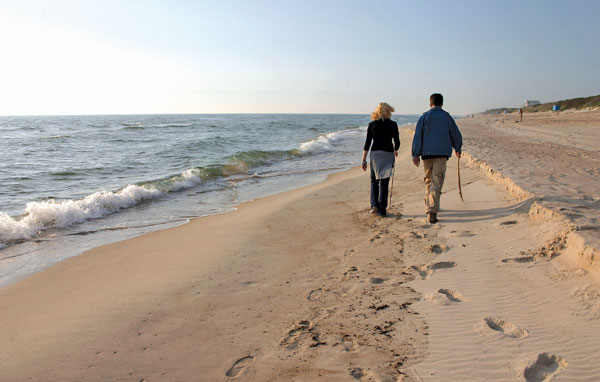 The Outer Banks' beauty doesn't get nearly enough attention in the winter. The sight of the bare, skeletal trees silhouetted against the lavender sky at dusk is enough to stop you in your tracks and send chills down your spine. After your festivities, walk off that heavy meal with a leisurely stroll through Nags Head Woods, or listen to the crashing waves as you leave footprints in the cool and moist sand. This is a great activity to do with the whole family or on your own when you need a break.
Hit the Road
With the majority of businesses closed on Christmas Day, it's not surprising that there aren't too many people out. Take advantage of the solitude by going for a good old Sunday drive. With few other drivers to contend with, you can absorb the sights around you. Roll through the miles of National Seashore on Hatteras Island or head north to Corolla until you reach the end of Highway 12. Instead of focusing on getting from Point A to Point B, take your time and enjoy the quiet coast around you.
The Movies
It's no secret that some of the year's best movies are released on December 25th. Take a break from the traditional Christmas fare and see one (or several) of the new blockbusters. Then, when you're at all of those after-Christmas parties, you'll have plenty to talk about with your extensive knowledge and opinions on the new releases. 
---
But at the end of the day, it's the lovely holiday season, which means you can do whatever you want, whether that's testing out your brand new surfboard or eating 15 gingerbread men. If you want to learn more about other happenings on the Outer Banks, check out our Daytime Events listing. As always our Nightlife listing will direct you to when and where your favorite local bands are performing. If you're traveling east to spend your holidays on our beautiful banks, congratulations on your excellent choice in location. In the meantime I and everyone else at OuterBanksThisWeek.com want to wish you a Merry Christmas, Happy Hannukkah and Happy New Year. However you celebrate the season, we hope it's joyous.