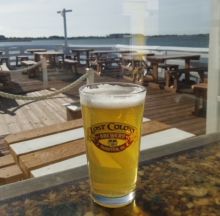 One of the joys of being on vacation is going out to eat in the local restaurants. Poke to pizza, Indian to ice cream, seafood to steaks, donuts to deli sandwiches, sushi to smoothies ... you can find almost anything you're craving in the hundreds of restaurants from Corolla to Ocracoke. You can see the full rundown here. 
Every year a new crop of restaurants opens up on the Outer Banks and some of the longtime favorite restaurants make some changes. Last year was especially busy on the local restaurant scene, so in case you missed my blog on this subject last year, you can see it here. This year we don't have quite as many new restaurants, but I'll give you the rundown of what I know.
Photo: Lost Colony Brewery has opened a new Waterfront Beer Garden on the causeway in Nags Head.
Corolla
In Corolla there's a new wine bar called Wild Goose Wine Bar in Timbuck II Shopping Village. They have a wine vending machine for sampling wines by the ounce or glass plus a wide selection of wines and beers. They also have meat and cheese boards for snacking. 
There are two new-ish Asian-inspired dining establishments in Corolla. Oishii Poke and Sushi is a casual restaurant offering poke bowls, sushi and Japanese favorites for dine in or take-out. It's located in Monteray Plaza next to Food Lion. Okinawa Sushi & Grill is in Timbuck II Shopping Village and is a little more upscale. You can order from a wide range of sushi, bowls, noodles, lunch boxes and more for lunch and dinner daily. Both places offer crowd-pleasing party trays.
A new business offering delivery of low country boils is Firehouse Boil Co. They will deliver everything you need for a seafood boil (shrimp, sausage, corn and potatoes) and more anywhere from Corolla to South Nags Head.
For the full rundown of Corolla restaurants, click here.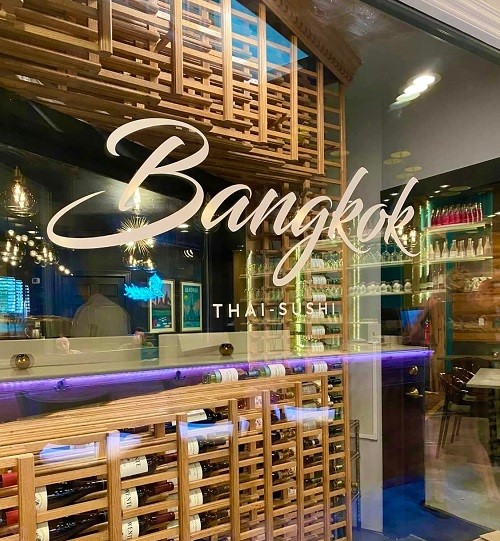 Photo: Sushi comes to Duck at Bangkok Thai Sushi. Photo: Facebook
Duck
The newest restaurant in Duck is Bangkok Thai Sushi. It's tucked under the trees in Scarborough Faire Shopping Village, which makes for a great setting, and the restaurant itself is very urban chic. The locals are very excited about this one because it's from the owners of the very popular Single Fin Thai Sushi in Nags Head. They serve authentic Thai dishes as well as sushi favorites, and the exhibition kitchen adds a lively atmosphere. Online ordering and take-out make meals at home easy too.
If you love charcuterie, you'll love the new shop/restaurant in Duck called Vine & Board. They create charcuterie boards meats, cheeses, olives and snacks with goods sourced from all over the world. You can eat on-site at a picnic table with wine or beer or take your boards boxed up to go. This one is also Scarborough Faire Shopping Village. 
Two longtime Duck favorite restaurants have new owners: The Blue Point and Paper Canoe. While there are certainly changes at each, you probably won't notice a huge difference in the quality of either of these popular waterfront restaurants. If you are a fan of either, it will be fun to go and see what's new.
For the full rundown of Duck restaurants, click here.
Kitty Hawk-Kill Devil Hills-Nags Head
Kitty Hawk now has an Indian restaurant called Himalaya Indian and Nepalese Cuisine. Indian food is so comforting and delicious, and this restaurant's fare is no exception. It's so nice to be able to get tikka masala, curries and naan right here in Kitty Hawk for a change.
Kitty Hawk also has a poke restaurant now. Aloha Poke & Grill offers custom and signature poke bowls made with a base, proteins, toppings and sauce. They also offer protein smoothies, kids' meals, salads and noodles.
Anchor Grill OBX Food Truck has rolled up from Rodanthe to a new permanent location by Stack Em High in Kitty Hawk. They serve really great chef-made food on the fly. You can order things like fish tacos, burgers, bowls, wraps, steamed shrimp and cheesesteaks. Plus they have funnel fries for dessert. Don't be surprised to find a line at this food truck.
If you're a fan of Barrier Island Bagels, note that they moved from The Marketplace at milepost 1 to the former Argyle's location at milepost 2 in Kitty Hawk. They still have the same awesome bagels and deli sandwiches, but in this location they're able to offer more seating.
For those who love a great hot dog, Kill Devil Dogs is open on the beach road in Kill Devil Hills. It's in the same shopping plaza as The Thai Room and Sal's Pizza. They have a lot of creative dog options, from the classic to the creative.
In Nags Head there's a brand-new second location of Bros sandwich shop. Bros is a very popular Avon restaurant for giant burgers, wings and sandwiches. Their new Nags Head location at the Outlets at Nags Head is sure to be popular as well. Don't just save a visit for a day of outlet shopping. This one is a destination in itself.
Exciting news on the Nags Head-Manteo Causeway is Lost Colony Brewery Waterfront Beer Garden. The beer garden serves all of Lost Colony's beloved locally brewed beers with a stellar water view. You can sit inside at the bar and chat up the beertender or sit outside on the pet-friendly deck with a water view. You can bring in food with you. A pizza place, a healthy-fare cafe and several seafood restaurants are very close by.
Next to Lost Colony Brewery is a restaurant called Waterfront Pizza. They're not open quite yet but will be soon. They'll be serving pizza and other family-friendly favorites right on the water. They have indoor seating and pet-friendly outdoor seating with amazing water views.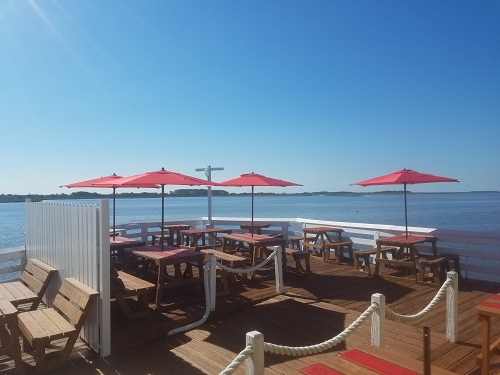 Photo: Pizza with a view! Waterfront Pizza, opening soon, will offer this lovely setting for family-friendly favorites.
Nags Head Pizza Company, which left the location that will now be Waterfront Pizza, has moved to a new location around milepost 13 on the beach road. The pizzas and salads are much loved and they'll still be available for dine in, take-out and delivery.
Big news in Nags Head is that the extremely popular Blue Moon Beach Grill will be moving in the future. Their new location is being built on the Bypass about a half-mile south of their current location. For now, they're in the same location at Surfside Plaza.
You can see all of the Kitty Hawk, Kill Devil Hills and Nags Head restaurants here.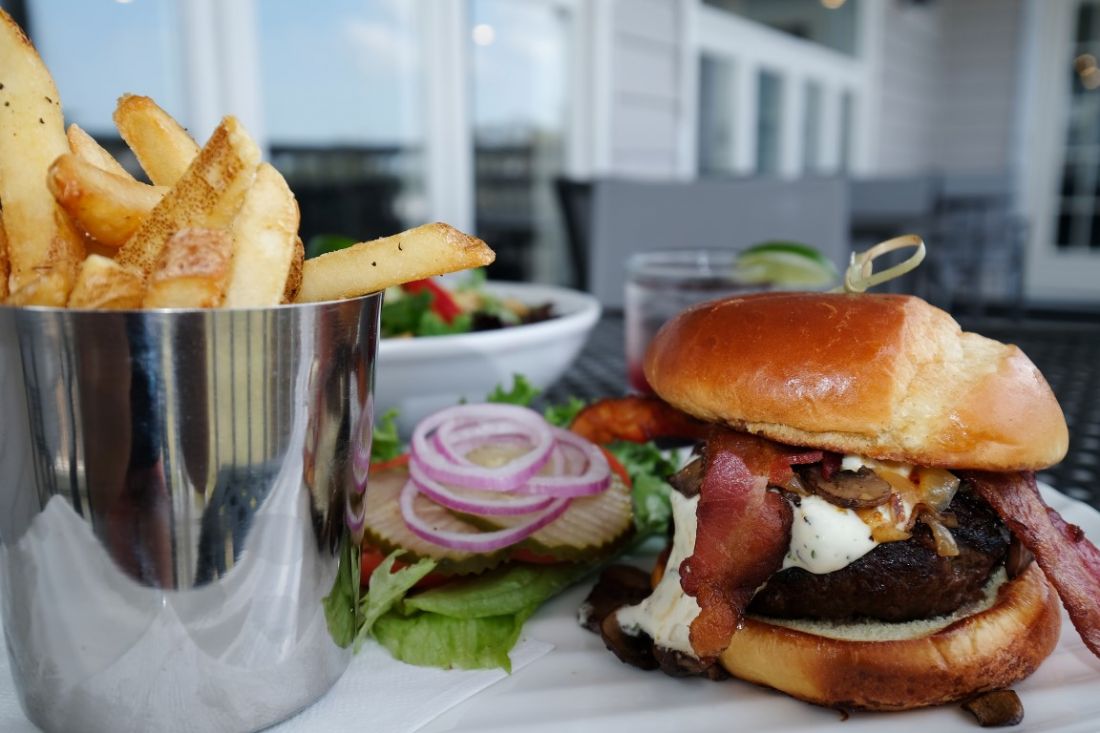 Photo: Avenue Grille and Goods in Manteo still serves its popular fare, but now only for lunch. There's a new store and yoga studio on site now.
Manteo
There are a few changes on the Manteo restaurant scene.
Avenue Grill and Goods, a longtime favorite restaurant, has switched to serving lunch only. Their menu is pretty much the same (thank goodness!) and they still offer indoor and outdoor seating with a water view. But now they also have a really cool store on site as well as a yoga studio called Lighthouse OBX Yoga. 
With new owners, Lost Colony Tavern in Manteo has had a food overhaul. They now offer fare inspired by the British Isles. Along with Irish beef stew, fish and chips, bubble and squeak, cottage pie and Cornish hen, you'll also find burgers, crab cakes, salads and wings. They still serve all the Lost Colony Brewery beers as well, which are the perfect accompaniment to this food.
1587 restaurant at Tranquil House Inn took a little break, but they're back and the locals are so happy. A new chef is creating excellent dishes for dinner Wednesday through Saturday nights. If you know this restaurant, then you know that it's a favorite for dinner in Manteo. Unfortunately, they're no longer taking reservations, but if you have to wait it's good to know they have an excellent selection of wine, beer and cocktails.
Roanoke Island Market is a welcome addition to the Manteo restaurant scene. Brought to Manteo by the same owners of Freshfit Cafe in Nags Head, the market serves fresh-pressed juice, acai bowls, loaded toasts, paninis and fresh-baked goods. Necy's Baby Cakes has fresh-baked desserts for pickup.
You can see all of the Manteo and Roanoke Island restaurants here.
Hatteras Island
Coming very soon to Hatteras Island is Hoy Lechon, a food truck serving grilled meats and BBQ with heavy Filipino and Chinese influences. Opening in July, they'll be offering grilled suckling pig and chicken, spring rolls, adobe fried rice and much more. You can pick up single meals or family meals, and they'll offer catering as well. The mobile restaurant can be found in the parking lot of the Liberty gas station at the foot of the Jug Handle bridge in Rodanthe. 
See all the Hatteras Island restaurants here.
Well, that's all the news I know in Outer Banks restaurants right now. What did I miss? Feel free to pipe up in the comments. Enjoy your meals on the Outer Banks!