Sometimes a good idea seems to just be floating in the ether waiting to be actualized. When Theatre of Dare selected the Pulitzer Prize-winning comedy You Can't Take It With You for its first production of 2015, no one in the organization had any idea that Broadway moguls had plans for a revival of the show, or that the two productions would run simultaneously.
The screwball comedy revolves around Penny Sycamore and her extended family, a firework-making, snake-loving, bad-dancing group whose youngest daughter Alice falls in love with Tony Kirby, the son of her boss. However, when the freewheeling Sycamores meet the wealthy and uptight Kirbys for dinner, nothing goes as planned and fireworks ensue.
You Can't Take It With You, one of the most popular and successful plays of the modern theater era, is appropriate for all ages. Tickets are $11/adults and $6/students and are available online and at the door. Friday and Saturday shows begin at 7:30 p.m., and the curtain goes up on Sunday matinees at 2 p.m. All performances will be held in the auditorium of the College of the Albemarle's Roanoke Island Campus in Manteo.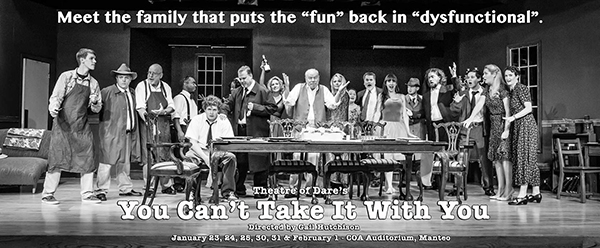 ___________________________________________
Even during the blustery darkness of an Outer Banks winter, live artistic performances are not limited to theatrical productions. Per capita, the Outer Banks has more musical talent than perhaps anywhere else I've ever been aside from downtown Nashville, Tennessee, and, regardless of the cold and dark outside, our hardy musicians will show up and play nearly anywhere that it's light and warm inside! All you have to do is locate the venue (hint, hint…OuterBanksThisWeek.com, y'all) and get yourself there. C'mon, it's not that far from the warmth of the car to the warmth of the venue and, once inside, you'll likely find yourself amongst friends and quickly tempted with good food and drink to go with typically excellent musicianship.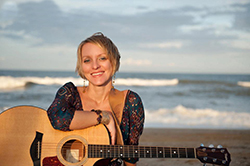 For instance, take a gander at what Trio Wine & Cheese in Kill Devil Hills has set for the coming week. Over three straight nights beginning Thursday evening you could experience the talented Natalie Wolfe, followed on Friday by the eclectic and innovative playing of Brent Nultemeier performing as SOULone, with a satisfying helping of the ever-dependable Aquarium on Saturday. A few nights later Laura and Dan Martier, performing as the duo Birddog, bring an entertaining mix of songs that includes selections from Johnny Cash to the Pixies and more. Each night's show begins at 8 p.m. and ends at roughly 11 p.m., so if you're hurting the next day you can't really blame it on the rock 'n' roll.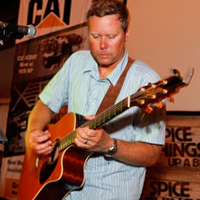 Up in Duck this weekend? Stop in Friday night at Aqua and take a listen to The Mo-Rons spin on great songs from the '60s and '70s to today's favorites from 6 to 9 p.m.
On Roanoke Island, Poor Richard's on the downtown Manteo Waterfront is your source for live music on Friday, Saturday and sometimes Sunday nights. Like many Outer Banks venues, it's intimate enough that you can observe what chords the musicians are playing and maybe even have a brief conversation with them between sets. And on any given winter night or weekend that's the way it rolls all up and down the beach, from intimate little gigs at Art's Place to diverse performances at Ocean Boulevard, Outer Banks Brewing Station, Kelly's or any number of other venues. So, get out, have some fun and support your local musicians!
                                        ___________________________________________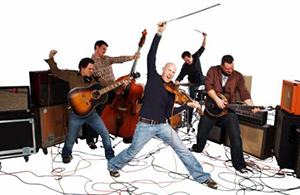 Outer Banks Forum continues its tradition of bringing diverse performing arts to our barrier islands Saturday, January 24 with Ryan Shupe and the Rubberband, a high-powered five-man band of amazing multi-instrumentalists "… playing eclectic string music with bluegrass roots." The band will perform at First Flight High School in Kill Devil Hills at 7:30 p.m. Tickets are $28/adults and $15/students. Band leader, lead singer and fiddle player Shupe has been named Colorado Bluegrass Association Songwriter of the Year and the band, which has been named Telluride Band Champions, has performed at the 2002 Olympic Games and appeared on Good Morning, America, CNN, E! and National Public Radio.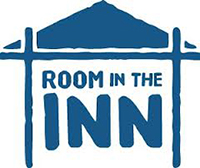 It's not unusual on the Outer Banks to find music used as a catalyst for fundraising for a good cause. This Sunday, January 25 at 4 p.m. the caring folks at All Saints Episcopal Church in Southern Shores will host a free concert to benefit Room In The Inn, an organization providing winter shelter and warm meals to the Outer Banks' homeless. "Soli Deo Gloria – Music for a Sunday Afternoon" will include vocal masterworks, instrumental music, hymn arrangements and spirituals performed by pianist Barry Ambrose, soprano Katie (Blackstock) Blanchard, organist Steve Blackstock, pianist/organist Jason Evans, soprano and flautist Kim Konstanzer, mezzo Lainie Reed and soprano Jo Anne Swartz. An offering will be collected during the performance to help fund medical treatment, transportation, eyeglasses, clothing and other needs of Room In The Inn guests.
 
Sing a Song, Sing Out Loud, Sing Out Strong
If you feel confident you can carry a tune yourself, then head over to Kelly's Outer Banks Restaurant and Tavern in Nags Head for Karaoke Night beginning any Tuesday evening at 8 p.m. and lend your voice to your favorite song. There is no cover charge, but you must be 18 or older to participate. The next Karaoke Night will be January 27.
Think better than you sing? Then Trivia Night with DJ Billy at Poor Richard's in downtown Manteo might be the perfect night out for you. The brainteasers and synapse twisters begin to fly promptly at 8 p.m. each Thursday night. But don't worry, there's no pressure. After a couple of beverages you're sure to feel smarter, regardless of what the trivia results suggest.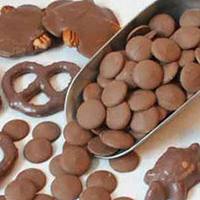 What time is it? Chocolate time!
Seeking a sweeter antidote to Winter? For many folks, it's chocolate to the rescue! And you can learn to make your very own mood-enhancing candies at the Chocolate Cravings DIY Chocolate Workshop offered by The Elizabethan Gardens this Friday, January 23 from 10 a.m. to 1 p.m. Experienced instructors will teach you to make sumptuous chocolates from scratch, including peanut butter cups, turtles, million-dollar nuggets and nut clusters. Warning! This workshop can become deliciously messy, so dress appropriately. Each participant will take home a dozen samples of each candy, so remember to bring containers for your creations. Class size is limited to 10, and the price is $50/members, $60/non-members. Light refreshments will be served. For more information call (252) 473-3234 or visit The Gardens' website.

This time you have a chance to win a one-night stay to Oasis Suites Hotel & a $35 gift certificate to Gray's Outer Banks!
For more information about Oasis Suites Hotel check out their website.
For more information about Gray's Outer Banks check out their website.
 
Last Giveaway Winner
Congratulations to Bobby Atha!!!
You won an Outer Banks restaurant tour from OBX Restaurant Tours and a wine tasting class for three from Chip's Wine & Beer Market!
For more information about Outer Banks Restaurant Tours check out their website.
For more information about Chip's Wine & Beer Market check out their website.