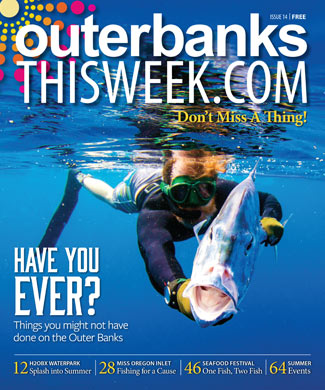 Funny, as I sat down to write this Publisher's Letter, a cool blast just flew in through my open window, feeling a lot more like the coming of fall than the winds of summer. But, we all know these winds change all the time here on the Outer Banks. And we all know that the high temps and humidity that accompany our Earth's current position in the solar sling will be steadily upon us any day now. By the time you're reading this, you've probably already had your first reddened skin of the summer (we all know we shouldn't do this, but I wonder how many of us do it anyway on the first bathing suit day of the year? Sorry, Dr. Jackson!). You might be sitting on the beach or on a pier right now as you read this. It might be so dang hot that you're already wishing for those portents of autumn.
But, for now, Let's not think about any other season. 
Let's sit still under the hot orb and think summer thoughts and watch the surfers and the beach walkers. Let's use our best summer manners when visitors are figuring out the middle turn lane on the bypass or drivers are going achingly slow in the left-hand lane. Let's be laid back, as this time of year invites us to be, about lines in grocery stores or waits at our favorite restaurants.

Let's be one with ...
the spirit of the Outer Banks, the ever-shifting, ever-rearranging, ever-willing to change, ever-beautiful place we live in and visit.
Let's leave our angsts at home. Let's practice radical kindness. Let us understand that many trillions of grains of sand, all absolutely individual in their magnification, make up the beach. Let's be carefree summer people.
I think letting our worries go might help bring on more of what we want … and isn't it something to ponder that every single person reading this will have their very own interpretation of what that letting go is made up of? When we put our attention to what we want and love, maybe more of that stuff happens in the world of our own beings.
Let's go do some Outer Banks things ... 
we've never done before or have a divine meal at a new restaurant or go out on a charter fishing trip or visit an art gallery. Let's drink great coffee and read good books. Let's go to festivals and water parks. Let's visit every single town that makes up this necklace of islands and find something we love about every one of them.
Let's do it and be it.
Happy Summer!
VIEW A DIGITAL VERSION OF THIS ISSUE