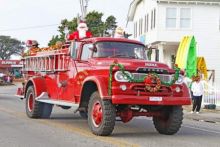 Two weeks until Christmas and the island is alive with holiday spirit. I've already unwrapped and re-wrapped my favorite holiday movie, put up a Charlie Brown-sized Christmas tree and attended holiday festivities galore. And there's still more to come.
Some people may wonder why anyone would want to visit the Outer Banks during the wintertime – probably the ones who prefer a standard 80 degrees and constant sunshine like me. But as a lifelong resident of this great beach I can tell you that it's because the people who live here put so much into everything they do. The community spirit is monumental, and it shows in the parades and gatherings that celebrate the holidays as well as in our beautiful homes – remember the crab pot Christmas trees and light-wrapped sailboats I mentioned last week? Holidays on the Outer Banks are like no other, and, well, the ocean view is pretty great too.
Hatteras Village Annual Christmas Parade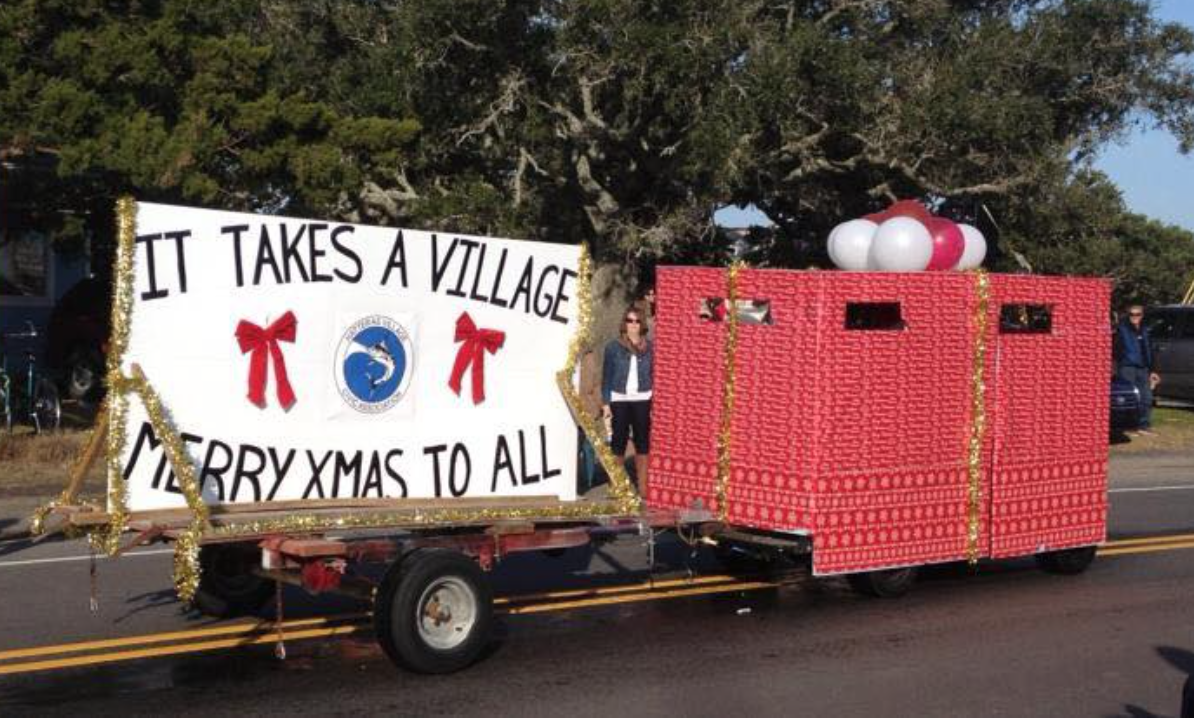 Here's a traditional Christmas gathering that brings together the people of Hatteras each year. The old-fashioned community parade features the local, award-winning school band, floats from area businesses, fire trucks, the United States Coast Guard and many other colorful participants. After the parade while the prizes are being awarded, parade goers can enjoy hot chocolate and cookies in the Fire House. Then if you've got time, I'd recommend exploring small town Hatteras all decked out for the holidays. The Hatteras Village Annual Christmas Parade is happening on Saturday, December 12 from 2 to 4:30 p.m. Children should come with goodie bags in hand to chase down candy and other prizes tossed from the floats.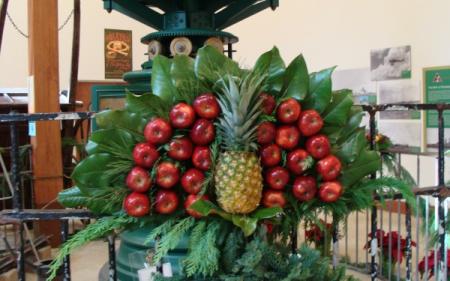 Holiday at the Museum
At the 5th Annual Holiday at the Museum, children and adults alike will marvel at the elaborate Winter Wonderland train display crafted by master model builder Charlie Klein. Paired with holiday trees dressed in themed decorations, musical entertainment throughout the day, a professional puppet show and children's holiday craft activities, the day is sure to be one to remember. Speaking of my preferred 80 degrees, there will be all kinds of warm treats to warm up to at the festivities like hot soups, ham biscuits and holiday cookies. Kids, make sure to write your letter to Santa while visiting the museum because he has been known to respond! Holiday at the Museum will take place on Saturday, December 12 from noon to 5 p.m. at the Graveyard of the Atlantic Museum. It is free to the public.
Sensory Sensitive Santa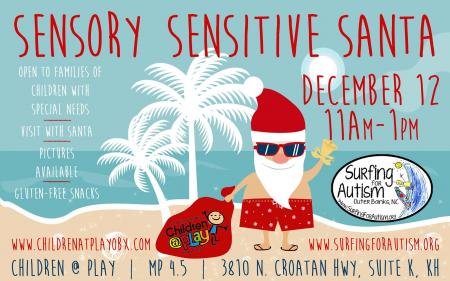 We sure do have some great people at work on this beach. For the second year, Sensory Sensitive Santa will welcome all families of children with special needs to the Children at Play Museum in Kitty Hawk. Kids can have their photo taken with the man in the big red suit and enjoy cookies, hot cocoa and gluten-free snacks. This is a wonderful opportunity for the children to visit Santa in a safe and comfortable environment. The two awesome organizations behind the get-together, Surfing for Autism and Children at Play, have each made great contributions to the lives of children on the Outer Banks and are near and dear to many locals' hearts. Sensory Sensitive Santa will be making his appearance on Saturday, December 12 from 11 a.m. to 1 p.m.
Theatre of Dare's It's a Wonderful Life
The beloved characters from Frank Capra's classic film will be brought to life this weekend and transported to a 1940s radio studio in It's a Wonderful Life: A Live Radio Play. The script was adapted from the movie by playwright Joe Landry, who brings George Bailey and the other residents of Bedford Falls to a live broadcast during the golden age of radio. Just as in the movie, Bailey has fallen on hard times and contemplates ending his life one fateful Christmas Eve until a gentle angel named Clarence intervenes. The show will play on Saturday, December 12 at 7:30 p.m. and on Sunday, December 13 at 2 p.m. at the Comfort Inn on the Ocean in Kill Devil Hills. Tickets are $15 for adults and $10 for children.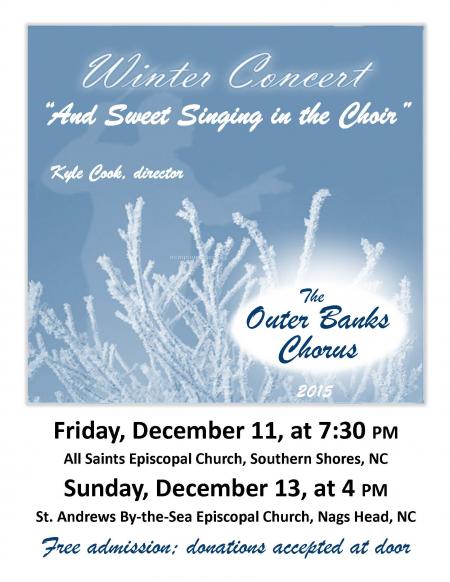 Holiday Concerts
In the spirit of the holidays, we have two great concerts happening this weekend that will showcase local talent. The Outer Banks Chorus will present And Sweet Singing in the Choir in which more than 60 voices will fill the air with the title piece and other holiday songs. I'm not a singer myself, but I sure can appreciate their talent and you can too this Friday, December 11 at 7:30 p.m. at All Saints Episcopal Church and Sunday, December 13 at 4 p.m. at St. Andrews by-the-Sea Episcopal Church. The concerts are free; however, donations will be accepted at the door.
Aviation and music lovers, take note. The Kiwanis Club of Roanoke Island is presenting From Dayton to Kitty Hawk: The Wright Brothers Quest to Fly Benefit Concert. This is the group's first-ever concert version of original songs with narration, and it's happening in the College of the Albemarle Auditorium in Manteo. The concert begins at 7:30 p.m. on Saturday, December 12. Adult tickets are $10, and children in the fifth grade and younger are free.
Christmas Past at the Island Farm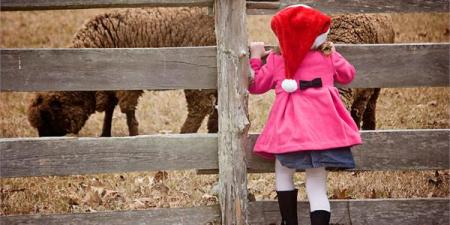 St. Nick won't be driving his shiny red sleigh this time around. In fact, he's headed back in time for Christmas Past at the Island Farm, where he will be perched atop an ox-drawn wagon and giving wagon rides around the farm's trails. Join him between 10 a.m. and noon for a one-of-a-kind experience, then warm yourself by the farmhouse's crackling fire and help decorate the family Christmas tree. There will be a reading of "A Visit From St. Nicholas" at 2 p.m., farm animals to visit with and 19th-century foods prepared over a fire in the farm's cookhouse. Farm visitors can even make their own beeswax candles to take home. Christmas Past at the Island Farm is happening this Saturday, December 12 from 10 a.m. to 4 p.m. in Manteo.
To bake Christmas cookies at home or to venture out into the Outer Banks nightlife? That is the question! With this week's great lineup of events, I think you and I both should make plans to be out and about. There are going to be live local and touring bands onstage, trivia nights, poker and one very cool painting party. See it all on our Nightlife & Events page.