Fall is here, and that means an impressive lineup of festivals, seasonal carnivals around town and – for this weekend at least – lots of weather. The howling wind has been churning up the ocean for days now, making choppy waves for the surfers competing in The Easterns tournament at Jennette's Pier. As far as we know, the best of the East are going head to head through the end of the week with the junior surfers still to compete. If gray skies take over your perfect beach day, head to the surf competition to cheer on the youngest wave riders. We know they will stay in the water even in the rain as long as the storm doesn't really kick up. As for me, a few raindrops can't keep me from all the good stuff happening this week. Everyone should keep an eye on the forecast though in case some events need to be rescheduled.
Artrageous Art Extravaganza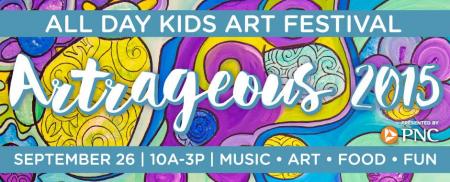 Those of us who were kids on the Outer Banks in the last 25 years all know Artrageous. It's the place where we sponge painted T-shirts, pieced together stained-glass ornaments and dug through bins of foam blocks and noodles to forge the perfect creation out of foam and duct tape. It's an art festival for kids, complete with live art demos and musical entertainment, and there're local art vendors displaying their work too for the adults who are no longer compelled by pipe cleaners and googley eyes.
Artrageous Art Extravaganza began as an effort to help establish the Dare County Parks and Rec program, and today it enters its 26th year of encouraging kids to create. Some of my childhood cohorts that once sported painted paper bag hats at Artrageous have actually gone on to become accomplished artists, although I'm pretty sure they left the googley eyes behind too. You can bet I'll be at this year's Artrageous on Saturday, September 26, most likely chasing my paint-covered kid nephews. Admission is free and open to the public, and the event runs from 10 a.m. to 3 p.m. at the Dare County Family Recreational Park in Kill Devil Hills. If the storm chases the event out, Chris Sawin, head of Dare County Arts Council, has just announced that the re-do date will be Halloween! Fun! Saturday, October 31 from 10 a.m. to 3 p.m.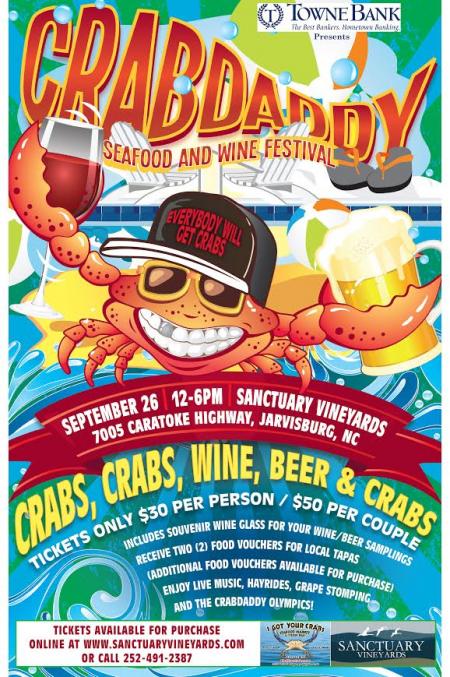 Crabdaddy Wine and Seafood Festival
Wine, seafood and tandem hang gliding? Okay, the hang gliding is optional, but either way the Crabdaddy Wine and Seafood Festival is a good time that should be on your radar this weekend. The annual festival takes place among the grape vines at the beautiful Sanctuary Vineyards just over the bridge in Currituck. A ticket gets you a souvenir wine glass, food vouchers for local tapas, live music, hayrides, grape stomping and the option to participate in the Crabdaddy Olympics.
Last year was my first time at the fest, and it won't be my last. I opted to tandem hang glide with Kitty Hawk Kites before the wine tasting commenced, and the bird's eye view of the festival and the vineyards was an incredible experience. Next came the crab picking, local wine and great tunes. I'd honestly go back this year just for the she-crab bisque – check it out! The festival is happening Saturday, September 26 from noon to 6 p.m., and hey, it's cheaper if you bring a date. Tickets are $30 per person or $50 per couple.
DASH Symposium & The Surfalorus Film Festival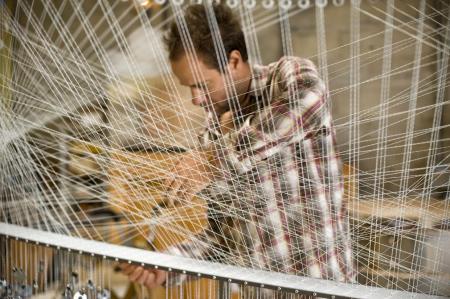 Artists, surfers, filmmakers, scientists and lovers of the aquatic – this one is for all of you. DASH 2015 is a three-day academic and arts symposium that will explore the intersection of design, art, science and humanities with this year's focus on the science of waves and the vehicles people use to navigate them. The symposium will be held in conjunction with the Surfalorus Film Festival, a three-day surf film festival that is one of the leading independent film festivals in the country.
DASH 2015 and the Surfalorus Film Festival represent an exciting confluence of ideas that will educate guests about the natural forces that shape our way of life. The symposium will feature a historic surfboard exhibit, academic lectures at the UNC Coastal Studies Institute on topics such as Coastal North Carolina boat design, the debut of Mickey McCarthy's newest surf photography, various wave demonstrations and exhibits, a surf swap and much more. This year's keynote speaker is Reuben Margolin, an American-born artist and sculptor known for his mechanically driven kinetic sculptures of wave forms. His presentation on Friday, October 2 at 4 p.m. at the auditorium at the Manteo location of the College of the Albemarle is free to the public.
College of the Albemarle will continue the theme of interpreting waves through art installations and hands-on art programs. Beginning at 5 p.m. on October 2, College of the Albemarle will host a reception for "Making Waves" at their Professional Arts Building.  This large sculptural installation, based on the theme "ripples and waves," was inspired by wave data collected over the course of a single year from the UNC Coastal Studies Institute's offshore data buoy and by Surfline's observations from Jennette's Pier. This room-sized sculpture -- built by COA students, faculty, and community members -- contains more than 700 data points suspended in three-dimensional space.  On October 3, the public is welcomed to a day-long hands-on art experience exploring the intersection of art and science. The second floor studios of the COA Professional Arts Building will be open to the public and will feature ongoing demonstrations and hands-on art making throughout the day.  Artists of all ages are welcome to participate in the free demonstrations and hands-on art creation. Click here for more information.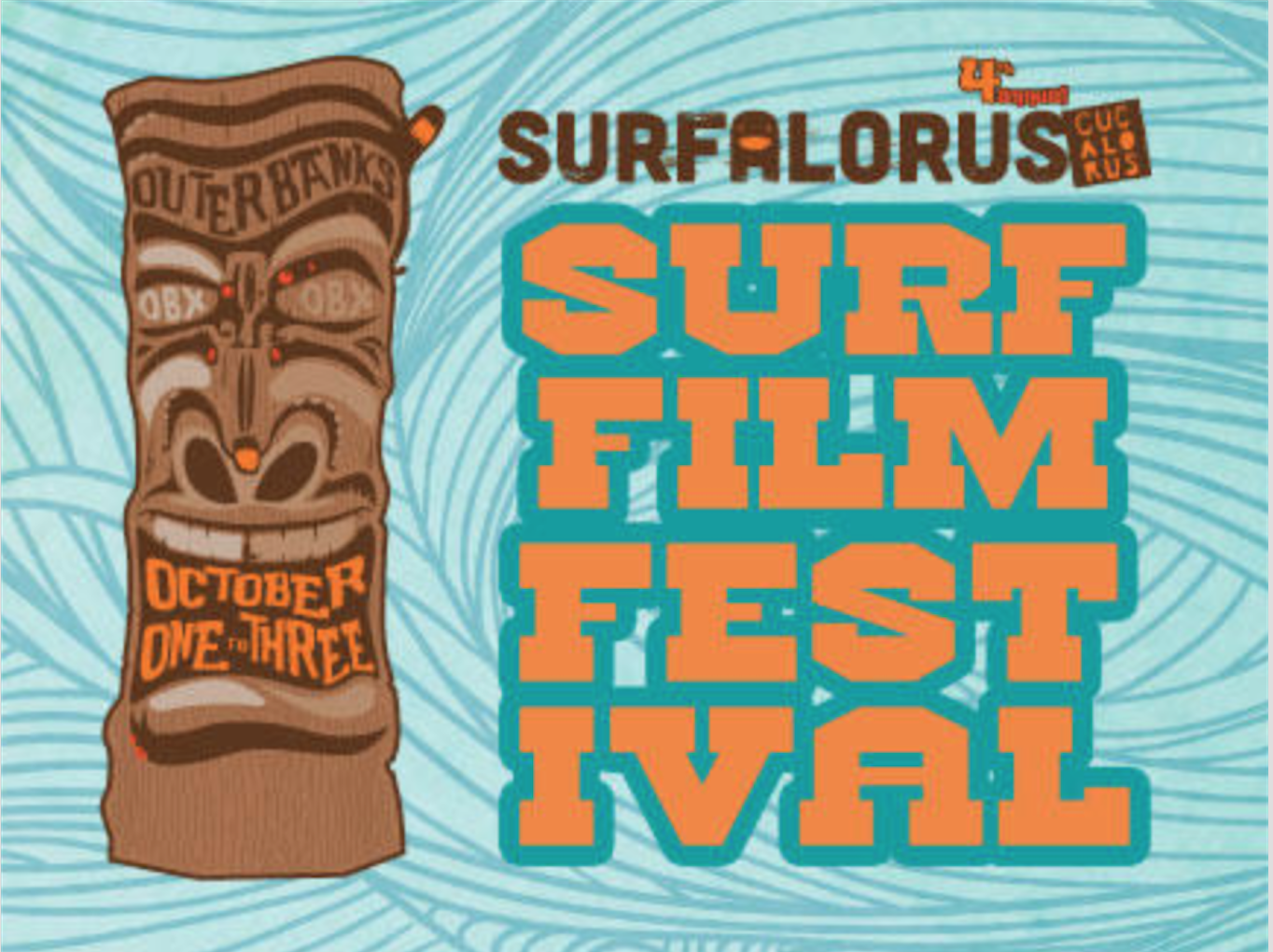 The 4th annual Surfalous Film Festival will showcase the year's biggest surf films and ocean documentaries with a series of outdoor screenings around sunset and accompanying festivities. Both DASH 2015 and the surf film fest kick off on Thursday, October 1 and continue through Saturday, October 3. Make sure to check out The Big Sweep trash cleanup and following TrashFest as part of the DASH Symposium. Last year more than 130 participants removed about 695 pounds of trash from our beaches! 
Bluegrass Island Festival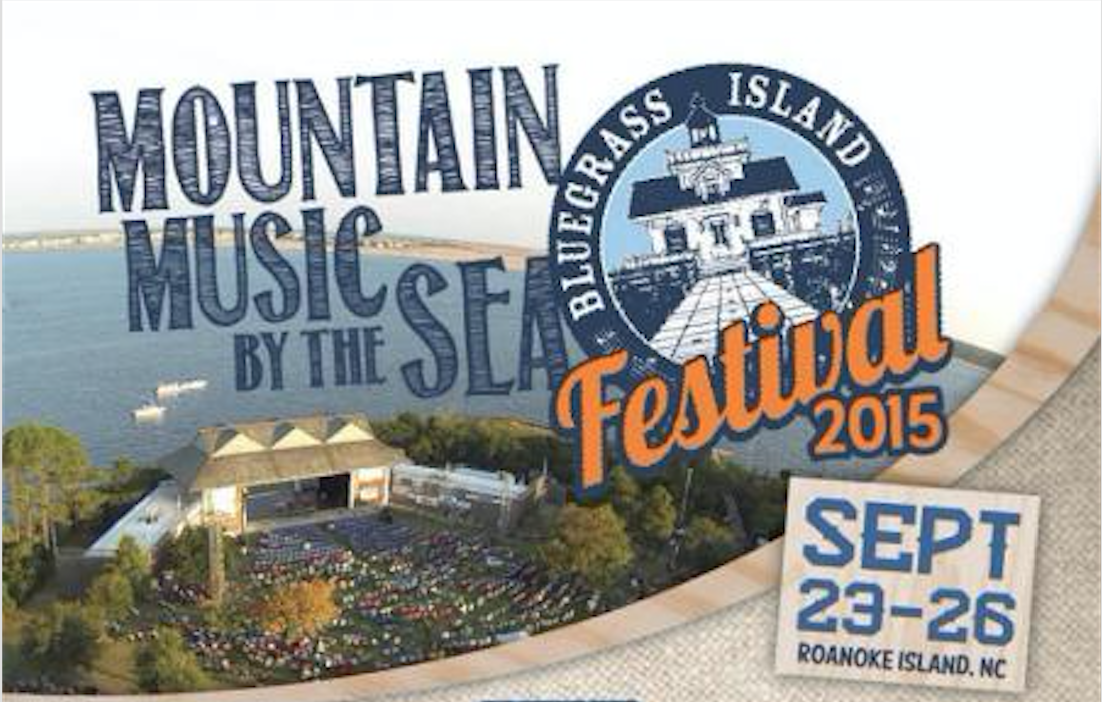 That's right – this fun bluegrass festival is happening rain or shine, which is great news for us because we've got a lot of rain. A new tradition on the Outer Banks, the Bluegrass Island Festival is quickly becoming one of our biggest events. The fest brings mountain music to the sea with big names in the bluegrass realm like Cherry Holmes, Sam Bush and Rhonda Vincent still to perform this weekend. The backdrop of the Roanoke Sound gives a whole new vibe to bluegrass music whether the weather holds or not. There will be great music going on all weekend, and the Boomgrass Fireworks Show happens on Friday, September 25. Have you ever seen fireworks choreographed to bluegrass music? Me either, and I can't wait. Single-day tickets and multi-day passes are available. Check out the main stage lineup here.
All Out Pink Road Race
Beginning at the scenic Elizabethan Gardens in Manteo, the 6th annual All Out Pink Road Race is a 10-mile run and a 5K organized to support the fight against breast cancer. The 10-mile run will cross the Old Manns Harbor Bridge over the Roanoke Sound. There will be a post race party at the Elizabethan Gardens at which local breast cancer survivors will be presenting one-of-a-kind trophies to the top male and female runners and unique finisher medals to all participants. The race starts at 8 a.m. on Saturday, September 26. Wear pink! Net proceeds will benefit Outer Banks cancer causes, efforts and survivor groups.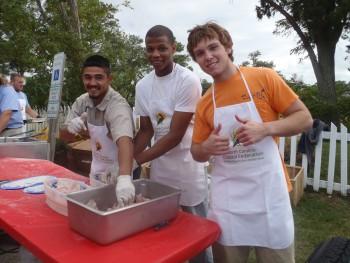 Fish Fry and Shrimp Boil
Now this sounds like my kind of Friday. To celebrate our local waters, the North Carolina Coastal Federation is hosting its 4th annual Fish Fry and Shrimp Boil in Manteo. Locally harvested flounder and shrimp, sides and desserts are on the menu, and there will be live music and fun activities for the entire family. Make sure to buy a raffle ticket for the standup paddleboard – the Manteo waterfront is close by if you win! The event takes place on Friday, September 25 from 4:30 to 7 p.m. at the North Carolina Coastal Federation office on Grenville St. Tickets are $15 for adults and $10 for kids 12 and younger.
The rain is no excuse to stay at home. In nightlife this week, we've got plenty of local music and quite a few touring acts, late night dance parties, ladies nights, karaoke and a Texas Hold'em poker tournament. Visit our Nightlife & Events page to see it all and plan your night out on the Outer Banks.