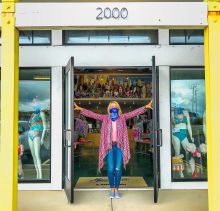 As usual, I have procrastinated on holiday shopping (I've made exactly one gift purchase so far), but I'm really not stressing about it. I know I can find everything I need on the Outer Banks, and I'm really looking forward to getting out and visiting the local places this weekend and next. Here's what I plan to buy.
Photo: Outer Banks retail shops like Birthday Suits are open for safe shopping and ready for customers!
Locally Made Art & Crafts
Outdoor holiday markets and popups are happening all over the place. These are always fun because you get to meet the maker and ask questions about their goods. I'm going to try to get to a couple of these this weekend. Click here for a list of holiday markets, and also check here for more that might pop up over the course of the next few days. I'll still be checking in at local galleries as well to look for locally made art and goods from my favorite artists and artisans.
Restaurant Gift Certificates
Everybody eats, so I don't think anybody is ever disappointed with a restaurant gift certificate. Even if you're not dining out during COVID, a restaurant or coffee shop gift certificate is still good for take-out. I like to give these to teachers and helpers of all sorts as well as to teenagers (who are always hungry). Some local restaurants, like The Dunes, Grits Grill, Avenue Waterfront Grill and others, are offering special deals on gift certificates right now. Click here for a rundown of all the Outer Banks restaurants, which might be helpful in remembering your friends' and family's favorite places to eat.
Books
The Outer Banks is blessed with four independent booksellers that offer a total of seven bookstore locations from Corolla to Ocracoke. That is a high concentration of independent bookstores per capita, so please don't order your books from Amazon. Browsing in bookstores and chatting with the staff, I always find the perfect book match for people on my gift list. If you know exactly what you want, you can call your local bookshop to see if they have it. If they don't, they'll be happy to order it for you. Local authors released several new books this year, and here are some of them to look out for.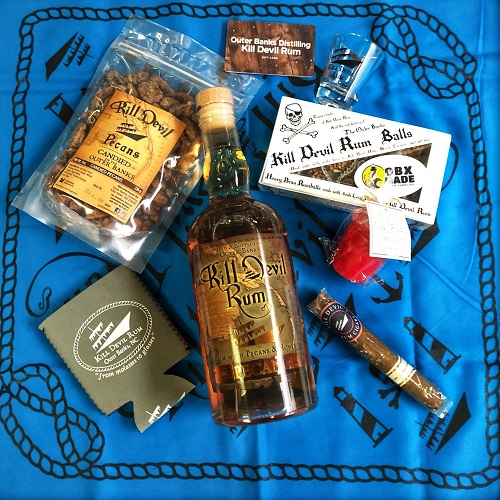 Outer Banks Distilling in Manteo has a wealth of stocking stuffers for adults.
Food and Drink
I love receiving yummy food items that I would never buy for myself. Someone just gave me a bottle of Runamok Maple's ginger-infused maple syrup that I never would have thought about buying but is totally scrumptious (they have it at TRiO btw). I always buy some food gifts along with wine, locally made beer and Kill Devil Rum to have on hand for gifts and hostess gifts (although I guess I won't be needing those this year). Here's a list of gourmet markets and shops that sell gift-worthy food and drink.
Tackle and Fishing Gear
I have a lot of fisherpeople and outdoorsy types on my gift list, so I always find myself in the tackle shops around the holidays. I must look lost because, inevitably, some kind and helpful tackle shop salesperson will come to my rescue and tell me exactly what to buy. Here's a list of Outer Banks tackle shops.
Toys
My kids are teenagers now, and their toys are more expensive and less fun to shop for. But thank goodness I still have a few little people on my list. I love to shop for children's books and toys. Here's a list of places to buy toys on the Outer Banks. While you're at it, consider buying an extra toy and donating it to Outer Banks Brewing Station's Spread the Love Holiday Food and Toy Drive.
Clothes & Outdoor Wear
Whether it's new clothes for winter, on-sale summer clothes for next year, accessories, shoes or outdoor gear of every sort, I can always find the clothes and gear I need on the Outer Banks. Wetsuits, waders, rain boots, parkas, jackets, socks, you name it, and there's a store for it on the Outer Banks. Here's a rundown of all the local stores from Corolla to Ocracoke, and you can search by location and type of store to find exactly what you need!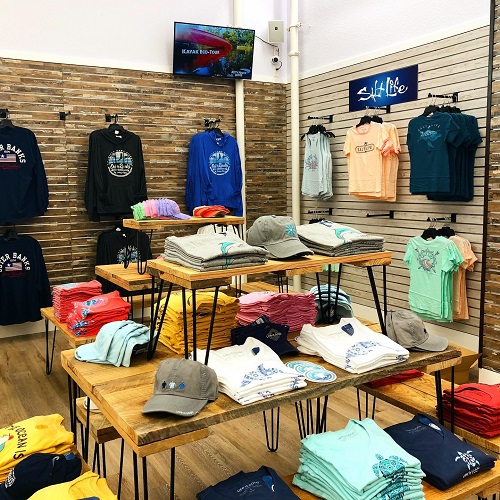 Kitty Hawk Kites stores have clothes, toys, outdoor gear and so many other gift ideas.
Good luck with your holiday shopping! Be sure to check out our list of Daytime and Nightlife events that are going on around the Outer Banks this week. Stay safe: Wear your mask, wash your hands, stay 6 feet from others, avoid gatherings and be home by 10 p.m.!