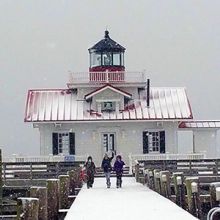 Weather has been dominating conversation here lately. Mostly the talk has been about the weather we've not been having as we've watched it repeatedly snow north, south and west of us. But, finally, this week delivered a little winter white stuff — not enough to really shut us down, but enough for a snowman or two and a wintry blanket that, like a good foggy day, lent all the usual sights a slightly mysterious air. Click here and see for yourself how winter reinvents the Outer Banks that most people only think of in terms of sunshine, surf and warm summer breezes.
A Full Helping For Our Local Food Bank
Manteo Middle School will host the yearly Empty Bowls dinner this Thursday, February 26 (that's tonight folks) from 5 to 7 p.m. A dinner of a bowl of soup and bread (donated from local restaurants and businesses) will be offered for $10 for the first family member and $3 for each additional family member being served. Desserts will be offered by Manteo PTO for a small fee. Folks choosing to eat-in will enjoy musical entertainment provided by Manteo students and a silent auction. Take-out is also available. Proceeds will be donated to the local food pantry.
Student Art, World War II Vessels and Museum Volunteers in Hatteras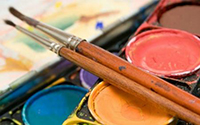 You can see some impressive works of local art for the next few weeks at the Frank Stick Exhibit at Glenn Eure's Ghost Fleet Gallery in Nags Head. But if you want a preview of what the next generation of local artists will be creating for us, then you'll want to check out the Cape Hatteras Student Art Exhibition showing at the Graveyard of the Atlantic Museum in Hatteras Village from Tuesday, March 3 to Friday, March 27 from 10 a.m. to 4 p.m. each day. The works of Cape Hatteras Elementary School and Secondary School students will make the walls pop with a variety of eclectic imagery created with media of all kinds. A reception will be held Thursday, March 12.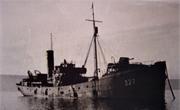 It also took creativity to protect the North Carolina coast during World War II. Sometimes the creativity was related to strategy. At other times, as detailed during the free seminar Defending the East Coast: How Converted Vessels Helped to Win the Battle of the Atlantic (Wednesday, March 4 at 11 a.m.), the creativity came from repurposing existing commercial vessels to meet a desperate military need. This talk will focus on commercial fishing trawlers, such as YP-389, HMS Senateur Duhamel and HMT Bedfordshire, which were used commercially prior to the outbreak of the war and how they were later adapted for military use as part of the campaign against German U-boat attacks along the Eastern Seaboard. If you cannot attend the morning seminar, the program will also be live streamed during a 6 p.m. presentation.
The Graveyard of the Atlantic Museum is hosting a Volunteer Meet and Greet gathering Thursday, March 5 from 11 a.m. to noon where you can meet seasoned current volunteers over a cup of hot coffee and discover the many ways you can get involved in this community-based museum!
For more information on any of these Graveyard of the Atlantic events, call (252) 986-2995, e-mail maryellen.riddle@ncdcr.gov or visit the museum website. The Graveyard of the Atlantic Museum is located in Hatteras Village just past the ferry docks.
Don't Spectate, Participate!
Shaggers can do their thing with like-minded Carolina beach music brethren from 6 to 9 p.m. at Kelly's Outer Banks Restaurant & Tavern in Nags Head this coming Monday, March 2 and every winter Monday as part of the Outer Banks Shag Club. Chances are, you'll get an opportunity to learn a new step or two before the "real" shagging begins. A tapas menu ranging from $4-$12 will be available to help keep your energy up. A $3 cover-charge compensates the DJ.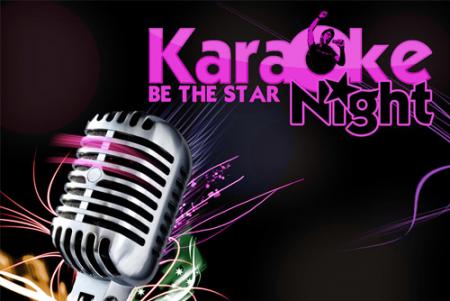 Warble along to your favorite song Tuesday night at Kelly's Karaoke Night beginning at 8 p.m. There is no cover charge but you must be 18 or older to participate.
It's not everywhere that you can eat, drink, socialize and go home at the end of the evening with an 11 x 14-inch painting ready for a place of distinction on your wall. Unleash your creativity and enjoy tapas, specialty cocktails and half-price wine at the Happy Hour Painting Party this Thursday, February 26 at 6:30 p.m. at the Outer Banks Brewing Station in Kill Devil Hills. Held in collaboration with community business Local Color, admission is $30/person; register in advance through the Local Color website (walk-ins welcome on a first-come-first-served basis).
The Chef's Choice
By Friday evening many of us could be excused for feeling like we've made enough decisions for the week. So, how about making letting the chef at Bad Bean Baja Grill in Kill Devil Hills make a quintupling of tempting tapas choices for you? All you have to decide is what beverage should accompany these small plates of deliciousness. From 5 p.m. on 12-ounce craft beers are only $3 (reducing the degree of difficulty associated with trying something new) and tapas plates are just $5 each.
Live Local Music


Virginia-based Mercy Creek gets things rolling this week on Thursday night performing their original "aggressive" folk rock at Trio Wine & Cheese in Kitty Hawk beginning at 7:30 p.m. Mercy Creek's songs combine elements of modern folk, world beat, rock and hints of blues and bluegrass.
This Friday, Strange Rootz, a reggae/rock band from Virginia Beach, VA, lights up Trio at 7:30 p.m. with a mix of covers and originals. Natalie Wolf teams up with Montie Hooker to bring Natalie & Co. and a selection of acoustic rock, country and original music to Poor Richard's in Manteo from 8 to 11 p.m. while The Other Brothers (Bill Rea, Doug Dino and Tommy Desanto) bust out a wide variety of music from reggae to rock n' roll at Basnight's Lone Cedar Café on the Nags Head/Manteo Causeway at 9 p.m. Up at Ocean Boulevard in Kitty Hawk the Richmond-based band Hazeltone performs 1990s-style rock at 9 p.m. and Snackbar Jones begins the first gig of a musically expansive two-night stand at Kelly's in Nags Head at 10 p.m.
On Saturday you'll find BC at Aqua in Duck around 6 p.m. Aquarium rocks Trio with song by The Beatles, Ray Charles, Talking Heads, Johnny Cash, The Grateful Dead and more beginning at 7:30 p.m., singer/songwriter Joey Wood performs original compositions and a range of classic rock covers at Poor Richard's Sandwich Shop in Manteo from 8 to 11 p.m., local punk cover band Forever Adolescents rocks the hardcore music at Basnight's Lone Cedar Café on the Nags Head/Manteo Causeway at 9 p.m. and Snackbar Jones returns with their diverse song selection for a second night at Kelly's in Nags Head at 10 p.m.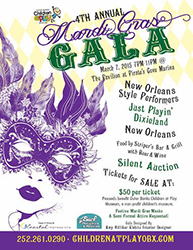 Looking Ahead…Laissez les bons temps rouler!
If you could not be in New Orleans for this year's Mardi Gras celebration, you get a second chance to don a Mardi Gras mask right here on the Outer Banks courtesy of the Children at Play Museum Mardi Gras Gala coming up Saturday, March 7 from 7 to 11 p.m. at the Pavilion at Pirate's Cove in Manteo. Bid at the silent auction as you enter the festively decorated Pavilion and rub shoulders with a "street performer" or two. Just Playin' Dixieland will perform New Orleans-style music from 7:30 to 9:30 p.m., Striper's Bar & Grill will serve up a traditional New Orleans-style buffet, and an open bar serving beer and wine will be available all evening. Tickets are $50/person for this semi-formal event. Funds raised support Children at Play's mission to educate children and families through hands-on interactive exhibits and programming, including Science Thursday (weekly science programming for children of all ages), Community Connections (free memberships to low income families) and Tuesdays Together (bringing adults with intellectual disabilities into the museum to work with preschool children).