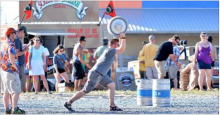 Have you ever tried keg bowling? How about human foosball? You can try your hand at both of these games and more this weekend while enjoying craft beers from more than 60 brewers at one of our most beautiful waterfront venues. After making waves last year as the first craft beer festival to ever come to the Outer Banks, OBX Brewfest is returning to the newly landscaped Outer Banks Event Site for an even bigger celebration of craft beer and local arts. And it's far from the only happening – quite a few of our summer favorites are here to kick off the season with live music, good eats and even a bit of standup paddleboarding.
OBX Brewfest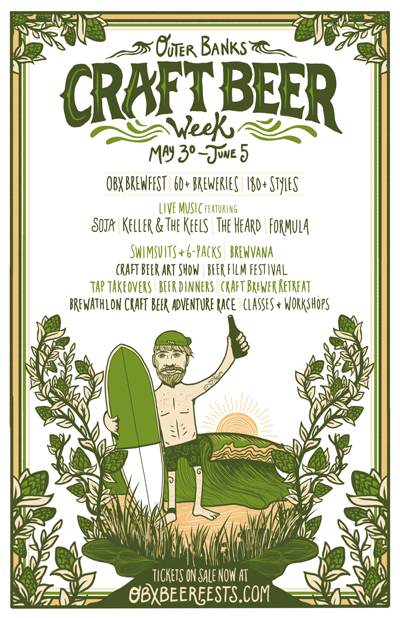 More than 160 tasty libations from around the United States will be available to please your waiting palette this weekend along with a showcase of the area's best culinary, performing and visual arts for the second annual OBX Brewfest. There will be a spectacular artisan market, gathering of the area's best food trucks, a main stage with nationally touring musicians, comedy stage, beer education stage and, of course, my favorite – the Game Zone for Grown Folks. Your $45 ticket gets you access to all of it including unlimited samples in the Tasting Tents, unlimited samples in the Craft Soda Garden and a commemorative keepsake glass.
OBX Brewfest is coming up quick on Sunday, June 5 from 3 to 8 p.m., but you don't need to wait until then to start the celebration of craft beer. What started as a single-day festival has grown into a week-long event featuring get-togethers around the community. Check out the Outer Banks Craft Beer Week website to see all the tap takeovers, beer dinners, parties and more happening this week. And make sure to grab your OBX Brewfest ticket now because they're going quick.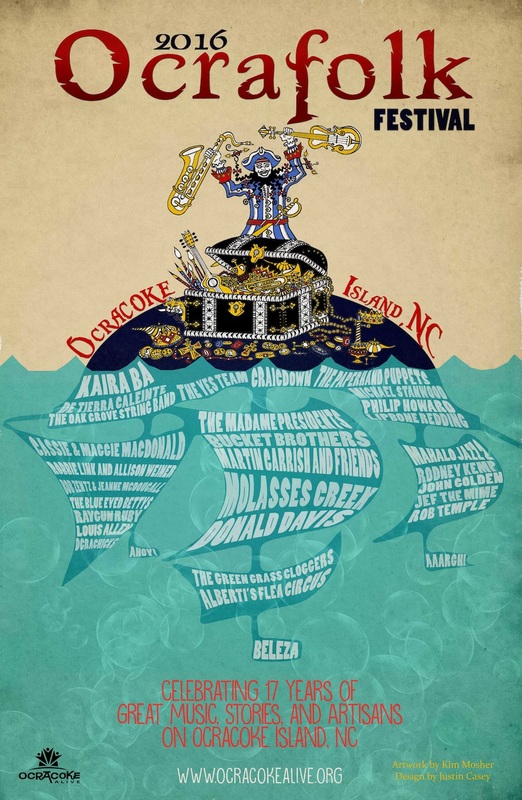 Ocrafolk Festival
This weekend will also see the return of the Ocrafolk Music and Storytelling Festival, which is now in its 17th year. This is one that I highly recommend, especially for anyone who hasn't yet experienced the magic of our little southern island. The fest will be held right in the heart of the village and will celebrate musicians, storytellers, artisans and the characters of Ocracoke and Eastern North Carolina.
Familiar entertainers like Donald Davis and Molasses Creek will be back on stage along with lots of new faces, and off-stage there will be a Friday night Taste of Ocracoke, a fundraising art auction, a Saturday night traditional Ocracoke square dance and a Sunday morning gospel singing. Ocrafolk runs from Friday, June 3 to Sunday, June 5 beginning at 9 a.m. each day. Tickets are $20 for adults, $10 for children ages 6 to 12 and free for children 5 and younger and can be purchased on site.
Dare Day Festival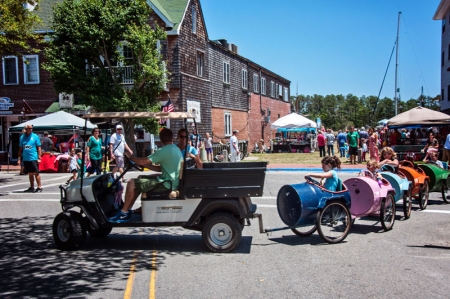 By boat, by car or on foot, make sure to visit Manteo this weekend for Dare Day – a free, family-friendly festival on the waterfront filled with local food, crafts, music, shopping and more. It's one of my favorites to take place in Manteo, and I'm not just saying that because I'll take any excuse to visit the historic downtown. There will be live music on two stages from 9 a.m. until early evening, and many restaurants and businesses will continue to celebrate into the night. On the streets, you will find artisans, food vendors and any number of crafts, and on the water, sign up for the new Rain Gutter Regatta race sponsored by East Coast Sailboats or take a standup paddleboarding lesson with your family. It's all happening on Saturday, June 4 from 9 a.m. to 6 p.m.
During the festival, stop into Downtown Books for a book signing by Dare County native and local author, Elvin Hooper. Hooper has authored two collections of stories that paint a picture of life on Hatteras Island before roads connected it to the mainland – and having had the pleasure of reading one of them, I would say any history buff or Outer Banks enthusiast would be missing out if they skipped this one. His books, Chicamacomico and Gull Island, are available at the bookstore, and he will be on site signing them from 11 a.m. to 2 p.m.
BIC SUP One Design Series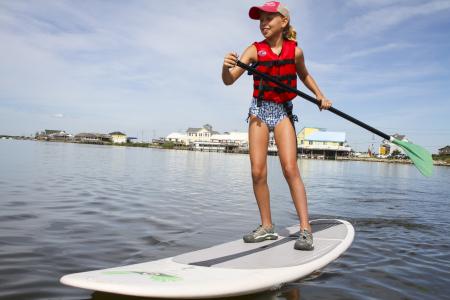 There sure are some beautiful places to paddleboard on the Outer Banks, and the downtown Manteo waterfront is definitely one of them. Throughout the summer, Kitty Hawk Surf Co. hosts the BIC SUP One Design Series in various towns with this week's event happening in Manteo during Dare Day. That means you can break from the great food and artisan village for some stand-up paddleboarding no matter what your skill level. There will be free clinics for beginners and experienced paddlers who want to try out the race style SUPs at 9 a.m., and the family-friendly competition starts at 10 a.m. Head to Kitty Hawk Kites in Manteo to sign up.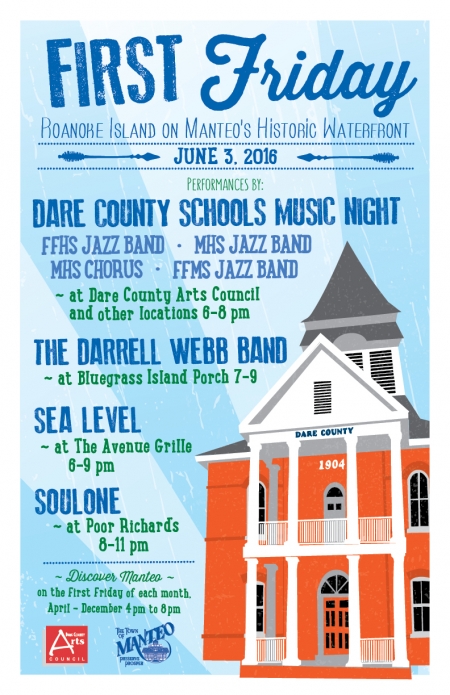 First Friday
It's going to be one heck of a fun weekend for Manteo with both Dare Day and First Friday happening – in fact, you may just want to stay there! At First Friday, the historic waterfront pulses with live music, and as you walk the streets you will find yourself amongst magicians, period-dressed actors and artisans at every corner. Many shops and restaurants host individual celebrations inside their establishments offering their own live music and special sales. And framed by the beautiful Roanoke Sound, the Kitty Hawk Kites rock wall is often in attendance, calling out to the adventure-seekers in the crowd.
The free festival will take place on Friday, June 3 from 4 to 8 p.m., and this month's event will feature jazz bands and chorus groups from Dare County Schools, The Darrell Webb Band, Sea Level and SOULone.
Bridal Mixers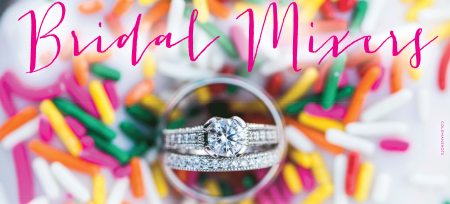 Tour venues, sample local cuisine and visit with vendors each week of the summer with the Outer Banks Wedding Association's wonderful new lineup of Bridal Mixers. For anyone planning a wedding on the Outer Banks, this is your chance to get some ideas for your big day in an easygoing setting – and one that changes every week. Today's Bridal Mixer on Wednesday, June 1 is happening at Jennette's Pier from 4 to 6 p.m., and next week the event will take place at Sanctuary Vineyards. Visit OBWA's website for the full summer schedule and individual gathering details.
You can always tell it's the high season by the nightlife lineup. This week, we've got karaoke, a bikini contest, live music, a couple of DJ dance parties, ladies night and more happening after dark – visit our Nightlife & Events page to see it all.