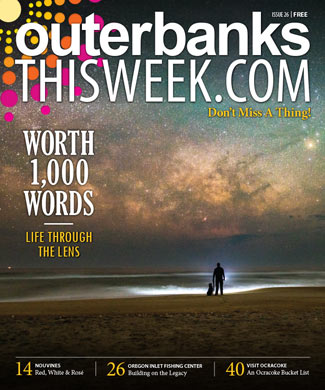 Publisher's Letter
I read something the other day about how, with the leaves falling off the trees in this autumnal season, nature is giving us an example of how to let go. Let things go. Just let it all go. It really struck a chord in me, and I started examining things that I've been holding onto, not letting go of, over the past year and a half. Fear of the What Ifs with this damn virus, the sense of protecting (or overprotecting?) my grandgirls, the push/pull of polarized politics, even that not-always-conscious distancing myself from others physically, which too often turns into an emotional reaction too.

So, I've started doing a simple challenge: As I sit at my desk working and looking out the window or walk the streets for exercise or sit in my back yard, I look for the leaves that fall. As I notice each one, I say out loud something to let go of in that moment. With fall coming into its full fruition, and more and more leaves falling, you can imagine that these are not all big things. But that's more to the point, I've decided.

Is it not the day-to-day, or more precisely the moment-to-moment thoughts we have that truly create our walking-around psyche? The big things shift us; the small things create us.
And what in the heck does this have to do with the Publisher's Letter in this magazine? Well, in my mind, everything. I think of all the business people who are part of this publication and imagine the walking-around psyches they must maintain to be successful. I ponder all the things they've had to let go of during this time of change and challenge. I appreciate the many social media posts I've read over these past months that remind us of the power of kindness and patience and the letting go of actions from people who've not quite conquered their holding on of ________ (fill in the blank).

I'm sincerely grateful for this Outer Banks community and the wild, wide open spaces, the wind, the cleansing ocean. And I'm especially thankful for our people. You're a fortress for good, for the vast most part. And I firmly believe that if we let go of beliefs that invite us into an opposite way of thinking, our fortress will just grow stronger by the day. 
VIEW A DIGITAL VERSION OF THIS ISSUE