PUBLISHER'S LETTER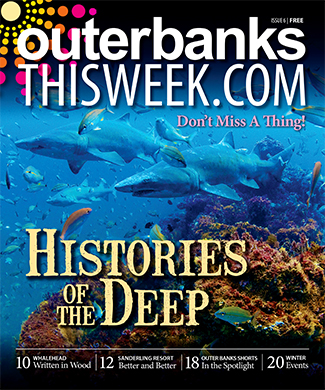 Welcome to winter. I've heard predictions that it's going to be a snowy one. How many of you are thrilled with that idea? Who grumbles, "If I'd wanted the white stuff, I never would have moved here from (fill in the blank Northern area)." But, here's the thing, you folks who don't jump up and down when you see the first flake fall: Outer Banks snows, generally, last a day or two at the most, right? No shoveling of driveways, no mountains of dirty frozen stuff on the side of roads. Admit it — our snowfalls are just pretty. And, another thing. Spring often comes early here, followed by those blazing hot days of summer when you wish for…dare I say…snow! Well, at least, cold. As for this woman, I'm scanning the skies for any signs of laden gray clouds.
What are your off-season plans? Are you spending January in the islands somewhere? Catching up on long-needed sleep? Or, are you just appreciating having more time to run your business and plan for the season to quickly come?
Whatever you're doing, we look forward to seeing you soon.
Keep your eyes on the sky!