PUBLISHER'S LETTER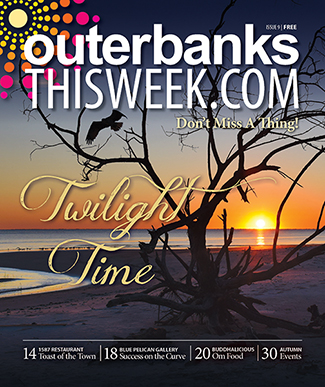 Happy fall, everyone! It's time to settle back and appreciate a successful summer…time to breathe a bit and maybe go spend some time on our less-populated autumn beaches. It's the golden season.
This issue of OuterBanksThisWeek.com magazine gives you a close look at home design trends, cutting edge Asian cuisine, beautiful art, superior mixology, favorite restaurants and more. We're also talking ghosts and weird happenings!
I decided that, to help us all ease into this season, perhaps some appropriate quotes would be the ticket. Reading them sure made the corners of my mouth turn up and happy anticipation of leaves, pumpkins, Thanksgiving then the holidays come into my mind.
"Witty people come out in autumn; beauties in July." – Andrew Holleran
"Don't you love New York in the fall? It makes you want to buy school supplies. I would send you a bouquet of newly sharpened pencils if I knew your name and address." – Nora Ephron
"Love the trees until their leaves fall off, then encourage them to try again next year." – Chad Sugg
"I'm so glad I live in a world where there are Octobers." – L.M. Montgomery
"I would rather sit on a pumpkin, and have it all to myself, than be crowded on a velvet cushion." – Henry David Thoreau
"That old September feeling left over from school days, of summer passing, vacation nearly done, obligations gathering, books and football in the air…. Another fall, another turned page: There was something of jubilee in that annual autumnal beginning, as if last year's mistakes had been wiped clean by summer." – Wallace Stegner