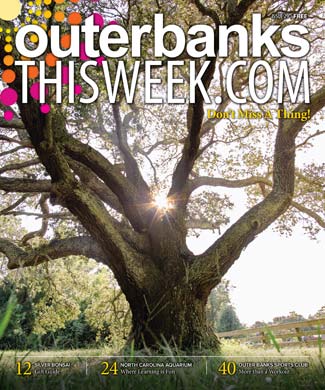 First, pause and take a deep breath. Now another. I'm betting you haven't had a lot of time for that these past three months, whether you're a local or a visitor. Anymore, I think it's probably only kids younger than 15 who see summer as the slow time of the year.
And now, wherever you are, take a moment to notice the trees around you. When I look out my office window, I see a two huge pecan trees, and this year they're full of nuts (hoping a storm doesn't knock them down before they're ready!). When we decided to write the feature for this issue on Outer Banks trees, I think there were some skeptics in our office. It's probably not the first thing you think about when you consider this area, right? But, as much as I was absolutely for the idea, and as much as I am personally someone who loves trees, I must say that my trees eyes, so to speak, were opened up with this feature.
For instance, I didn't know there was actually a Live Oak Society and that several local trees are registered for their age and size. And I didn't know that there was a live oak here that pre-dates the 400+-year-old specimen found at The Elizabethan Gardens; it's estimated to be more than 500 years old, so it was already a centenarian when the 1587 colonists arrived!
When you think of trees that you see at the beach, what comes to your mind? A fun thing to do is to drive around and note every variety you find, even if you don't know the official name for them. Maybe sketch them to create your own, cool Outer Banks nature guide.
One of the points of the feature this time is to invite you to see beyond the obvious here. Yes, the beach and sound are our crown jewels. But if you look past the water to these providers of shade, leaves, flowers and beauty, you'll broaden your appreciation for this place and for the untouched and protected parts of the Outer Banks that look exactly like they did hundreds of years ago. Maybe you can add treebathing (basking under one that particularly calls you) to your sunbathing routine. And, at any rate, we definitely encourage you to Look Up!
Beth
VIEW A DIGITAL VERSION OF THIS ISSUE