PUBLISHER'S LETTER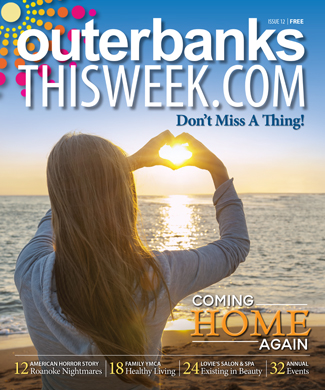 Summer lovers! I know! You're raging against the dying of the heat, the carefree days, the shortening of the light that lasts for more than half the 24-hour period. I hear you – the gnashing of teeth, the scrape of fingernails on surfboards! You're beginning your part of the year that you have to just tolerate, and I honestly can send out a bit of compassion for you.
But – hot diggity!! – It's fall! Then it's winter! And I am at the threshold of everything I like about a year. Waves of happiness … bonfires … sweaters … the absolute best holidays. Soon, the clocks will fall back and the time of twilight begins. For many, fall is an invitation to slow down a bit, and what's not to like about that?
But don't worry, Summer Babes: Hot fun in the summertime will return. And until then, I'm going to sit and watch the autumn leaves drift by my window.
Luckily, the Outer Banks tends to fill in these colder months with some high-intensity fun events, and you can mark your calendars from our listing of them at the back of this issue so you don't miss a thing! But, before you get to that part of the magazine, I know you'll learn some new aspects of local businesses by reading the articles that make up this fall's publication. We all know this, but I am struck each time we do an issue with how great the people are who own or run our local shops, restaurants and businesses. You're kind, polite and enthusiast – exactly what the world needs now.
Enjoy this quieter time of the Outer Banks year.