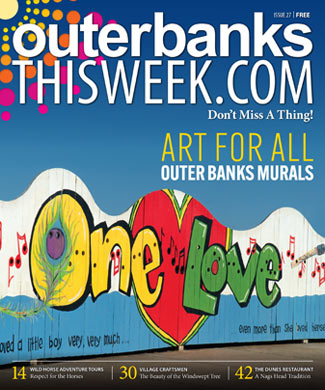 Publisher's Letter
I'm writing this on the first day of March. Spring is in evidence everywhere I look – daffodils, tulips, daphne odoras, trees beginning to leaf out – and it's 64 degrees outside. Weird. Historically, we've had some Outer Banks snowstorms in the first week of March.
Speaking of history, think back to this time two years ago. COVID was just beginning to capture the nation's attention. We weren't sure how much we had to worry about; surely, after just a little bit of down time, life would be back to normal.
And here we are … two years later … and? One thing that intrigues me is that if everyone reading this posited their own answer to that question, we would have many, many different takes. Some would say that they've gone underground, so to speak. Some would say they've used the time to better themselves. Some have fundamentally shifted their daily routines.
But one thing I think most Outer Bankers would agree on is that this past year-plus has been the busiest time most of us have ever experienced here. We've welcomed more visitors than ever before, which meant more work by businesses that were short-staffed, which meant, in most cases, much more stress. Again, weird, that we'd have our most populated high season in the middle of a pandemic. (And, heck, it's the time of year that locals appreciate getting into their favorite restaurants without a wait, and that's not even happening!)
But we Outer Bankers are ever resilient. We've learned how to deal with adversity through our many hurricanes and nor'easters. And somehow local business owners adapted to the rushed pace and kept their heads and, for the most part, their smiling faces. No small feat … and major kudos.
It's no exaggeration that the entire world has changed over the past several years. We've changed with it. But at least here on the Outer Banks, the constancy of Mother Ocean, our spectacular sunrises and sunsets, our starry nights, seeing familiar faces most places we go, long walks on the beach, wide open spaces on our National Seashore and the predictable return of spring anchor our hearts to a place of peace.
Beth
VIEW A DIGITAL VERSION OF THIS ISSUE