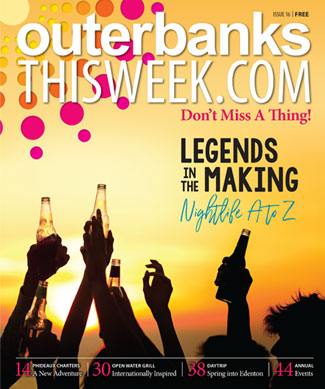 Little Darlings,
The Beatles foresaw the Outer Banks winter of 2018. They presaged the snow, the temps in the teensy tinesy numbers, the wind, maybe even the flu outbreak. They saw it all, but who's surprised by that? Through the magical mystery tour of their musical genius, they also told us how to get through it . . . with a little help from our friends, we came together and walked those long and winding (snowy) roads, through those hard day's nights, in spite of all the danger, right into the springtime's strawberry fields. And now, by following the sun, I've got a feeling we'll forget to remember to forget that long cold lonely winter. (If you're scratching your head over the last two sentences, you're just too young to be a true Beatles' fan. Oh, well. I'll simply let it be.)
Welcome to spring, y'all. One can make an argument that spring seems springier after the winter we've just experienced. The flowers are just that much sweeter, the warm wind that much nicer. And, after significant weeks being shut-ins, the re-emergence of so many of our local businesses is even more exciting than usual. Yeah! Lots of choices for dining out and shopping and doing! We locals – and all of you visitors – are thrilled to see all the open signs! There are wild horses to go see, restaurants to visit, fishing trips to take, races to run, nightlife to slay, trips to enjoy to Edenton, shops to explore – all of which you can read about in the articles in this, our 16th issue of OuterBanksThisWeek.com magazine.
We welcome you readers with the same warmth as we welcome back the sun.
VIEW A DIGITAL VERSION OF THIS ISSUE